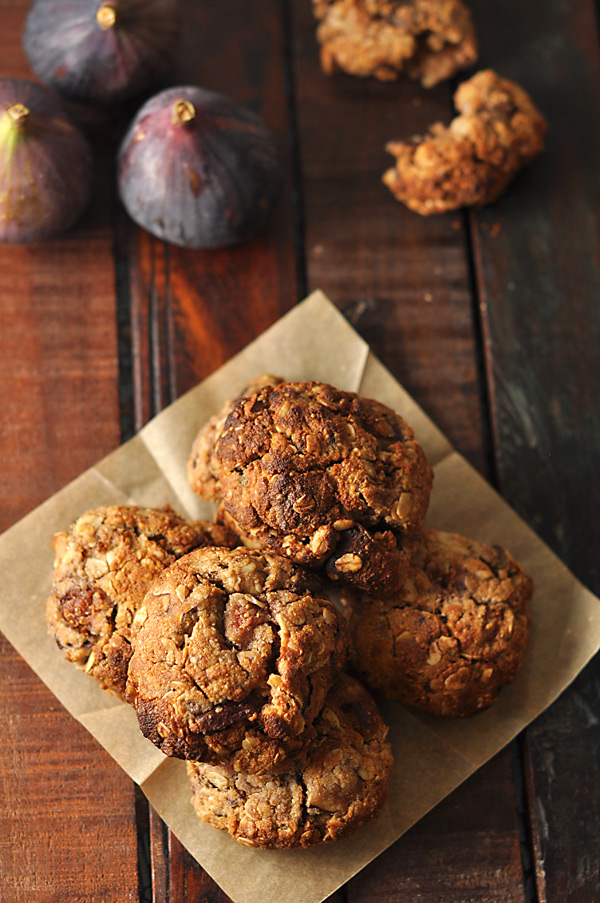 Monday was a holiday in the UK and I had such a beautiful day baking cookies and listening to the rain. It poured with rain the whole day but I didn't mind because it gave me an excuse to spend the day cooking. Cooking and the sound of heavy rain falling makes for a very relaxing combination.
These cookies are made with almond flour and speckled with fresh figs and raw cacao chips. They are so delicious! They are free of refined sugar and sweetened by the figs and a little extra honey. I love to add oats to the mixture when I'm cooking with almond flour as it gives the cookies a little more structure and texture but if you'd prefer your cookies gluten free just leave out the oats and add some more almond flour. If you can't find raw cacao to use in the cookies just make sure you use a dark chocolate that's at least 70% cocoa. Raw cacao is basically unrefined, has gone through minimal processing and doesn't include a whole list of other additives.
These cookies are the perfect treat and even better when shared with friends or family. Make these on your next rainy day or better yet this weekend and you won't be disappointed.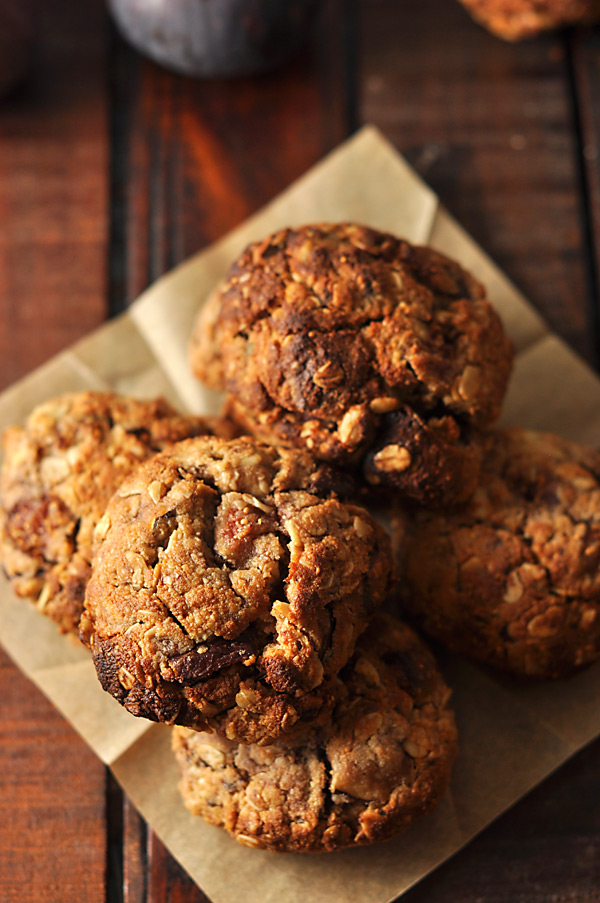 Almond, Fig & Cacao Cookies
Ingredients
2 cups almond flour
1 cup rolled oats
1 teaspoon baking soda
½ cup cacao chips, chopped
3 fresh figs, chopped into small pieces
⅓ cup coconut oil
¼ cup honey
3 tablespoons almond milk
Directions
Preheat oven to 180 degrees Celsius or 356 Fahrenheit
Add almond flour, oats and baking soda to a large mixing bowl
Chop figs into small pieces and add to mixing bowl
If your choc chips are not already in bite sizes pieces, chop and then add to the mixing bowl
Melt coconut oil and honey in a small saucepan over a very low heat for a couple of minutes. Add mixture to the dry ingredients and stir well
Add almond milk and stir until everything is well mixed
Shape mixture into balls and then flatten down with the back of a spoon
Bake for 20 minutes or until golden