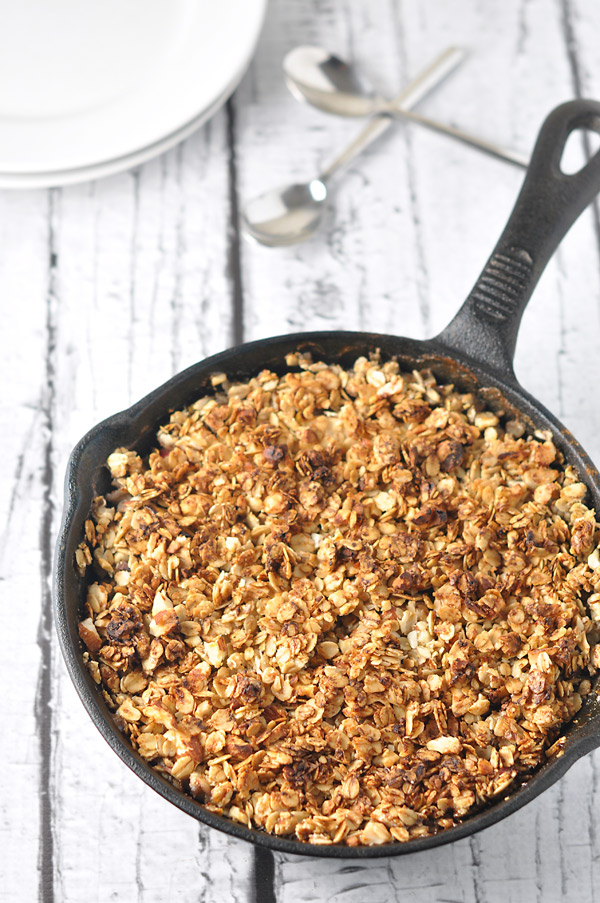 Last week I asked my lovely readers for some spring recipe ideas and when rhubarb was mentioned, I knew I needed to make a crumble. This year I've made a conscious effort to eat with the seasons and really listen to what my body needs and craves. I believe wholeheartedly in the power of mindful and conscious eating to help form a deeper and healthier relationship with our bodies and the food we consume.  In today's fast paced society where everything is competing for our attention, it's easy to lose that connection with our body.
Our bodies are highly intuitive and if we allow ourselves to really listen and connect, we are more likely to be guided to make healthy decisions that support our wellbeing and overall health.
This apple and rhubarb crumble is so delicious and the best part is, it's made with healthy ingredients. There's no need for refined sugar when there are wonderful wholesome ingredients to naturally sweeten and flavour our food.
It's been just over two years since I completely cut refined sugar out of my diet and it was one of the best decisions I've made. To be honest it wasn't that difficult, I didn't have a lot of refined sugar in my diet anyway but it has made a noticeable difference to how I feel. I rarely if ever get afternoon sugar cravings and I feel like I have much better control of my blood sugar levels, which also affects my mood and emotions.
In this recipe, I really wanted to embrace and bring to light the rhubarb. It has such a gorgeous colour and is the star of the crumble. Apple and rhubarb are baked until soft and tender and then topped with a delicious oat crumble.
Apple & Rhubarb Crumble
Ingredients
2 green apples, peeled & sliced
5 rhubarb stalks
½ teaspoon cinnamon
½ teaspoon vanilla powder
¼ cup water
1 cup oats
1.5 tablespoons coconut oil
1 tablespoon honey
½ cup almonds
Directions
Preheat oven to 180 degrees Celsius or 356 Fahrenheit
Add apples & rhubarb to a bowl with the cinnamon, vanilla and water and mix well
Add ingredients to a skillet or oven proof dish. Cover with foil and bake for 30 minutes until apples and rhubarb has started to soften. Check after 20 minutes and if more moisture is needed, add a little more water
Add almonds to a food processor and mix until you have smaller pieces
Add almonds, oats, coconut oil and honey to a bowl and mix well
Add oat mixture to top of apples, spread evenly and bake for another 25 minutes