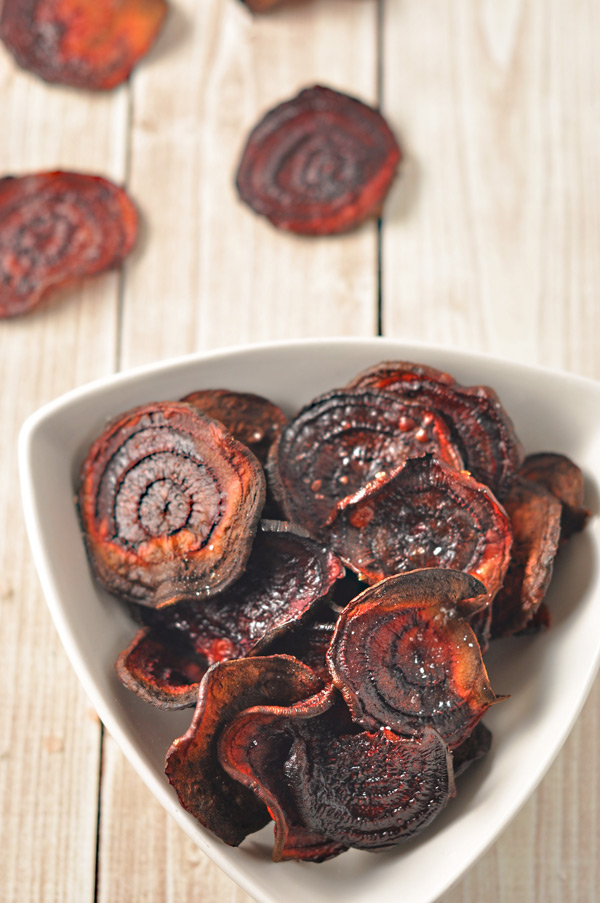 I was so excited to make these beetroot chips and I'm even more excited to share them with you! The result was amazing and I think you are going to love them. Beetroot is something that features regularly in my diet because it's so healing for the liver and gallbladder.
These beetroot chips are coated in coconut oil, sprinkled with pink Himalayan salt and then baked in the oven. They are so delicious! What could be better than crispy, slightly sweet chips that have been baked rather than fried. They have such a wonderful flavour and are a much healthier option for those days when you might be craving some potato chips.
I used a mandolin to cut them into thin slices. It made it so much easier and ensures they are cut to the same size so they cook evenly.
Having healthy snacks on hand is key to maintaining a healthy diet. These beetroot chips are going to feature regularly in my house!

Baked Beetroot Chips
Ingredients
2 large beetroots, peeled if not organic
1.5 tablespoons coconut oil
½ teaspoon pink Himalayan salt
Directions
Preheat oven to 180 degrees Celsius or 356 Fahrenheit
Slice beetroots with a mandolin
Line two baking trays with parchment paper
Coat beetroot in coconut oil and sprinkle with salt
Place beetroot slices on baking tray
Bake for 15 minutes and then flip them over and bake for a further 15 minutes
Leave them to cool down and as they cool they will crisp up further