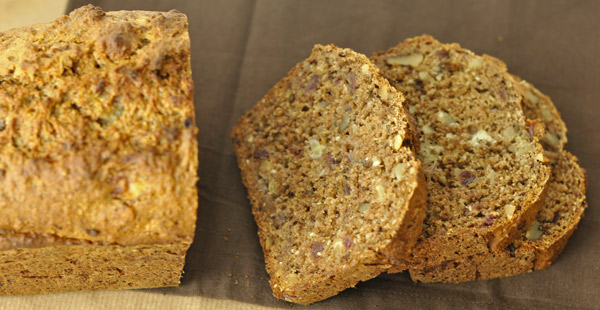 When I was eighteen, I had a job in a cafe where I used to work the morning shift. I would happily eat a piece of banana bread and a hot chocolate every morning for breakfast. A couple of months later my clothes started getting a little tight and I decided it was time to re-evaluate my breakfast choice. Ever since then I've stayed away from banana bread and boy was I missing out!
With the right ingredients banana bread can be quite wholesome. The smell of freshly cooked banana bread wafting through the house is heavenly. This recipe uses whole wheat flour and is sugar free. The banana and dates gives it a natural sweetness and the walnuts add a nice crunch.
I love this for a mid-morning or afternoon snack. Sometimes sitting down with a slice of homemade banana bread and a cup of tea makes everything seem simple.
This bread freezes well and makes it wonderfully convenient to pop in school lunch boxes or your own lunch box for that matter.
Banana Bread
Ingredients
2 cups whole wheat flour
¾ teaspoon baking soda
1 teaspoon cinnamon
1 teaspoon ginger powder
1 tablespoon chia seeds
½ cup walnuts
6 pitted dates
3 over ripe bananas, mashed
¼ cup honey
2 tablespoons of coconut oil, melted
1 cup soy milk (almond and hemp milk are great as well)
Directions
Pre heat oven to 180 degrees Celsius
Line a loaf tin with grease proof paper
Add flour, baking soda, cinnamon, ginger and chia seeds to a large bowl (all dry ingredients)
In a separate bowl mix together milk, honey and coconut oil
To the bowl with the liquids add the bananas one at a time and mash well
Add nuts and dates to food processor and pulse for a few minutes until you have smaller pieces
Add nuts and dates to flour mixture
Add liquids and banana mixture to dry mixture and stir until well combined
Pour mixture into loaf tin and cook in the oven for one hour
Check banana bread after 45 minutes by poking the end of a knife into the middle. If it comes out clean it is ready. Usually it will need the full hour to cook
Take out of oven and put on cooling rack (leave in tin)
After it has cooled for around 20 minutes, carefully take the banana bread out of the tin and leave to cool on the cooling rack