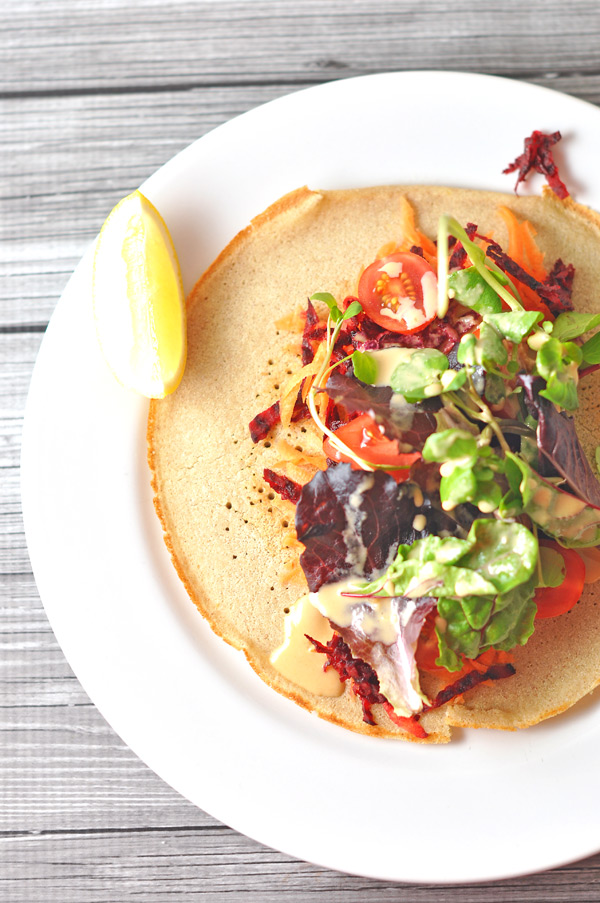 It's been so sunny and warm in London the past week, which means light and fresh lunches are on the cards. After months of eating soups and stews, it's lovely to start eating more refreshing meals.
The base of this wrap is made with my buckwheat crepe mixture. I shared the recipe with you a couple of months ago and they work perfectly as a sandwich wrap. I find it's best to make them slightly thicker than you would a crepe, just to make sure everything holds together well. It's a quick meal to make at home or perfect to take on the go with you. I love to pop everything in a container and construct the wrap when I'm ready to eat it.
It's a great gluten free option and it feels much more fancy than eating a regular sandwich. I topped my wrap with a bunch of different salad ingredients and drizzled on a delicious tahini and lemon dressing. Be sure not to skip the dressing; it really takes it to the next level. It's super simple to make and filled with lots of nutritious ingredients. There's no reason a salad dressing has to be fattening and unhealthy when there's an abundance of amazing ingredients available.
This recipe is such a perfect example of how to eat healthy on a budget. It's full of highly nutritious ingredients that are inexpensive and tasty.

Buckwheat Salad Wrap
Ingredients
1 avocado, sliced
1 carrot, grated
1 raw beetroot, peeled and grated
6 cherry tomatoes, sliced
1 handful of salad leaves (I used spinach and rocket)
Dressing
½ cup tahini
2 lemons, juiced
1 clove garlic, minced
Pinch of salt
1 tablespoon honey
½ cup water
Directions
Cook buckwheat crepe as per instruction in this recipe
Top buckwheat wrap with salad ingredients
Drizzle dressing over the top
Fold wrap and eat