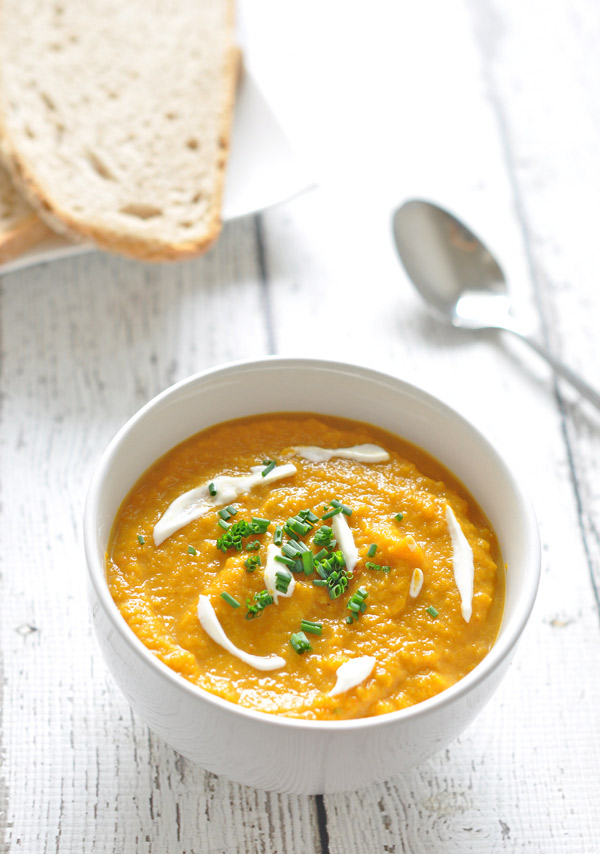 The first time I made this soup it was a complete disaster; without a doubt the worst tasting thing I've ever made. I'd seen Matt Preston on Master Chef make a low effort pumpkin soup and I thought – that's perfect, just what I need.
I'd been doing an intensive yoga teacher training course all week and once I stepped out of the studio I was completely useless at everything else. I won't go into all my other mishaps but let's just say it ended with me accidentally paying thousands of dollars to the UK government (thankfully now been refunded).
Mostly, what this soup was missing the first time round was love. When you put love into your cooking, you're mindful of every step in the process. It's almost like a form of meditation because your focus is so narrowed in on what you are doing.
This butternut pumpkin soup is a perfect winter soup and will warm your bones and nourish your soul on a cold day. One of my favourite things about the cooler months of the year, is a comforting bowl of soup.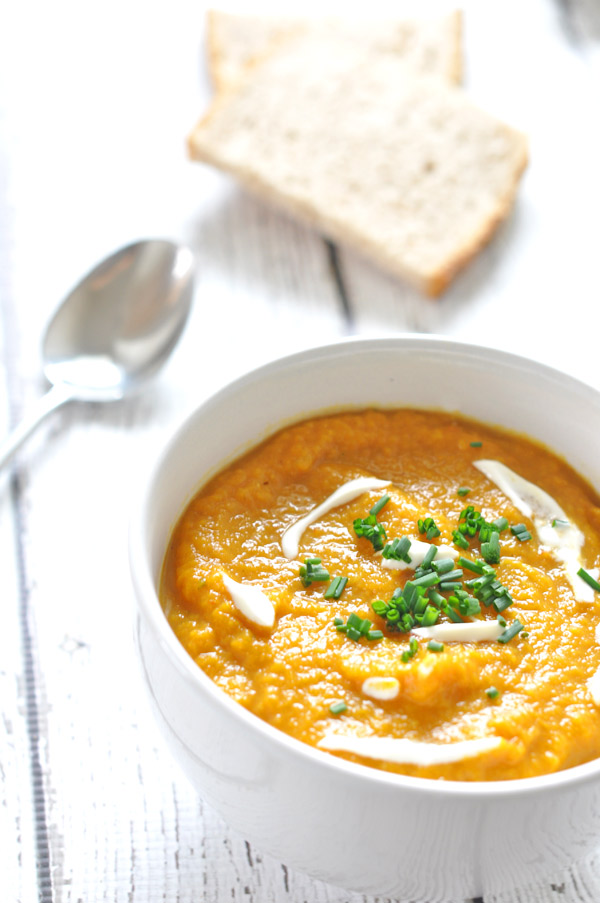 Butternut Pumpkin Soup
Ingredients
2 butternut pumpkins, peeled and cubed
1.5 tablespoons coconut oil (or oil of your choice)
1 tablespoon dried cumin
1 teaspoon dried coriander
1 tablespoon curry powder
6 cloves garlic
1 white onion, diced
½ tablespoon fresh ginger, minced
4 cups vegetable stock
⅓ cup coconut milk
Directions
Preheat oven to 180 degrees Celsius or 356 degrees Fahrenheit
Add peeled and cubed pumpkin to a roasting tray and coat with coconut oil, cumin, coriander and curry powder
Roast pumpkin for 40 minutes or until tender and starting to caramelise around the edges
Peel skin off garlic and chop in half, add to roasting tray with pumpkin for the remaining 20 minutes of cooking time
Add onion and ginger to a large pot and fry for approximately 10 minutes
Add pumpkin and garlic to the pot with the vegetable stock and bring to boil
Add coconut milk and simmer for 20 minutes
Take soup of the heat and blend with an immersion blender or transfer to food processor and blend until smooth