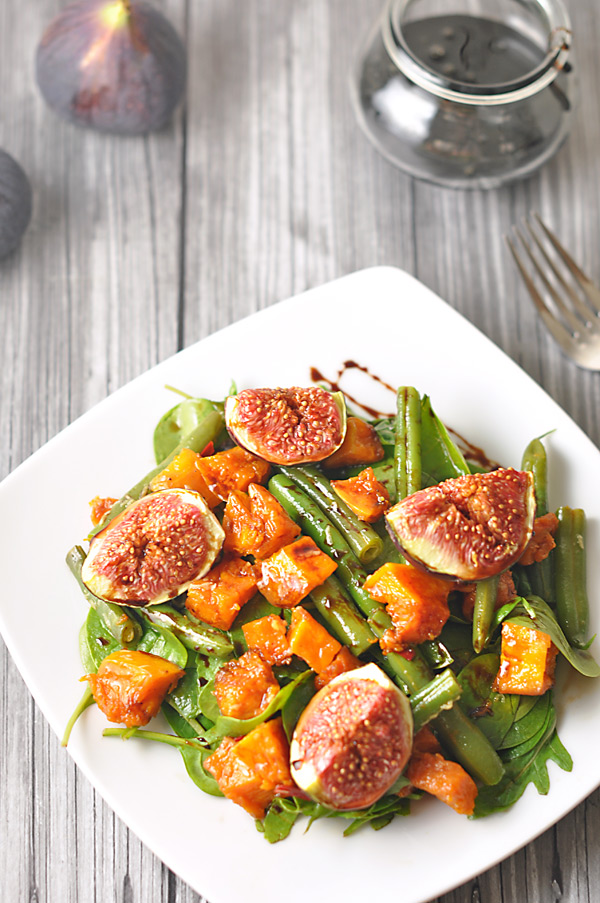 Last week I had my gorgeous friend Zara over for dinner. While Mark is away I'm cooking for one, so I was very excited to have a beautiful friend to cook for. When food comes from the heart, it's much more enjoyable when shared with someone special.
You might remember a few weeks back I posted an African inspired recipe in honour of Mark's upcoming adventures. A few days ago he made it to the top of Kilimanjaro in good health and good spirits. Very proud and super impressed!
I'm obsessed with fresh figs at the moment. It was only a couple of weeks ago that I tried my first fresh fig. How I've lived 32 years and never tried a fresh fig is beyond me, but I'm making up for all those lost years!
This salad has so many wonderful flavours. It's definitely a salad to get excited about. The butternut squash is roasted until caramelised and drizzled with honey to give it the most wonderfully sweet taste. The green beans are sautéed in garlic and chilli and the figs are grilled until jammy and delicious. Every component of the salad is packed with flavour and it all works wonderfully together. I topped the salad with a balsamic glaze, which is super simple to make but gives the salad a richness and ties all the flavours together. Yum! I doubled the recipe and ate it for days!
I prepared the butternut squash and balsamic glaze the day before which made it super simple to throw together when Zara and I got back from yoga hungry!  I'm able to put a whole lot more love and attention into my cooking when I'm not starving and looking to put the first thing I see in my tummy. A little prior organisation in the kitchen goes a long way.
I hope you love this salad as much as we did. I'm very excited to be sharing it with you.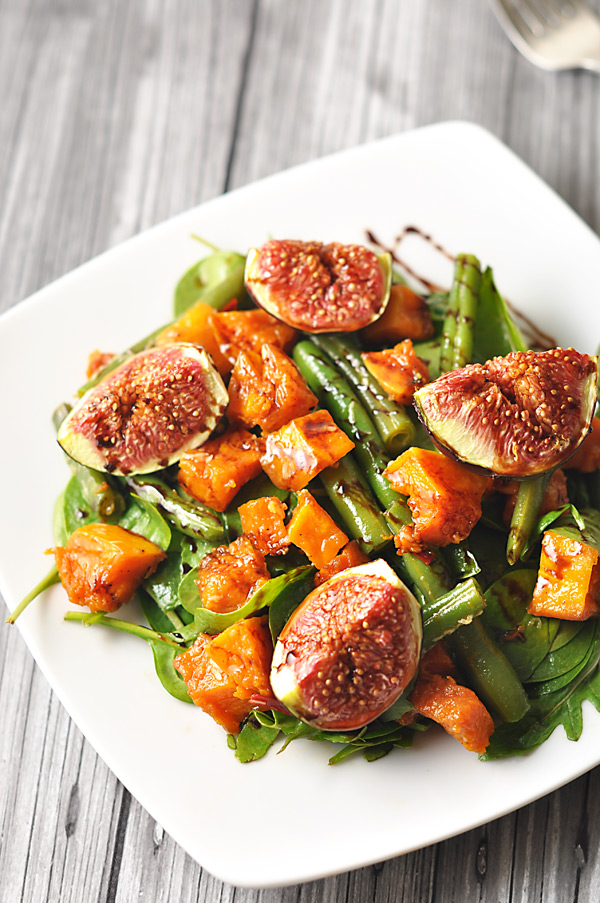 Butternut Squash & Fig Salad
Ingredients
2 tablespoons coconut oil
½ butternut squash, peeled and cubed
2 garlic cloves, minced
½ red chilli, finely chopped
150g green beans, chopped in half
4 fresh figs
½ cup balsamic vinegar
1 tablespoon honey
2 handfuls baby spinach
1 large handful rocket/arugula
½ lemon, juiced
Salt + Pepper, to taste
Directions
Preheat oven to 180 degrees celsius or 356 degrees fahrenheight
Add chopped butternut squash to a roasting tray. Coat in coconut oil and season with sea salt and pepper. Pop in the oven and roast for 30 minutes. After 30 minutes take butternut squash out of oven, drizzle honey over the squash and stir to ensure honey is well coated. Roast for a further 10-15 minutes. Squash is ready when it is tender and beginning to caremalise
Add balsamic vinegar and honey to a small saucepan. On a low heat simmer very gently for approx 30 minutes, stiring when needed. The vinegar will reduce down to a think glaze
Add green beans to a saucepan with boiling water and cook for approx 3 minutes. Strain green beans and run cold water over to stop cooking process
Fry garlic and chilli in coconut oil for one minute and then add the green beans. Stir well and fry for 3-5 minutes
Wash spinach and rocket and then dress it with fresh lemon juice
Chop figs in quarters and drizzle a small amount of honey on each fig. Put under grill for 5 minutes until figs start to soften
Assemble the salad and serve