Following on from the honey roasted carrots I posted earlier in the week, here's a recipe in which they work wonderfully.  This soup is made with carrots, ginger and sweet potato and brings me so much comfort on a cold day.
The last week or so winter has been getting to me. All I want to do is eat soup and get warm and cosy. I was so happy on my yoga teacher training course, on top of being completely immersed in yoga I was able to enjoy a warm heated studio all day. It was bliss. Now I'm back in the office and most days I sit there with a fleece, scarf and fingerless gloves on!
That said, compared to the Polar Vortex in the USA, London isn't really that cold. I hope all of you suffering from cold weather are keeping warm and eating lots of soup to make you happy!
Mostly, I like my soup to be thick, packed with vegetables and loaded with flavour. For that this soup is a real winner and absolutely delicious. It's made with honey roasted carrots and sweet potatoes seasoned with paprika and cayenne pepper. The vegetables are blended with a beautiful vegetable stock that includes lots of ginger and other yummy spices. This soup is so creamy, it's hard to believe there isn't a drop of cream or milk in it.
If you're looking for a soup that's incredibly comforting and delicious, I promise you'll love this!
On that note, I'm off to make to make some more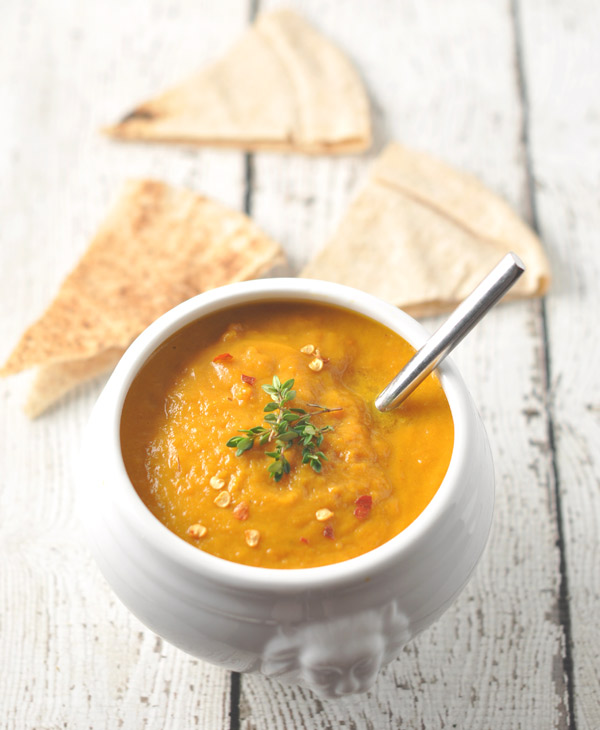 Carrot, Ginger & Sweet Potato Soup
Ingredients
8 carrots
1.5 tablespoon coconut oil (or oil of your choice)
2 tablespoons honey
2 small sweet potatoes, peeled and chopped
1 teaspoon paprika
½ teaspoon cayenne pepper (leave out if you don't like your food spicy)
1 white onion, diced
2 cloves garlic, minced
2 tablespoons fresh ginger, finely chopped
1 tablespoon curry powder
1 teaspoon cumin
6 cups vegetable stock
Directions
Preheat oven to 180 degrees or 356 degrees Fahrenheit
Coat carrots in coconut oil and honey and roast in the oven for 40 minutes
Coat chopped sweet potato in paprika, cayenne pepper and oil and roast in oven for 30 minutes or until tender
Fry onion, garlic and ginger in a little oil for around 10 minutes until onion begins to turn translucent
Add curry powder and cumin to onions and mix well for around one minute
Add vegetable stock and simmer for 10 minutes
Allow stock to cool a little
Add stock and vegetables to a blender a mix well until pureed and smooth. You could also add all the vegetables to the pot with the stock and use an immersion blender to puree