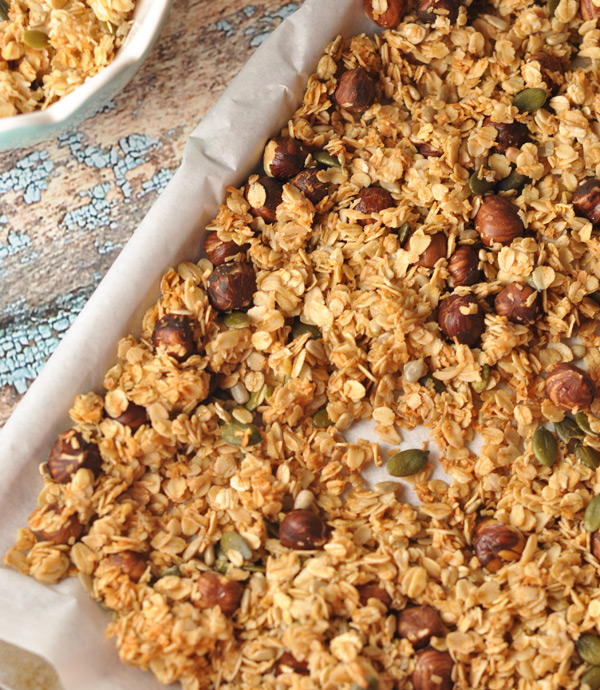 Breakfast is such an important part of the day; I'm always shocked to hear how many people skip it. With this Coconut & Hazelnut granola you definitely won't want to miss breakfast, it's so delicious! When we think of food as fuel for the body, it makes sense to start the day with a nutritious meal to power you through your morning. I also think it can have a profound impact mentally. By starting the day off with a healthy routine you'll feel better and hopefully make healthier choices throughout the rest of the day.
This granola is packed with a bunch of wonderful ingredients like coconut, hazelnuts, pumpkin seeds and sunflower seeds. It's sweetened with honey and includes coconut oil for a good intake of healthy fat. It's incredibly simple to make and a whole lot better for you than the majority of store bought granola.
It's a wonderful make in advance recipe that will ensure you have a big batch of healthy granola waiting for you when you get out of bed in the morning. Make sure to store it in an airtight container, otherwise it will lose its crunch. Speaking of crunch, my favourite part of granola is always the large clusters you get. The key to getting clusters, is once you remove it from the oven, leave it on the baking tray untouched until completely cool. I'm always tempted to stir it or to start nibbling bits off the side but try to leave it untouched for at least 30 minutes. Once the granola has cooled, it should be crunchy and stick together well.
If you're always in a rush in the morning and find you never have time for breakfast, it will only take a few minutes to pour some granola in a bowl and top with your favourite ingredients. My favourite is to serve it with almond milk, sliced banana and fresh berries. Another great time saving tip it to put all the ingredients in a glass jar that you can pop in your bag to eat on the go. It's so delicious and such a great way to start your day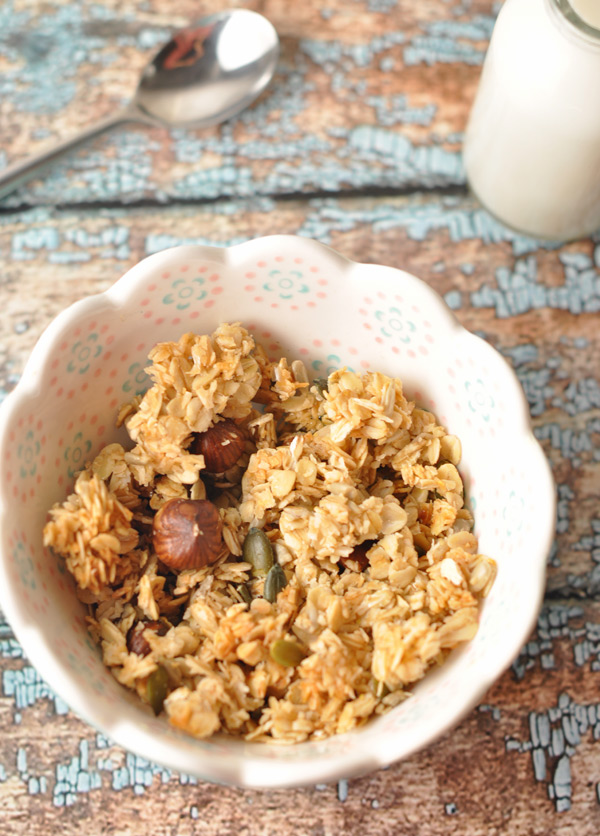 Coconut & Hazelnut Granola
Ingredients
2.5 cups rolled oats
½ cup pumpkin seeds
⅓ cup sunflower seeds
1 cup hazelnuts
1 cup dessicated coconut
½ cup coconut oil
½ cup honey
Directions
Preheat oven to 140 degrees or 280 degrees fahrenighit
Add oats, coconut, hazelnuts, sunflower seeds, pumpkin seeds to a large mixing bowl
Add the honey and coconut to a small saucepan and gently heat until warm and mixed together
Add honey/coconut oil mixture to the dry ingredients and mix well to ensure everything is well coated
Line two baking trays with baking paper and pour granola onto trays. Spread the mixture out well as you don't want it to crowded otherwise it will not cook evenly
Put granola in oven and bake for 30 minutes or until oats have turned golden
Remove granola from oven and leave until completely cool
Remove from baking tray and store in airtight container