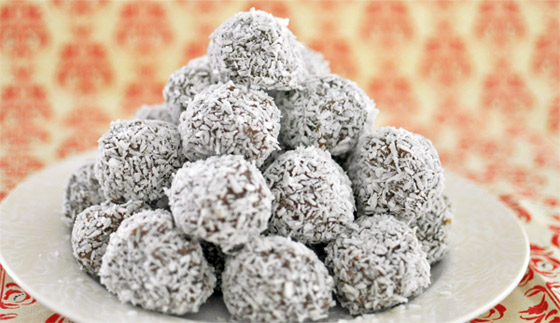 These look exactly like the rum balls my grandparents used to make for Christmas. However, these don't taste of rum and you can eat them any day of the year.
These are the perfect snack for a pre/post workout, to take on a picnic or a quick bite on the run. They are packed full of goodness and in one bite, you can have a nutritious and satisfying snack. The dates and coconut give them a deliciously sweet taste so it almost feels like a treat! The best kind of treat! I usually always pop one of these in my mouth before a yoga class.
We have a constant stash in our freezer and I'm convinced Mark thinks there is an energy ball fairy that very kindly replenishes our depleted supply.
The beauty of this recipe is that it's highly adaptable. As long as you have some nuts and a packet of dates, you're good to go.

Energy Balls
Ingredients
1 packet of pitted dates (500g)
¾ cup almonds
½ cup walnuts
½ cup desiccated coconut
1 tablespoon water
1 tablespoon coconut oil, melted
Directions
Soak dates in boiling water for at least 15 minutes. This allows the dates to soften, which makes them easier to blend
Add nuts to food processor and grind to a fine consistency
Add dates, coconut oil and water to blender and mix well
If you have the time it's best to put the mixture in the fridge to set for at least half an hour as it makes it easier to roll into balls. I often make the mixture the night before
Take some mixture and roll into a small ball, dip in coconut and coat evenly
Get a production line going, whereby you roll three balls and then dip them in the coconut
Repeat process until mixture is finished
Store in container and put in freezer