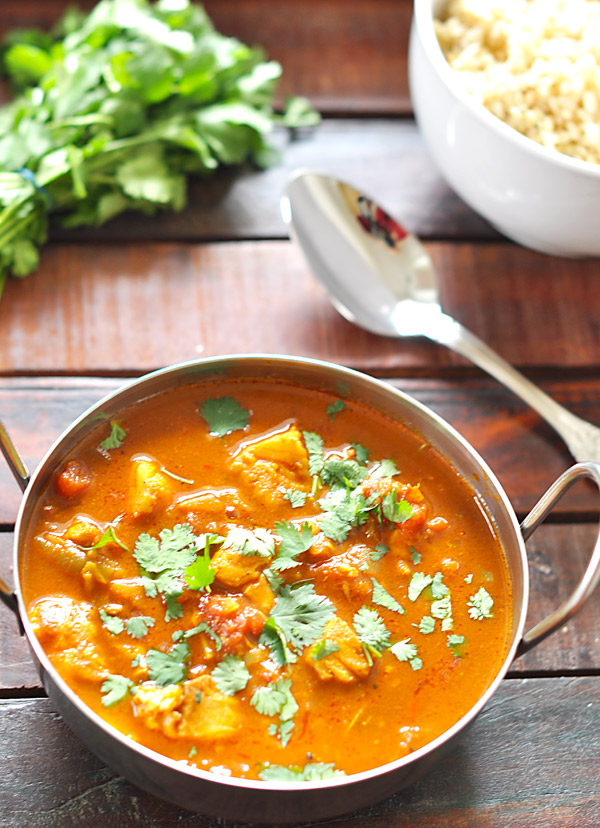 I love a good curry. Pretty much anything that includes Indian spices I love! I couldn't possibly compete with the Fish Curry that we ate in India but I must admit this had me licking my lips and making mmmmmm noises out loud.
Fish Curry is a popular dish in Southern India and is one of their specialities. There was a restaurant on the beach right next to where we were staying and we ate there every single meal for one whole week. Word on the street was that it was the best restaurant in town and after eating there once we decided it must be true. There's something special about eating your meal on the beach with your feet in the sand. Their fish curry was a local delicacy and was the inspiration for this dish.
This curry is bursting with flavour and the key is to let the sauce develop. It's simmered for around 30 minutes and then taken off the heat but left covered for another 30 minutes. It's sprinkled with fresh lemon juice and coriander to give it one last hit of flavour and freshness.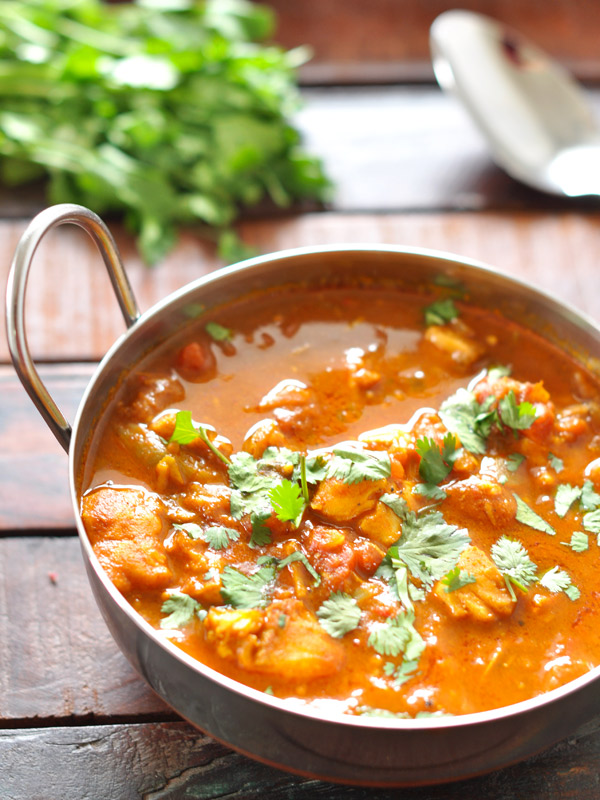 Fish Curry
Ingredients
1 tablespoon coconut oil
1 white onion, finely diced
3 cloves garlic, minced
1 tablespoon ginger, finely chopped
1 chilli, finely chopped
1 tablespoon mustard seeds
1 tablespoon dried coriander
2 tablespoons curry powder
½ teaspoon turmeric
1 400g can diced tomatoes
½ 400g can coconut milk
¾ cup water
500g white fish
½ lemon, juiced
Coriander, to garnish
Directions
Heat coconut oil in a wok on a medium heat and fry onion, garlic, ginger and chilli for around 10 minutes or until onion begins to turn translucent
Add mustard seeds and fry for another 5 minutes
Add dried coriander + curry powder and mix well. Cook for a few minutes to form a dry spice mixture
Add tomatoes, coconut milk and water
Add turmeric and stir until combined
Leave sauce to simmer for around 20 minutes
Season fish with salt & pepper
Add fish to the curry and cook for around 10 minutes
Turn the heat off, cover the curry and let sit for 30 minutes
Season with lemon juice and a sprinkling of fresh coriander