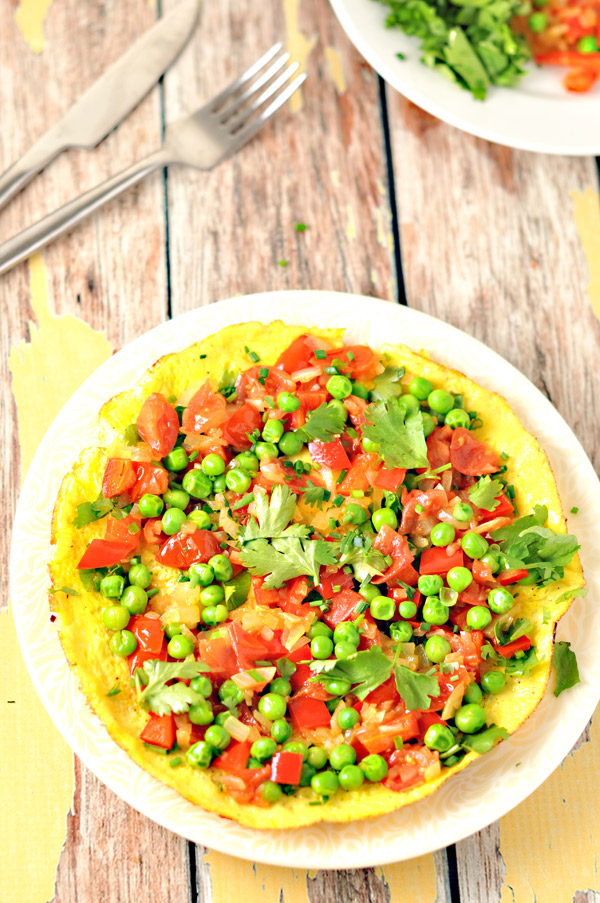 I have a confession! Until a couple of weeks ago, I was a food blogger unable to successfully cook an omelette. I know….gasp!  I would always end up with scrambled eggs, which tasted great but didn't resemble what I was actually trying to make.
I was speaking to my Dad recently who was telling me that he's been enjoying making omelettes for breakfast while he's relaxing on the Thai Island of Koh Samui for the next few months. Jealous!
He gave me such a great tip and ever since my omelettes have worked perfectly. Basically he told me to add a little water instead of mixing the egg with milk. Could it really be that easy I wondered, but I gave it try and it works like a charm. The water allows the egg to stay aerated and light and makes for a perfectly formed omelette every time.
I made this omelette with lots of wonderful fresh ingredients and the flavours work wonderfully together. This meal is so versatile and would be great for breakfast lunch or dinner. It includes a layer of fried tomatoes, onion and red pepper and is then topped with garden peas and fresh chives + coriander.
I think you'll love this recipe and so long as you have a few staple ingredients in your house, you can have a delicious meal ready in no time at all.
I'm loving finally being able to make omelettes! Thanks Dad!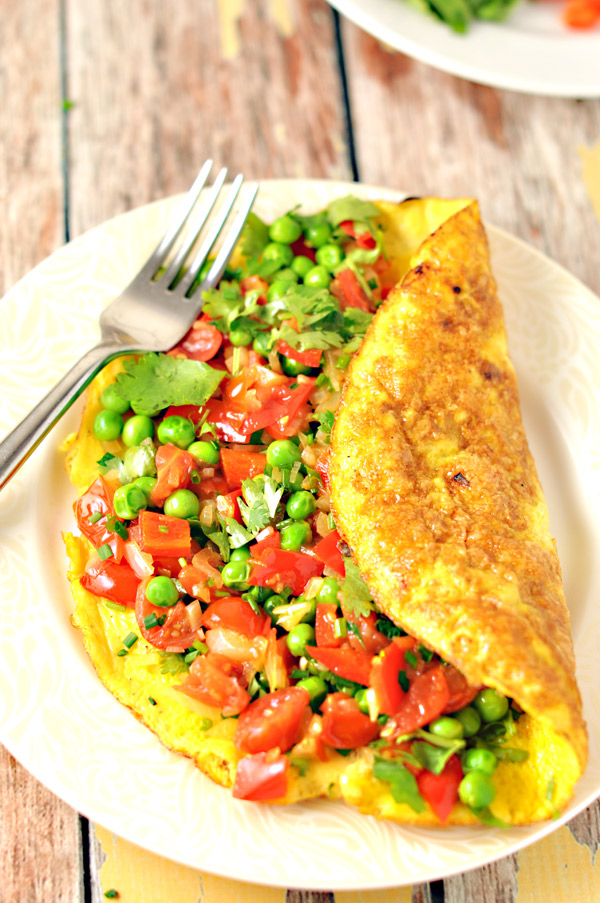 Garden Vegetable Omelette
Ingredients
1 tablespoon coconut oil
½ white onion, diced
¼ cup red pepper, chopped
½ cup tomatoes, diced
3 eggs
1.5 tablespoons water
Salt + Pepper, to taste
2 tablespoons chives, chopped
2 tablespoons coriander, chopped
¼ cup frozen peas
Directions
Add onion, red pepper and tomatoes to a frying pan with ½ tablespoon of coconut oil and fry for around 5 minutes. Set aside
Add peas to saucepan with boiling water and cook for approximately 3 minutes. Strain and set aside
Crack eggs into a bowl, add water and whisk
Add salt + pepper to eggs and whisk further
Add the remaining coconut oil to a frying pan and pour in the egg mixture. Fry until the eggs are no longer runny
Take the omelette out of the pan and top with all the ingredients (chopped chives, coriander, onion, red pepper, tomatoes)