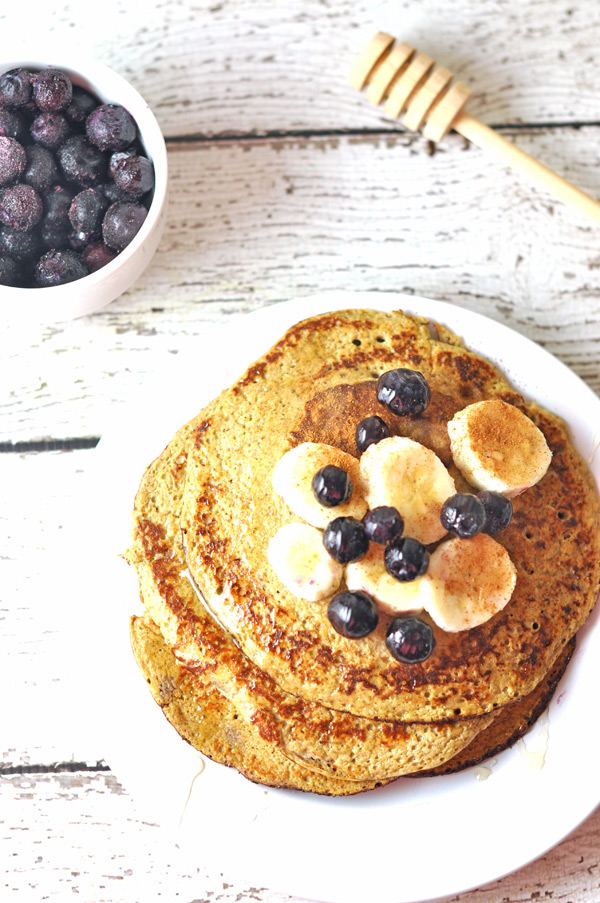 The idea for this recipe is by no means my genius idea but I figured in case you haven't seen it floating around the internet, it would be a great thing to share with you. When my Dad first told me about a pancake recipe that didn't include flour, I couldn't picture it at all and thought they wouldn't look or taste like pancakes. But I was wrong!
These pancakes include no flour whatsoever and are made with a base of banana and eggs. I've added some cinnamon, almond butter and flaxseed for extra flavour and nutrients. All you do is whizz everything up in the blender and then cook just as you would a regular pancake.
A great option for those of you who are gluten free or if you're looking for a lighter breakfast. They are full of protein so will fill you up for hours. To make them extra delicious I topped these with banana, blueberries and honey.
If you're thinking the banana or the egg flavour might be too over powering, I get it, I thought the exact same thing but surprisingly it isn't. Everything works wonderfully and it's a great little recipe for a quick and healthy breakfast.
Gluten Free Pancakes
Ingredients
1 banana
2 eggs
1 teaspoon cinnamon
1 teaspoon almond butter
1 tablespoon ground flaxseed
Directions
Add ingredients to a blender and whizz for about 20 seconds or until smooth
Add a small amount of coconut oil to a pan on a medium heat.
Pour mixture into pan and cook for several minutes before flipping over to cook for another minute or so
Repeat procedure for the remaining part of the mixture
Top with ingredients of your choice (banana, blueberries and honey)