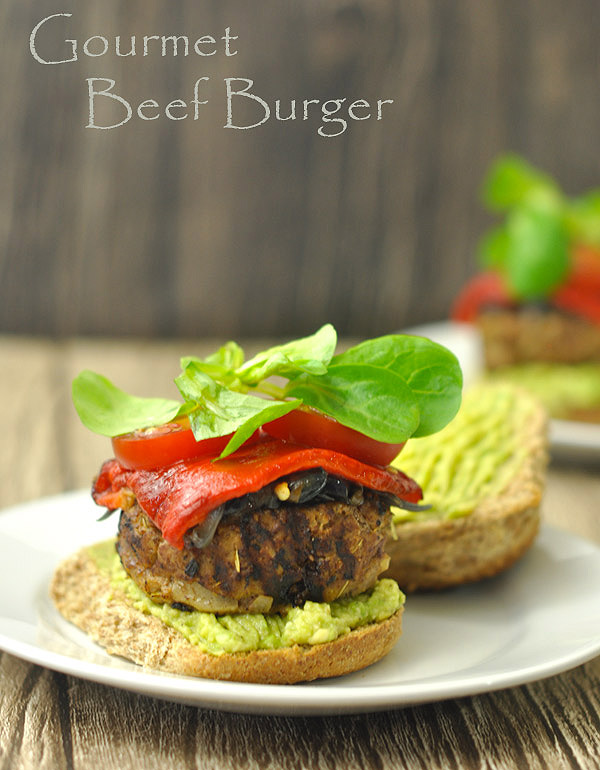 I was slightly nervous to publish my first non-vegetarian recipe but I've finally made peace with the decision and I'm excited to be sharing it with you. Although I'm not strictly vegetarian, meat isn't something that I eat regularly, especially red meat. Occasionally my body will crave a little meat but if I didn't have a meat eating boyfriend it's likely that I'd eat it even less. Everyday I'm grateful that I have a partner who is so willing and happy to eat lentils, green juices and masses of vegetables. I did take it as hint though when he kept politely asking me every weekend when I might be photographing my gourmet beef burgers.
 I only buy organic meat and while it's a lot more expensive, because I'm not eating it regularly I can justify the expense. For this recipe, good quality, lean mince is essential.
 One of the joys of cooking at home is that you can flavour and cook your food exactly how you like it. These burgers patties are flavoured with sweetly cooked onion, garlic and dried rosemary. Mince and rosemary are such a wonderful combination!
The burger is topped with roasted red pepper, avocado and caramelised red onions. I love to prepare these elements in advance so when I'm ready to dive in, I can minimize cooking time.
When I eat I naturally want to nourish and nurture my body. I love eating at home because I can be aware of and control exactly what I'm eating. Homemade burgers are great, you get to enjoy an old time favourite without the unhealthiness that you get at some burger joints. You can't go wrong!
Gourmet Beef Burger
Ingredients
Burger Patties
250g lean mince
1 onion, finely diced
2 cloves garlic, minced
1 tablespoon yellow mustard
1 teaspoon worcestershire sauce
1.5 tablespoons dried rosemary
1 cup whole wheat breadcrumbs
1 egg
Salt & Pepper, to taste
Burger Toppings
4 whole wheat buns
1 red pepper
1 spanish onion, thinly sliced
2 tomatoes
1 handful of spinach
1 avocado
Directions
Preheat oven to 180 degrees celsius
Roast pepper in the oven for around half an hour until the skin starts to blacken and bubble. Turn the pepper over once or twice during the cooking time
Fry red onion in little oil until caramelised. After around 10 minutes add a splash of balsamic vinegar and set aside
Fry white onion and garlic in a little oil for several minutes until caramelised
Add 2 slices of bread to food processor and pulse until you have crumbs
Put mince in a large mixing bowl and add cooked onion + garlic, mustard, worcestershire sauce & egg and mix until everything is well combined
Add bread crumbs, salt+pepper, rosemary and mix well
Shape mixture into four patties
Add a little oil to frying pan or griddle and cook for a few minutes on each side
Serve burger on toasted buns and top with roasted red pepper, avocado, caramelised onion, tomato and spinach