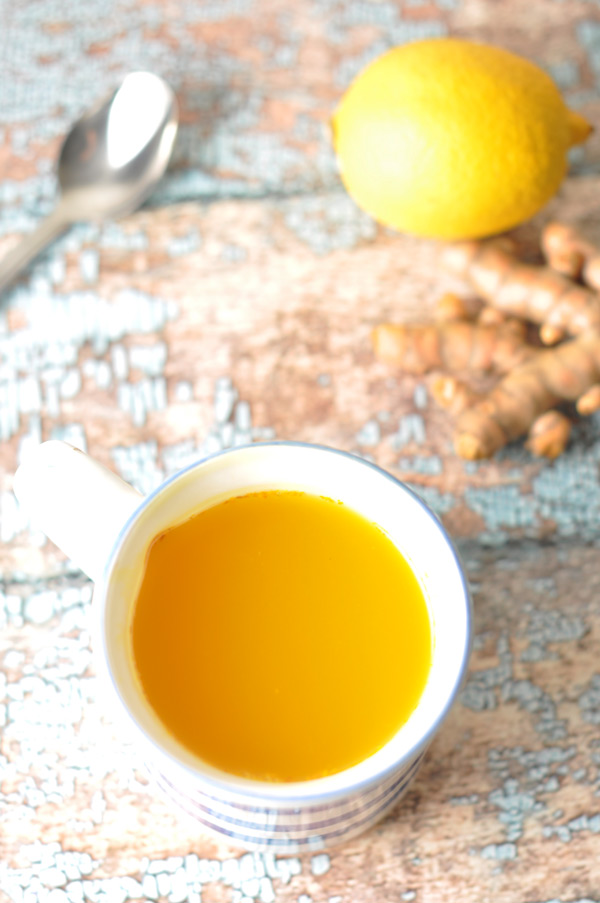 You might remember my Turmeric Milk recipe that I posted a couple of months ago, well since then I've been on a major turmeric kick. Today I'm sharing an awesome herbal tea recipe with you that I've recently started drinking.  It's widely known especially in India that spices can have a healing effect on the body. Turmeric and ginger are two of the most powerful spices to help your body stay strong and strengthen your immune system.
I'm personally using these herbs to help with some of the pain associated with my menstrual cycle but the good news is, at the same time it's also having a powerful effect on lots of different areas of my health such as digestion, clear skin, restful sleep and headaches.
The main reason I wanted to share this recipe with you however is because it's a wonderful remedy to help keep away those nasty coughs and colds that lurk around during the winter months. I'm already noticing lots of people around me sniffling and feeling the effects of a cold and by drinking this amazing tea you're helping your body fight against any germs that you might come into contact with. It's full of anti-inflammatories and antioxidants and will give your immune system a boost.
It's incredibly calming to the nervous system and because the recipe uses fresh spices the flavour is incredible. I was able to find fresh turmeric at my local Thai supermarket, so hopefully you shouldn't have any trouble finding it.
While I can't guarantee that you won't get sick this winter and by no means will this tea alone solve all our health problems, it is incredibly nourishing and supportive to the body. Hopefully that along with a balanced diet and adequate sleep should keep you healthy all year round. Hope you enjoy!
Fresh Turmeric & Ginger Tea
Ingredients
1 teaspoon ginger, minced
1 teaspoon fresh turmeric, minced
1 teaspoon lemon juice
1 teaspoon honey
2.5 cups water
Directions
Use a microplane to grate the fresh ginger and turmeric
Add to a small saucepan with the water, lemon juice and honey
Bring to the boil and then gently simmer for 10 minutes
Remove from heat and strain through a fine sieve
Pour into mug and serve while hot