A seriously tasty and healthier version of a Mexican family favourite. You will love these!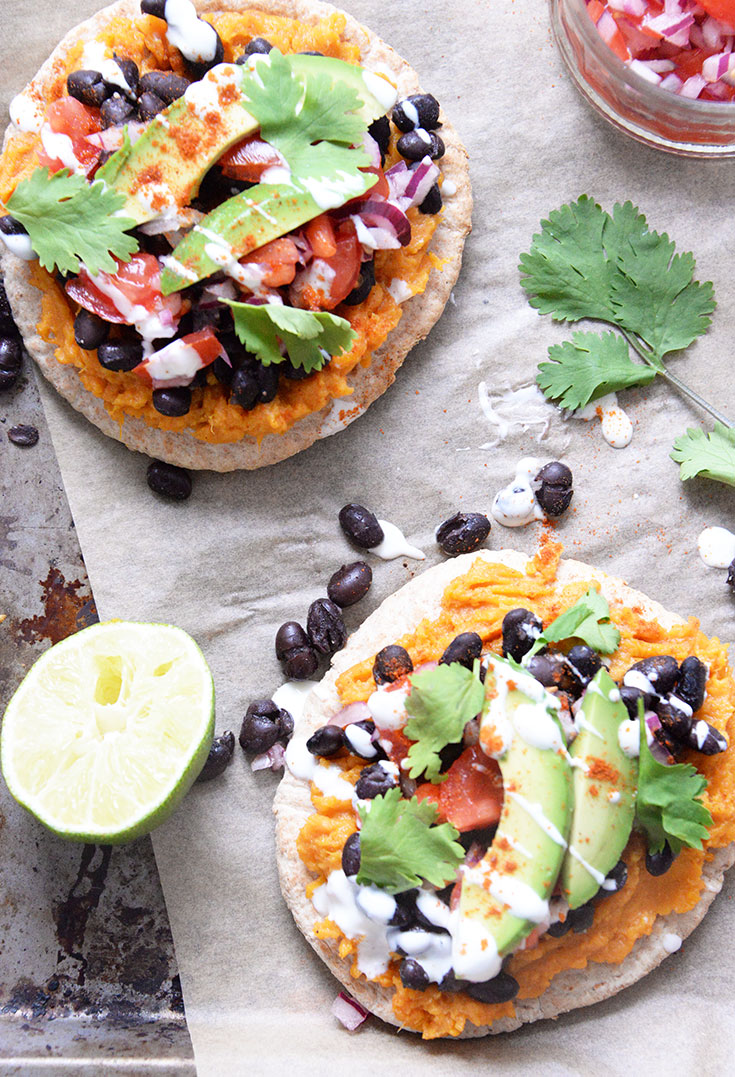 I've been on a massive Mexican kick these last few weeks and with the creation of this recipe I think it will be lasting a while longer!
I set out to create a Mexican style tostada that was a healthier version. That way we can eat all the Mexican food we desire and feel good while doing it.
Typically the base of a tostada is deep fried which makes it crispy and delicious but here's the thing, I actually didn't miss this element at all! In fact I liked this version better because not only did it taste great, I felt great afterwards. All you need to do for the base of these tostadas is toast some pita bread in the oven until crispy on the outside. It's so simple and works perfectly.
Sweet potato and black beans are staples in our house. Both ingredients are highly nutritious and a great way to fill up. Lets face it, if you don't feel satisfied after a meal, you'll be very tempted to eat things that perhaps aren't so good for you.
I eat very little meat, which means I rely heavily on ingredients like beans, potatoes and grains to feel satiated. While these are healthy things to eat, I mostly eat them because they taste delicious and make me feel great. They give me lots of energy and are easy to digest.
So naturally I topped these tostadas with sweet potatoes and black beans. The sweet potatoes are seasoned with spices and drizzled with a touch of maple syrup for some decadence.
They are then topped with a simple tomato, red onion and lime salsa. On top of that is avocado and to finish they are garnished with greek yoghurt, fresh coriander and pinch of cayenne pepper.
They are very simple to cook and assemble. Unless you have cooked sweet potatoes already prepared, which I highly recommend, you'll need to allow at least an hour for this recipe. I like to cook a big batch of sweet potatoes at the beginning of the week so I can very easily and quickly prepare recipes, which is such a help when you're busy. Some of my favourite recipes where you'll benefit from preparing sweet potatoes in advance are these Loaded Sweet Potatoes and Sweet Potato Falafel.
I really hope you love these as much as I did. I said multiple times while eating these how much I loved them and proceeded to make more before finishing what I already had on my plate. Make extra because you're sure to want more!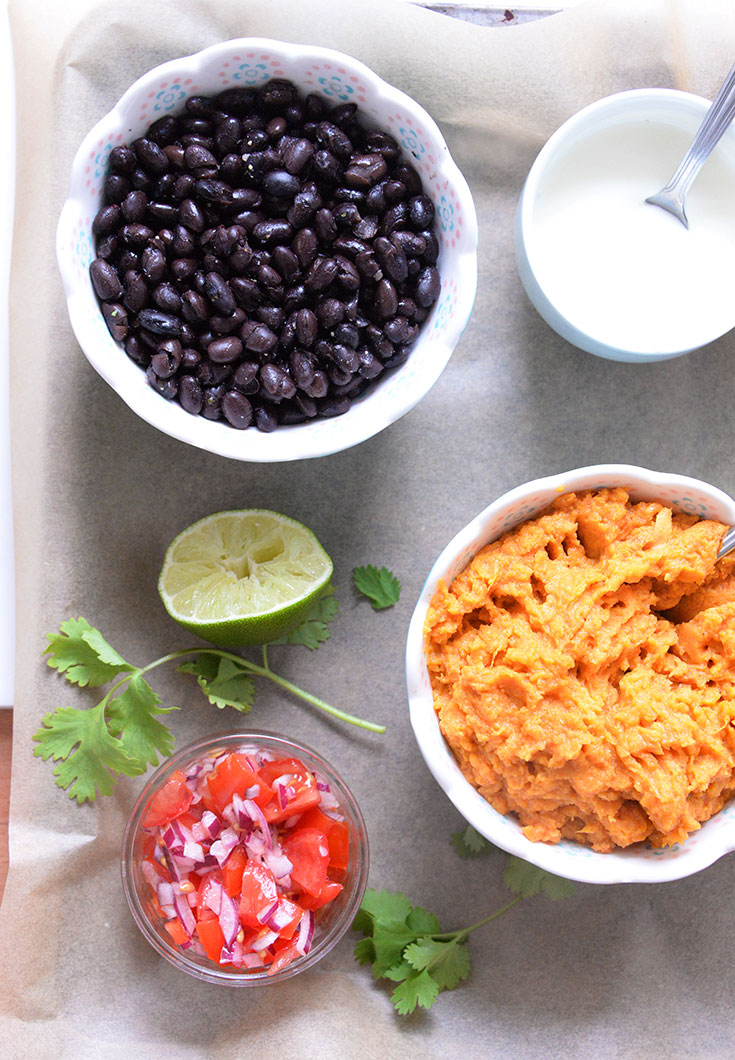 Mexican Style Vegetarian Pita Tostadas
Ingredients
4 pita breads
400g sweet potatoes, cooked
1 teaspoon cumin
1 teaspoon paprika
Pinch cayenne pepper
1 tablespoon maple syrup
1 400g tin black beans, rinsed well
4 tomatoes, finely diced
¼ red onion, finely diced
1 avocado, sliced
1 lime
¼ cup greek yoghurt
Garnish: chopped fresh coriander and cayenne pepper if desired
Directions
Preheat the oven to 180C or 356F.
Place sweet potatoes on a roasting tray and bake for 40 minutes or until tender. Stick a knife through the centre to test if it is soft. The knife will cut through very easily if cooked properly. While the sweet potatoes are cooking, it's time to prepare all the other components.
Rinse the black beans very well under cold water. Season with salt and pepper and stir well.
Add diced tomato and onion to a bowl. Squeeze the lime over and mix well to combine.
Once the sweet potatoes are cooked, you'll need to remove the skins. In a large bowl mash the sweet potatoes with a fork. Add cumin, paprika, salt, cayenne, maple syrup and mix to combine everything.
Put pita bread on a roasting tray and bake for ten minutes or until crispy on the outside.
Assemble the tostadas by spooning approx ¼ cup sweet potato onto the base of the pita. Top with black beans, tomato and onion salsa and avocado.
Garnish with greek yoghurt, fresh coriander and a pinch of cayenne if you like spicy.