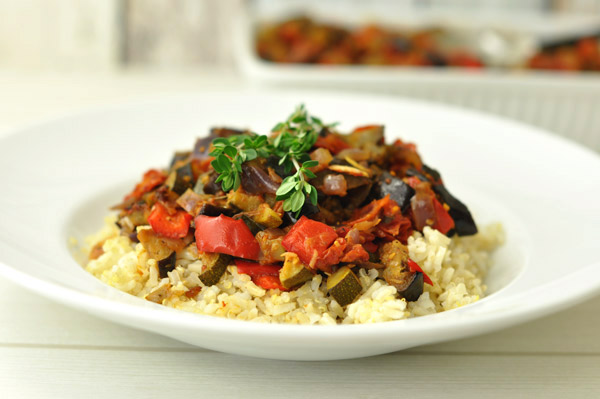 I love ratatouille, it's comforting, healthy and packed full of flavour. In the cooler months it's perfect to eat piping hot from the oven but in the summer I love to eat it cold the next day. This isn't a particularly authentic version but it's faster and I love the flavour of roasted vegetables.
It's a great way to get a good intake of vegetables, plus it's so simple and delicious that it's a great recipe to have in your repertoire.
The vegetables are roasted until tender and caramelised and the cherry tomatoes add a wonderful burst of freshness. Eggplant needs to be well cooked to make it juicy and flavoursome, so it takes a good sixty minutes in the oven. It's perfect served with brown rice or quinoa.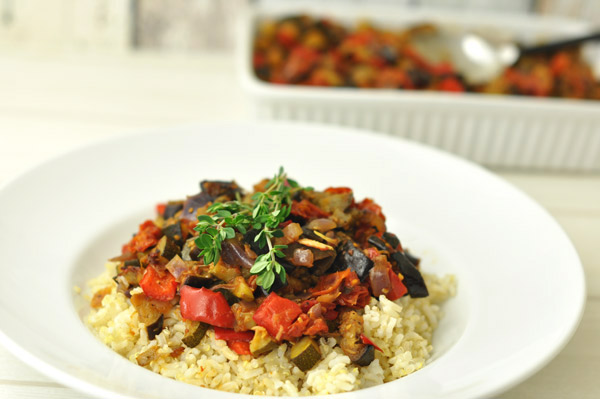 Oven Roasted Ratatouille
Ingredients
3 zucchinis (courgette), chopped
2 red pepper, chopped
1 large red onion, diced
2 eggplants (aubergine), chopped
4 cloves of garlic, minced
1 chilli, finely chopped
2 tablespoons of extra virgin olive oil
2.5 cups of cherry tomatoes
1 tablespoon dried oregano
Cracked pepper, to taste
Directions
Preheat oven to 180 degrees celsius
Chop the vegetables into cubes and add to a large roasting tray
Add garlic, chilli and olive oil to the tray along with the cherry tomatoes and mix well
Season well with oregano and pepper
Pop in oven and cook for 60 minutes. Take out of the oven every 20 minutes to stir