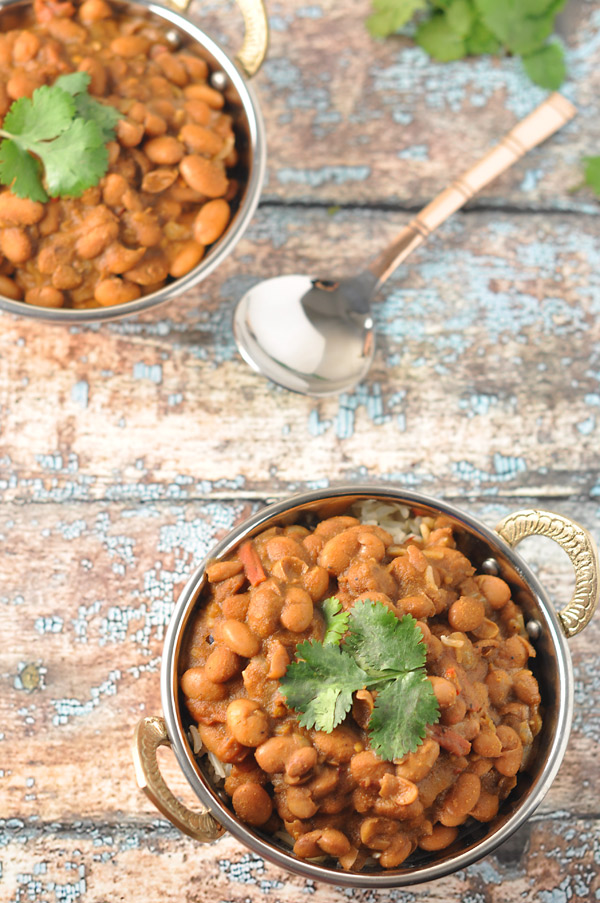 Having read that many cultures eat beans to bring good fortune for the year ahead, I made these on New Year's Eve 2013. I figured everyone can use a little extra luck, and honestly I could eat beans and rice all the time so didn't really need much convincing to jump on board.
I'm sure there's lots of people who might not get as excited about beans as I do, but after you taste these I'm sure you'll begin to understand my love for them. These beans are delicious and creamy and so full of flavour. Even if you're a regular meat eater I think you'll love these as an alternative source of protein. They just make you feel good!
It's no secret that I adore honest & healthy meals that are comforting and nourishing for the body and soul, and for me this recipe for beans and rice delivers on all accounts!
So far this year is shaping up to be pretty wonderful, I have so much to be grateful for, so who knows… maybe there is some truth in the tale 😉
Pinto Beans & Rice
Ingredients
2 cups dried pinto beans, soaked overnight
1 tablespoon coconut oil
1 white onion, diced
3 cloves garlic, minced
1.5 tablespoons cumin
1.5 tablespoons coriander
1 teaspoon cayenne pepper
1 teaspoon chilli flakes
3 tablespoons tomato paste
6 tomatoes, diced
½ cup coconut milk
Salt + pepper, to taste
Fresh coriander, chopped to garnish
Directions
Soak pinto beans overnight in cold water. Once they are done soaking strain the water and rinse them under fresh cold water
Add beans to a large pot and cover with water. The water should be enough so that it is roughly 2 inches above the beans
Bring the water to the boil and then simmer for one hour
While the beans are cooking, fry onion and garlic in coconut oil for approximately ten minutes
Add cumin and coriander to the onions, mix well and cook for a further one minute
Once the beans have been simmering for an hour, add the onion mixture, cayenne pepper, chilli flakes and simmer for a further 30 minutes
Add tomato paste, chopped tomatoes, coconut milk and salt and pepper and simmer for fifteen minutes
Serve with rice and fresh coriander