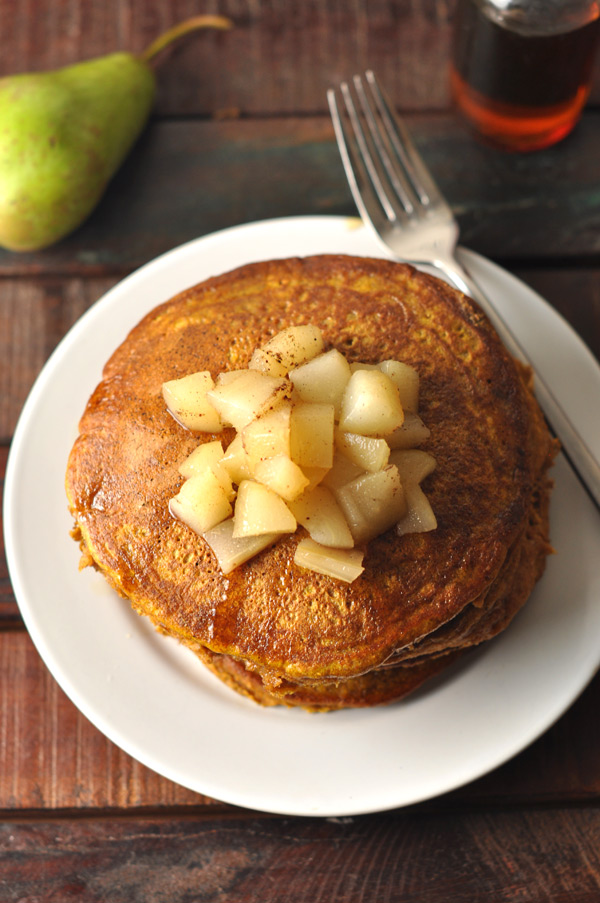 Any day that starts with pancakes is a good day! The internet is crazy for pumpkin recipes at the moment and even though we don't typically celebrate Thanksgiving in the UK, I've been excited to focus on pumpkin themed recipes over the past few weeks.
These pancakes are made with whole wheat flour and sweetened with maple syrup. The subtle hint of pumpkin works perfectly with all the other flavours. To make them extra special I topped them with poached pears. The pears are super simple to make, they're poached in a liquid of honey, cinnamon, cardamom and nutmeg.
What I love about this recipe, is that you can prepare everything the night before, then come morning you'll have pancakes in your belly in just a few minutes. I prepared the poached pears and batter the night before and it made everything so simple in the morning.
Morning time is to be savoured and enjoyed, so simple recipes are a must. These are perfect for a weekend breakfast when you have a little more time to eat with loves ones and sit back with a cup of tea and relax.
To all my American readers, I hope you have a wonderful Thanksgiving. Even though we don't celebrate it over here, I love this time of year, because it's such a beautiful thing to spend time acknowledging the things we are grateful for in our life. I try to bring thoughts of gratitude into everyday but it's easy to get swept up in everyday life and not take the time to reflect on the joy and blessings we are surrounded by. Finding gratitude in even the smallest things has made a big difference to my life. I'm sure if you make these pancakes for someone you love, they'll be very grateful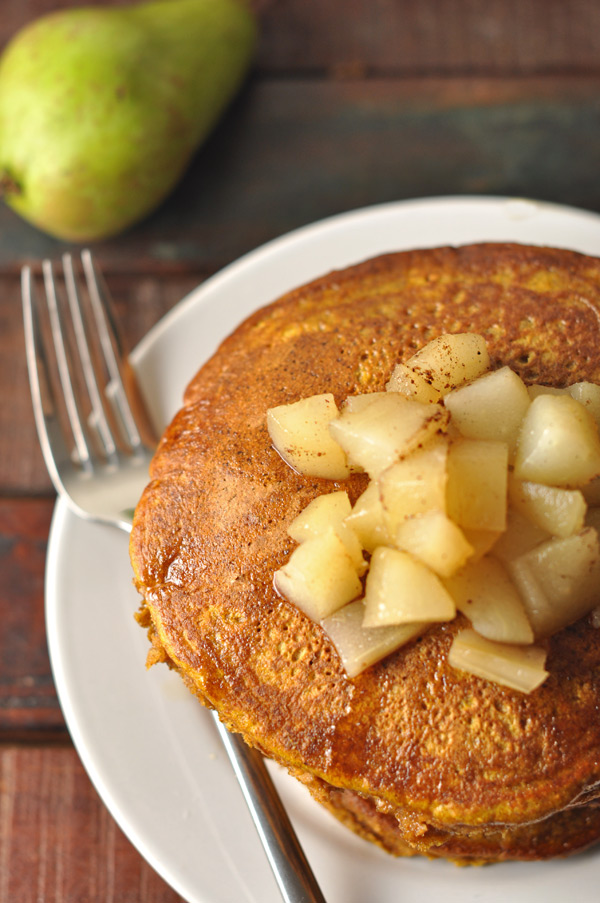 Pumpkin Pancakes with Poached Pears
Ingredients
Poached Pears
3 small ripe pears, peel + remove stem and cut into quarters
3.5 cups water (enough to cover the pears)
2 tablespoons honey
1.5 teaspoons cinnamon
1 teaspoon nutmeg
2 cardamom pods
Pancakes
1.5 cups whole wheat flour
1 teaspoon baking soda
1 teaspoon cinnamon
Pinch of nutmeg
Pinch of salt
1 cup almond milk (or your favourite milk)
¼ cup Greek yoghurt
¼ cup pumpkin puree
1 tablespoon maple syrup
2 eggs, whisked
Directions
Add pears to a small saucepan with the water, honey, cinnamon, nutmeg and cardamom. Bring to the boil and then simmer for 30 minutes or until pears are tender.
Strain the water from the pears. Once cooled, chop pears into cubes and set aside until needed
Add flour, baking soda, cinnamon, nutmeg and salt to a large mixing bowl
In a separate bowl, add milk, yoghurt, pumpkin puree and maple syrup and mix until well combined
Add liquid ingredients to the bowl with the flour and stir until combined
Finally add the eggs and mix through the batter
When ready to cook pancakes, add a small amount of coconut oil to a frying pan, add half a cup of batter and cook until bubbles start to form on the top of the pancake, which should take a few minutes. Flip over and cook on the other side for around 1 minute or until cooked through. Repeat process until you have your desired amount of pancakes cooked. You can store the batter in the fridge for a few days
Top pancakes with poached pears and drizzle with maple syrup