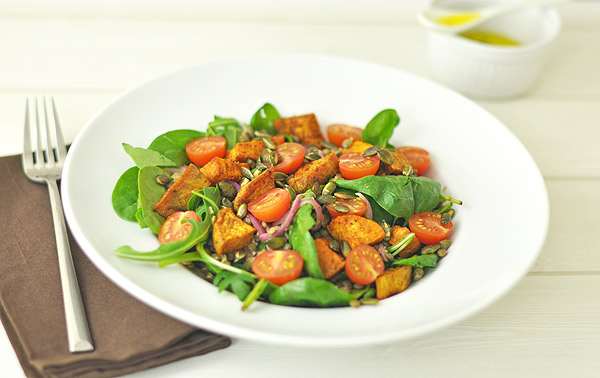 This warm Puy lentil and sweet potato salad is one my favourites and something I eat regularly for lunch or dinner. It's perfect to take to BBQs, picnics or when you are having guests over for dinner.
 The warm lentils and sweet potato make it comforting and hearty enough to eat for a main meal. This salad is perfect for both summer and winter weather and I eat it all year round.
 It's a simple salad with a load of different flavours that all work wonderfully together. Hope you enjoy!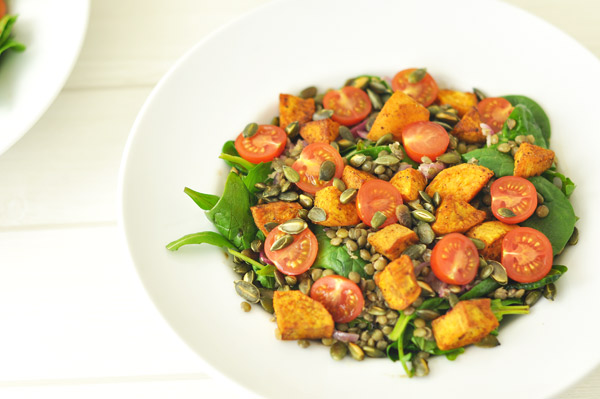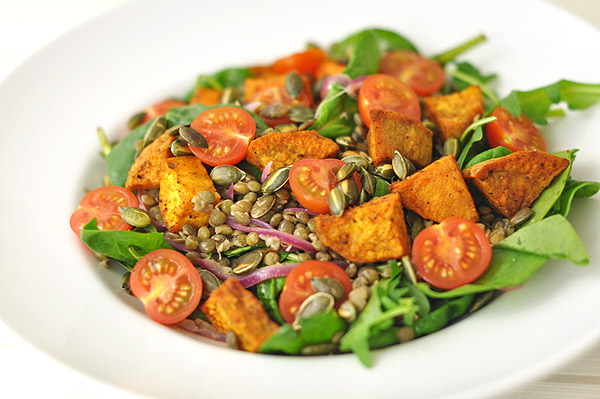 Puy Lentil & Sweet Potato Salad
Ingredients
2 large handfuls of rocket
2 large handfuls of spinach
½ cup of Puy lentils
1 red onion, chopped
1 clove of garlic, minced
1 cup of cherry tomatoes, halved
1 lime
1 large sweet potato, peeled & chopped
¼ cup of pumpkin seeds
1 tablespoon extra virgin olive oil
1 tablespoon balsamic vinegar
Directions
Bake sweet potato in the oven for around 40 minutes or until soft inside (this can be done in advance)
Cook half a cup of green lentils in boiling water until lentils are tender. Strain and set aside
While the lentils are cooking fry the red onion and garlic in a small amount of olive oil. When the onion starts to caramelise, add the lentils with the juice of half a lime and stir well. Cook for another couple of minutes
Add the pumpkin seeds to a frying pan and dry roast them for around 7 minutes until they start to make a popping sound
Remove skin from sweet potato and cut into cubes
Dress the salad leaves with the olive oil & balsamic vinegar
Assemble the salad
Squeeze the remaining lime juice over the top of the salad