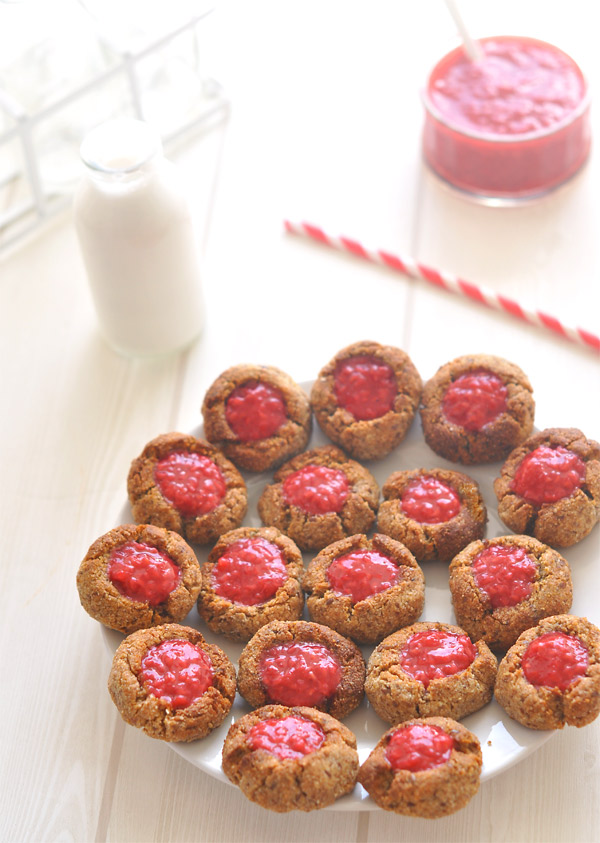 I love experimenting with healthy desserts, it ignites a fire within me to cook purely for enjoyment. My love of cooking was born from learning to make desserts as a child, I was drawn to the creative side of it.  These almond and raspberry cookies are fun to make and taste great!
During the week, I cook purely to nourish my body because like most people, I'm often trying to get dinner made quickly. The weekend is when I really take the time to enjoy the cooking process; when I have time to be mindful of what I'm doing.
These cookies are free of refined sugar and gluten free. They are made with almond flour and filled with a delicious raspberry coulis. They are a perfect weekend treat!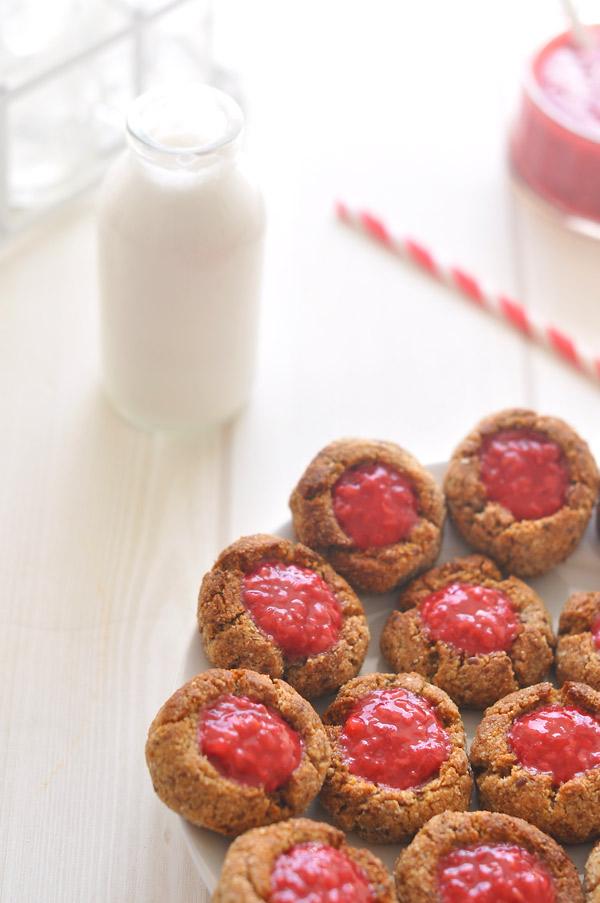 Raspberry & Almond Thumbprint Cookies
Ingredients
200g raspberries
2 tablespoons water
1 teaspoon maple syrup
1.5 teaspoons corn flour
1.5 cups almond flour
½ teaspoon vanilla powder or extract
½ teaspoon cinnamon
½ teaspoon baking soda
3 tablespoons flaxseed
1.5 tablespoons coconut oil, melted
2 tablespoons honey
1 flax egg (1 tablespoon flaxseed mixed with 2 tablespoons water) or 1 egg
Directions
Preheat oven to 180 degrees celsius or 356 fahrenheit
Add raspberries to a small saucepan on a low heat with the water. Gently heat the berries until they start to break down and form a liquid. This should take around 5 minutes
Add the maple syrup and mix well
Gradually add the corn flour and stir well until the raspberry coulis begins to thicken slightly. Take off the heat and allow to cool
Add almond flour, vanilla powder, cinnamon, baking soda and three tablespoons of flaxseed to a large mixing bowl
Mix coconut oil and honey together and pour into the bowl with the dry ingredients
In a small bowl, mix together the flax egg (1 tablespoon of flaxseed with 2 tablespoons of water) and pour into the mixing bowl
Mix all of the ingredients together until well combined
Take a small amount of the mixture and roll into a ball. Place the cookie on a baking tray lined with greaseproof paper. Repeat the process with the remaining mixture
Place the cookies in the fridge for around an hour to allow the mixture to become firm
Take the cookies out of the fridge and place a thumbprint in the centre of each one
Put the cookies in the oven to bake for 12-15 minutes or until golden
Once the cookies have cooled down, spoon a small amount of the raspberry coulis into the centre of the cookies