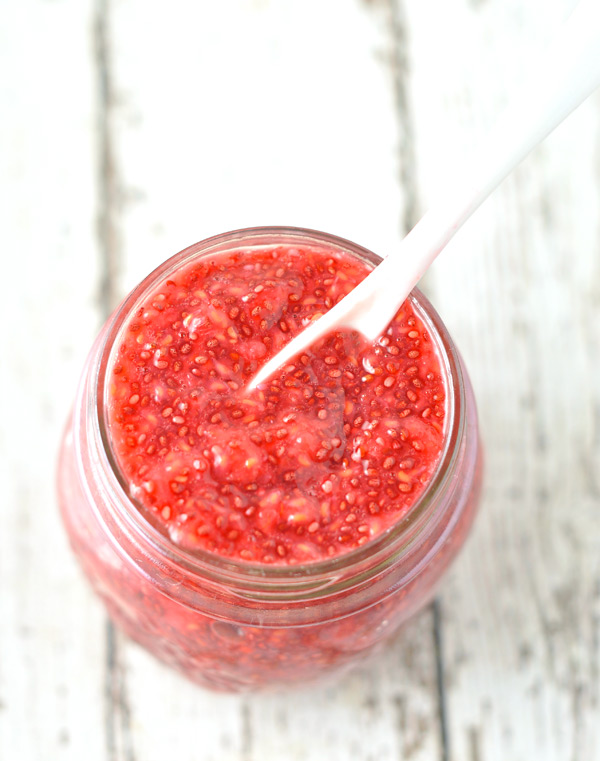 You gotta love a ten minute recipe where the end result is a beautiful jar of delicious jam. Raspberry Jam is a favourite for so many people but sadly often the main ingredients is a bucket load of sugar. I wanted to make a jam where the fruit was the real star, was super simple to make and healthy for you and your family. The reality is many people these days just don't have time to spend hours cooking things from scratch. With this recipe all you need is four ingredients and a spare ten minutes which is totally doable.
If your family are used to jam that's got a lot of sugar in it and therefore very sweet, you might find you need to add a little extra honey while you get them used to eating a more natural product. Raspberries are so wonderfully delicious; I think they'll love it!
On a separate note, I watched a documentary on the weekend about genetically modified food which is extremely prevalent in the USA. In my opinion the real danger with GMO is that the seed contains pesticides and no extensive tests have been done to determine what this will do to our bodies. I think all we need to do is see the result this is having on our poor bees who are dying by the millions due to the increasing levels of pesticides on our crops. In many states labelling isn't even required to let the consumer know that it's a GMO product. I'm grateful that Europe and Australia have stricter rules and with lots of conscious consumers campaigning in the USA, legislation is slowly changing to improve labelling. It boils down to consumers having a right to choose; a right to know what they are putting in their bodies so they can make an educated decision.
Most of the time I try to eat organic; I'm conscious of the food that I consume and try not to eat much packaged food. A theme that's been coming up for me this year is the need to strike a balance. We need to enjoy life, enjoy food and I find if I am constantly anxious about things like pesticides, GMO's, sugar etc, it takes a little bit of the joy out of life. I think it's about being conscious and aware of what you're consuming the majority of the time but allowing yourself to have the freedom to live without any thought of the consequences on occasion. The state of our health is hugely influenced by our thoughts and our mental state, so a little freedom can be medicine for the soul. If you're interested in watching the documentary it's called GMO OMG and you can get more details if you follow this link- http://www.gmofilm.com/
Now back to the raspberry jam! Be sure to store it in an airtight container in the fridge. It won't last as long as regular jam but I'm pretty sure it won't last long anyway as it's so tasty. Some of my favourite ways to eat it are on toast, scones or added to porridge. The chia seeds act as the gelling agent which gives it the jam like consistency. Chia seeds also have the added benefit of being ridiculously good for you. They are full of omega 3's, antioxidants, vitamin c and so much more. Simple…Healthy….Delicious…Enough said. Enjoy!
Raspberry Chia Jam
Ingredients
600g frozen raspberries
½ cup water
2 tablespoons honey
4 tablespoons chia seeds
Directions
Add raspberries and water to the saucepan on a medium heat. Put the lid on the saucepan and allow the raspberries to soften and breakdown
After 10 minutes or when the raspberries have broken down, stir in the honey and take off the heat
Use a fork to mash the mixture if you don't want any large chunks of fruit in your jam
Add the chia seeds, mix well and leave for 30 minutes or longer
Stir well and store in airtight container in fridge