A sweet and tangy dessert made with no refined sugar or dairy. Even your non plant based friends and family will love this. It's so simple to make and you don't even have to turn on the oven!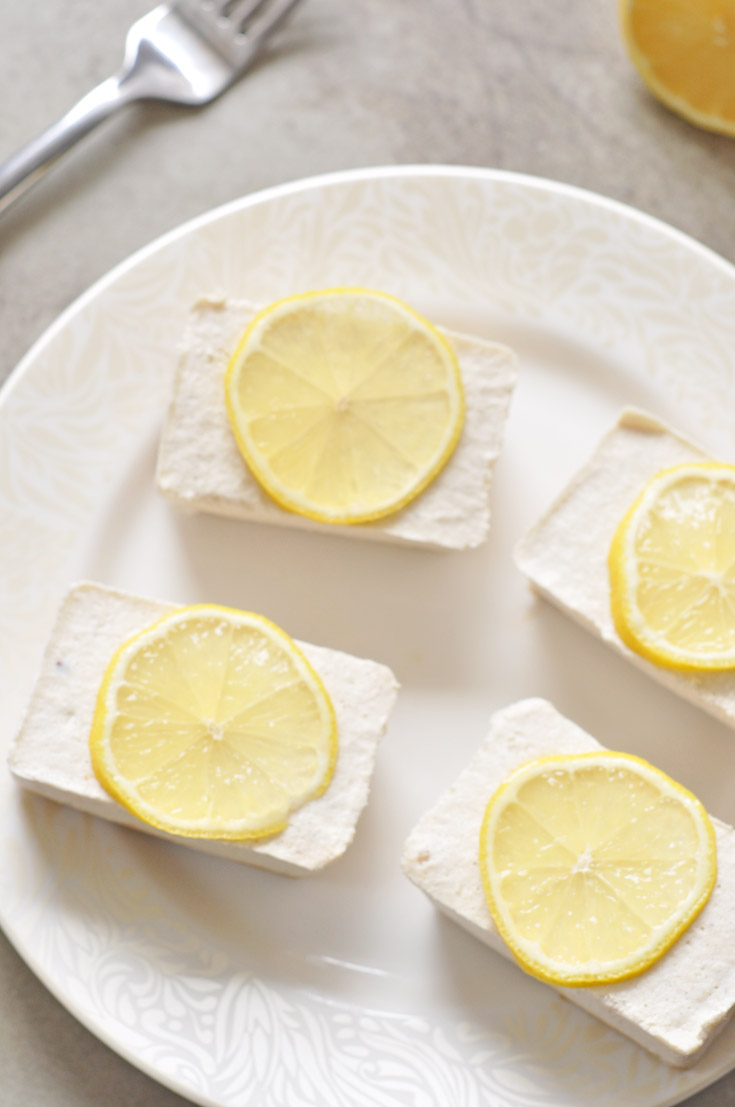 Last week I had an abundance of lemons in the kitchen and with my love of citrus growing ever more, these little beauties were born. All the ingredients are plant based and they are sweetened with maple syrup.
You need to remember to soak the cashews in advance which will help when it comes time to blend the ingredients into a smooth filling. Once the cashews are soaked in water they become plump and soft. The coconut cream adds an extra element of creaminess to the dessert. You definitely need to use a good high speed food processor or blender in order to get the filling smooth.
The last few months I've been making raw treats for THoY Juice which is the cafe in the Yoga Studio where I teach. Our students have been loving the healthy treats as an after class energy boost and I've been working on a couple of new recipes to introduce there.
As part of my recipe development research I've been trying some amazing raw vegan cheesecakes that use tofu as the base which allows for an even creamier and softer texture. I'm definitely intrigued by this I need to give it a try. I'm all about the texture of things when I eat and you can't beat a smooth, rich and velvety mouthful of deliciousness. I'll definitely share the recipe with you all when I've perfected it.
I like to serve this dessert with a slice of lemon on the top like you see in the photograph. Squeezing the fresh lemon over the top adds to its zesty deliciousness. I used individual small moulds to shape the bars but it will work perfectly in any springform pan. The mixture makes enough for 8 pieces. There is absolutely no reason why we have to eat food laden with refined sugar and animal products when a plant based variety tastes so wonderful. You definitely won't feel deprived!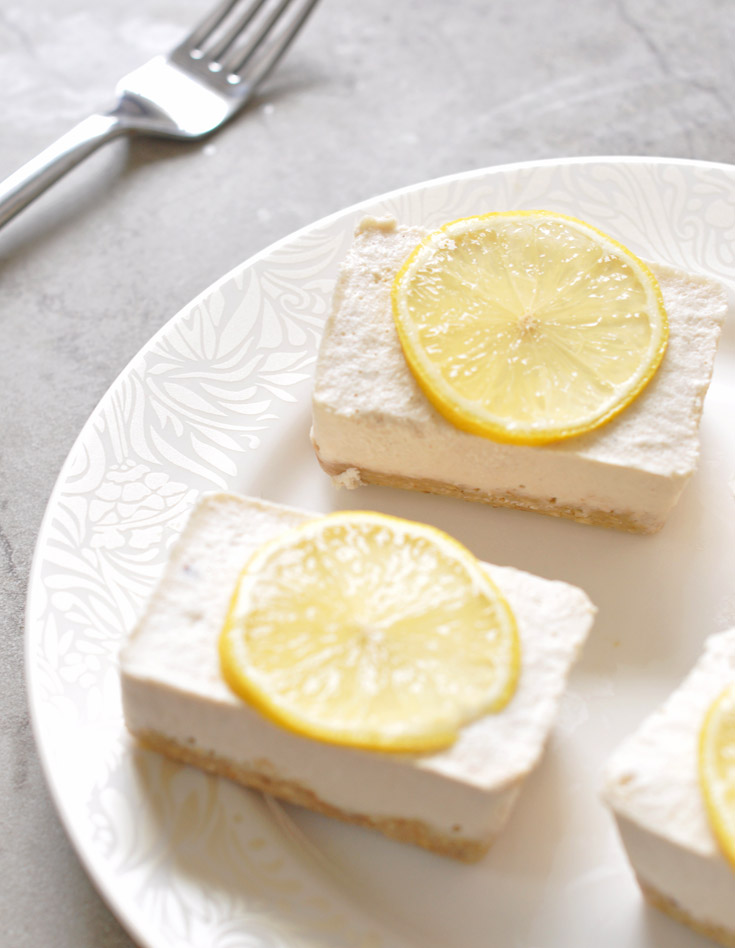 Raw Lemon Cheesecake Bar
Ingredients
Base
1 cup oats
½ cup almonds, finely ground
2 tablespoons maple syrup
2 tablespoons coconut oil
Filling
2 tablespoons coconut oil
1 cup cashews, soaked for at least 2 hours
100g coconut cream
Rind of one lemon
½ teaspoon vanilla
4 tablespoons maple syrup
125ml lemon juice (roughly 4 lemons)
Directions
Add oats and almonds to the food processor and mix well until you have a very fine crumb consistency. Then add the maple syrup and coconut oil and mix well.
Pour mixture into the base of your springform tin. Press down firmly so it is well compacted and even. Put in the freezer to set.
Add your soaked cashews along with all the other ingredients for the filling to the food processor and blend well until very smooth.
Pour mixture over the top of your base and put back in the freezer to set.
Take out of the freezer at least 30 minutes before you would like to eat.
Serve with a fresh slice of lemon