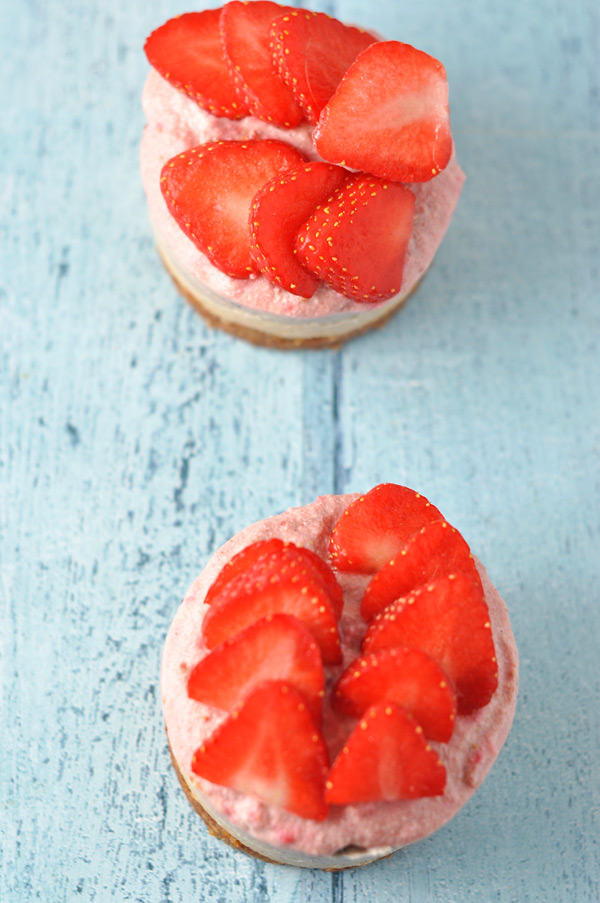 It's a happy day today! Its been one year since I started sharing recipes with all you wonderful people! I've loved every minute of it and am so excited about the future!
I've developed an absolute love for food photography and am so blessed to able to connect with people from all over the world. Its brought so much joy to my life and filled my heart with so much love. One of my absolute favourite things is when people share with me pictures of recipes that they've made. So if you've been cooking up a storm, I'd love you to share pictures on the Facebook page or Instagram.
To celebrate, I whipped up this delicious raw berry cheesecake. I just wish I could share a piece with all of you! My raw lime cheesecake has with been without a doubt my most popular recipe on the blog, so I've been wanting to post another raw cheesecake for a while now. Hope you all enjoy!
It has three delicious layers and includes a blueberry and a strawberry layer which is then topped with fresh maple glazed strawberries.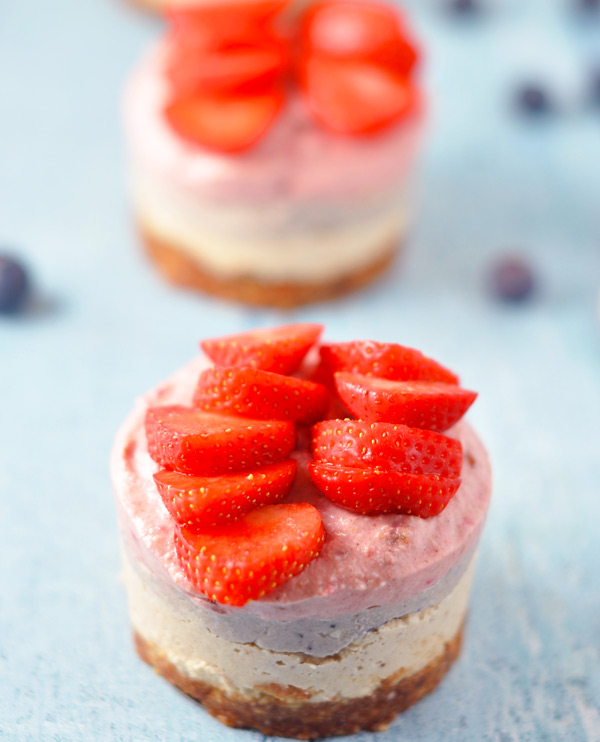 Raw Vegan Berry Cheesecake
Ingredients
Base
½ cup almonds
2 tablespoons desiccated coconut
¾ cup (around 10 medjool dates)
Cashew Cream Layers
2 cups cashews, soaked
2 tablespoons coconut butter
⅓ cup maple syrup
2 frozen bananas
1 teaspoon vanilla
½ cup blueberries
½ cup strawberries
Directions
Soak cashews in water overnight or for at least 4 hours
Add chopped bananas to freezer and leave for a few hours
Add almonds to food processor and mix until you have small pieces
Add medjool dates and dessicated coconut to food processor with the almonds and mix until well combined
Press mixture into an 8 inch spring-form pan or smaller individual tins like you see in the picture. Push it down firmly with the back of a spoon until well compacted. Place in freezer to set
Add soaked cashews to the food processor along with the maple syrup, vanilla, coconut butter, frozen bananas and mix well until smooth and creamy
Pour ⅓ of the mixture onto the base and spread evenly. Place in freezer until set
Add ½ cup of blueberries to the food processor along with half of the remaining cashew cream mixture and mix well until smooth and creamy
Add blueberry layer to cake and spread evenly. Place in freezer to set
Add remaining cashew mixture to blender along with ½ cup of strawberries and mix well until smooth
Add strawberry layer to top of cake and put in freezer to set
Slice strawberries. coat in maple syrup and add to top of cheesecake
Take out of freezer around 20 minutes before serving