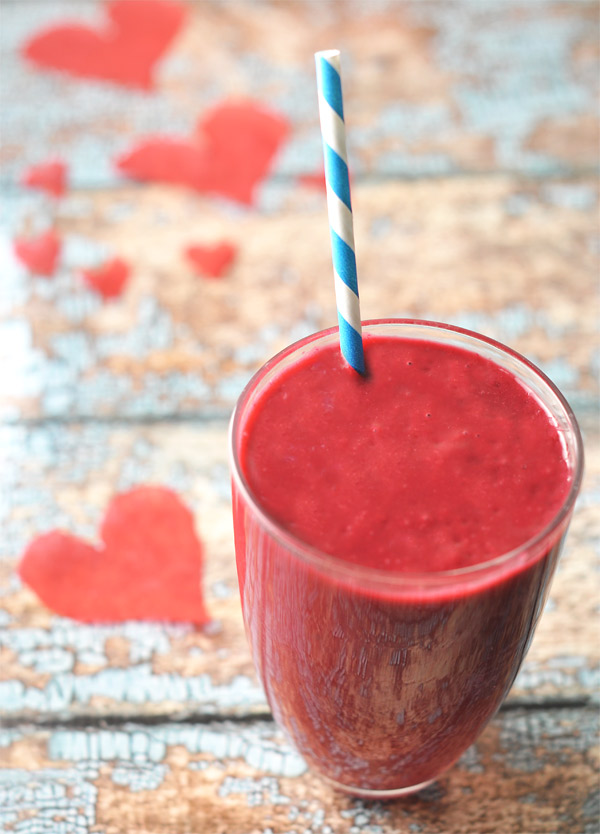 With Valentine's Day approaching, I thought what better way to spread some love than with a beautiful ruby red smoothie.
While I don't particularly love the commercialisation of Valentine's Day, a day where there is a little more love in the world deserves to be celebrated. And not just love for one particular person but love for everyone and most importantly love for yourself.
 This day can bring up all sorts of emotions for people who are searching for more love in their lives or perhaps suffering from a broken heart and it got me thinking that no one is ever alone because the most important relationship in our lives and perhaps the most complicated, is our relationship with ourselves.
Practising self-love isn't something that comes naturally for many of us; it certainly doesn't for me but during my healing journey I've learnt to be much kinder, accepting and compassionate towards myself. I reached some pretty dark times in the height of my illness and have never felt so alone but I think I needed to go through that to discover that everything I need in life is already inside me. I discovered a new found strength and determination that I never knew I had and I came to realise that if I treat myself with more love, I can show up in the world with more love and compassion for other people.
So in honour of self-love, I'm thinking Valentine's day should be an opportunity to not only show loved ones how much you care for them but to do something special for yourself, to show yourself how important you are. I think I'll treat myself to something special and I hope you do the same! You deserve it!
One things for sure, your body sure will love you after drinking this smoothie. It's made with fresh beetroot juice and then blended with avocado and banana to make it creamy and luscious. It might not be the most typical Valentine's day drink but there's no reason to break healthy eating when this delicious smoothie is on the menu. Hope you enjoy! Sending so much love!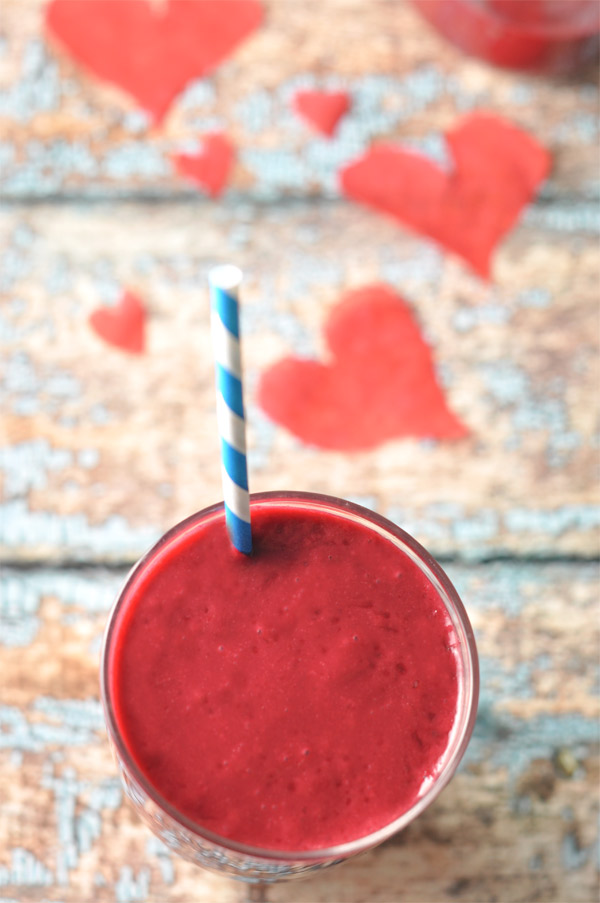 Ruby Red Smoothie
Ingredients
2 fresh beetroot's, peel skin off if not organic
2 celery stems
½ cucumber, remove skin
1 carrot
1 banana
½ avocado
Directions
Put the beetroot, celery, cucumber & carrot through the juicer
Add juice to a blender along with the banana + avocado and mix well
Serve and drink straight away