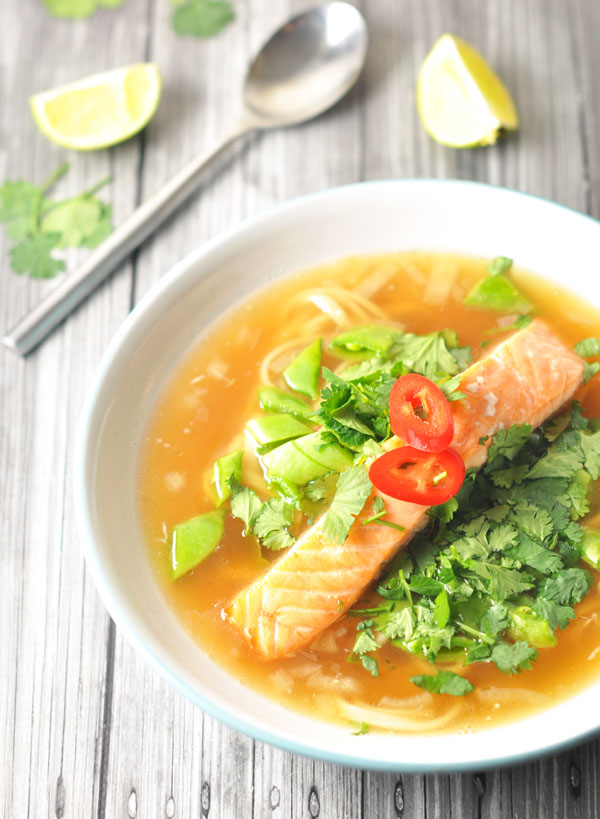 Using a good broth in your recipes is the key to a delicious tasting meal. You just can't compare the result you get from stock/broth you make at home and the majority of ones you buy from the store. It is such a simple thing to make and the reward is more than worth the small amount of time spent.
A broth made at home with good quality ingredients is full of nutrients and minerals. It feels so nourishing and nurturing, I just love it. This recipe uses my homemade chicken broth which is absolutely delicious. You just have to try it and then you'll see what I'm talking about.
For my vegetarian readers, I'm planning to publish another recipe in the coming weeks that you will love. I predominantly eat a plant based diet as that's what my body thrives on but I do eat meat maybe once a month and fish once a week. I only buy organic meat and this is both for health reasons and so that I know the animals are being treated better. I love the fact that whenever I make chicken broth not a single thing goes to waste. The meat is eaten and the stock is made with the bones and a bunch of vegetables.
I've most recently been using my slow cooker to make the stock and wow what a difference it makes. I leave it on a low heat for 24 hours and the flavour and colour is so rich and wonderful.
If you can, it's so helpful to always have some stock in the freezer so you can grab it in the morning to defrost and in the evening you can have a healthy and delicious meal in no time at all. This recipe includes brown rice noodles, salmon and peas. It's then topped with a generous sprinkling of coriander and fresh lime juice. Buckwheat noodles also work really well! It makes a great weeknight meal. It's super healthy and ready in 20 minutes.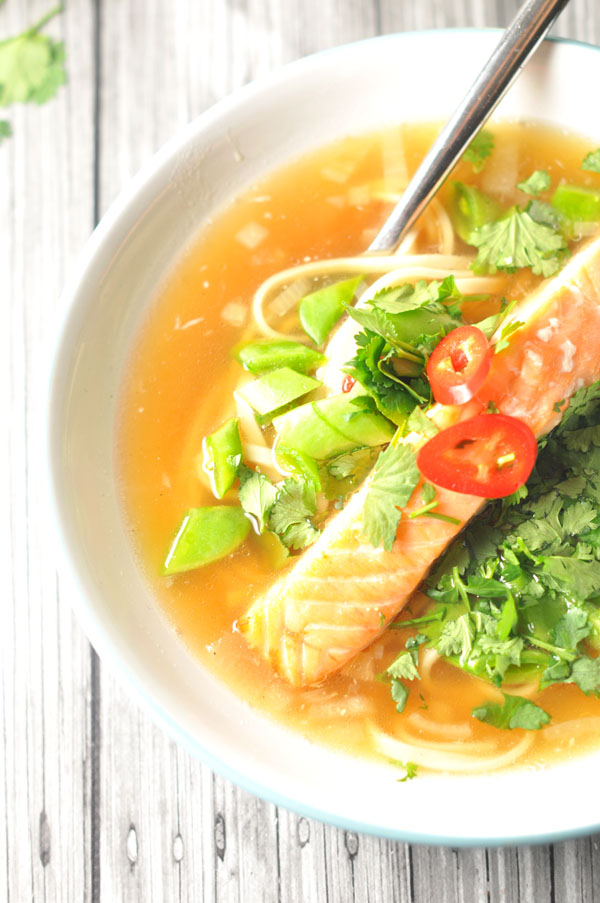 Salmon & Noodles in Broth
Ingredients
1.5 tablespoons coconut oil
1 white onion, finely diced
3 cloves garlic, minced
2 inch piece ginger, minced
4 cups chicken or vegetable stock
200g brown rice noodles (can use any noodles available to you)
2 salmon fillets
1 tablespoon tamari
½ cup frozen peas
½ cup fresh coriander, chopped
1 lime, juiced
Directions
Pre-heat oven to 180 degrees Celsius or 356 fahrenheight
Add coconut oil, onion, garlic and ginger to a large pot and fry on a medium heat for approx. 5 minutes
Add stock and bring to the boil. When boiling, lower the heat to a simmer and add peas
Cook noodles in boiling water as per the instructions on the packet. When cooked, strain and add to the pot with the stock
While the noodles are cooking and the stock is coming to the boil, cook the salmon. Place salmon on a tray with baking paper. Pour tamari over the top and put in oven to cook for 12-15 minutes. Remove from oven when cooked and carefully remove the skin
Ladle the broth and noodles into a bowl; add salmon, coriander and fresh lime. Eat while hot