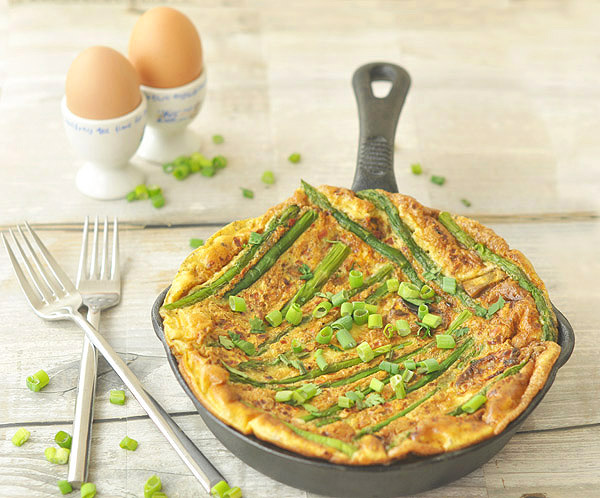 This is a perfect recipe for a quick and healthy mid-week meal or weekend brunch.
Fresh asparagus is layered over sweet potatoes and cooked with egg to make a delicious frittata. It takes no more than thirty minutes to make and even the most novice of cooks will have no trouble whipping this up. As long as you have some eggs and a few vegetables in the kitchen, you will never go hungry. It's a great idea to cook the sweet potatoes in advance so when the times comes you can have your frittata on the table and be eating it in no time at all. You can use any method that works best for you to cook the sweet potatoes, whether that be boil, fry or roast.
As much as I love cooking, during the week when I come home from work my goal is to cook and eat a healthy meal in the least amount of time possible and this frittata never fails me in achieving that goal. Leftovers are always welcome as it's delicious the next day straight from the fridge!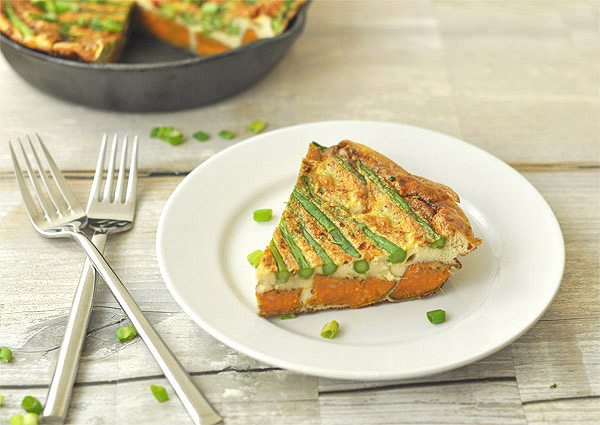 Asparagus & Sweet Potato Frittata
Ingredients
1 large sweet potato, peeled and chopped
10 asparagus spears
8 eggs
⅓ cup milk
2 tablespoons of spring onions, finely sliced
Salt & pepper, to taste
Chilli flakes, to taste
Directions
Chop sweet potatoes into cubes and coat in coconut oil and paprika before roasting in the oven for 20 minutes
Add asparagus to a small saucepan with boiling water and cook for 3 minutes. The asparagus should soften ever so slightly but you still want it to keep the shape and colour
In a mixing bowl whisk together the eggs and milk and season with salt, pepper and chili flakes
Layer the bottom of your skillet with the sweet potatoes, pour the eggs over the top and then carefully place the asparagus over the top
Preheat the grill
Put skillet on the stove over a medium heat and cook until the bottom and sides of the frittata are cooked. The top should still jiggle
Put the skillet under the grill for around 7 minutes. It is ready when the top of the frittata is set and is starting to turn golden
Remove from oven and let sit for a few minutes before serving. Sprinkle with spring onions and serve with a fresh salad or your favourite side dish