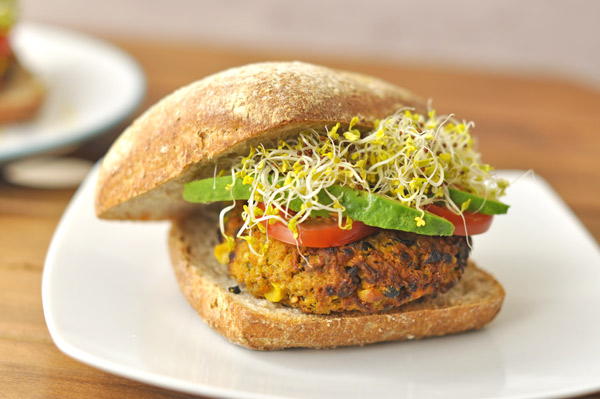 I love the combination of sweet potatoes and black beans. I'm always looking for new ways to use these ingredients that are a staple in my kitchen and these vegetarian burgers turned out wonderfully. The sweetness of the potatoes and the earthiness of the black beans gives you a satisfyingly hearty burger. It's so yummy it might just make you forget about a juicy beef burger dripping with cheese and topped with bacon!
All you need to do is cook the sweet potatoes, I usually just pop them in oven with the skins on but you could boil or steam if you prefer. Then mix together the sweet potatoes, black beans and whatever spices you fancy. To bind the mixture I love to add cooked quinoa but if you want a faster approach then wholemeal breadcrumbs are perfect. These burgers are made even healthier by being grilled in the oven rather than fried.
I had about five seconds to photograph these burgers. As much as I wanted to, I figured it wasn't wise to keep a man training for a marathon who had just run 38 kilometres waiting for his lunch!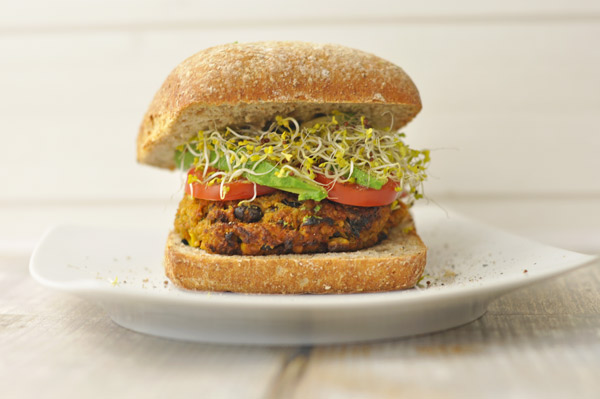 Sweet Potato & Black Bean Burgers
Ingredients
2 medium sized sweet potatoes
1 400g can black beans, drained and rinsed
1 white onion, diced
3 cloves garlic, minced
1 chilli, finely chopped
¼ cup sweet corn, drained
½ cup quinoa
1 tablespoon cumin
1 handful fresh coriander
½ teaspoon cracked black pepper
Directions
Preheat oven to 180 degrees
Put sweet potatoes in the oven and roast until tender. Usually takes around 45 minutes
Heat olive oil in a frying pan, add chopped onion and garlic and cook for a couple of minutes
Add quinoa to boiling water and cook for around 10 minutes. Strain and set aside
Once sweet potato and quinoa are cooked, add to a large bowl along with black beans, corn, cumin, coriander, and chili and mash well until mixture is combined
Form into patties about the size of your palm
Line a roasting tray with tin foil and put under the grill for around 7 minutes on each side