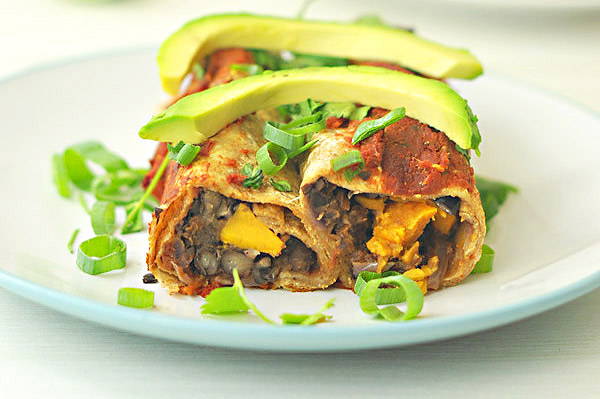 By now you probably know that I love sweet potatoes and black beans! These vegetarian enchiladas are filled with so many delicious flavours that if you're a meat eater I promise you won't miss the meat.
This healthy Mexican inspired meal has become a regular feature in my house. It's comfort food that leaves your body feeling energised and nourished.
They have the perfect amount of spice, just enough to give them a little kick. They are topped with coriander, spring onions and avocado. I love how fresh and bright this makes them.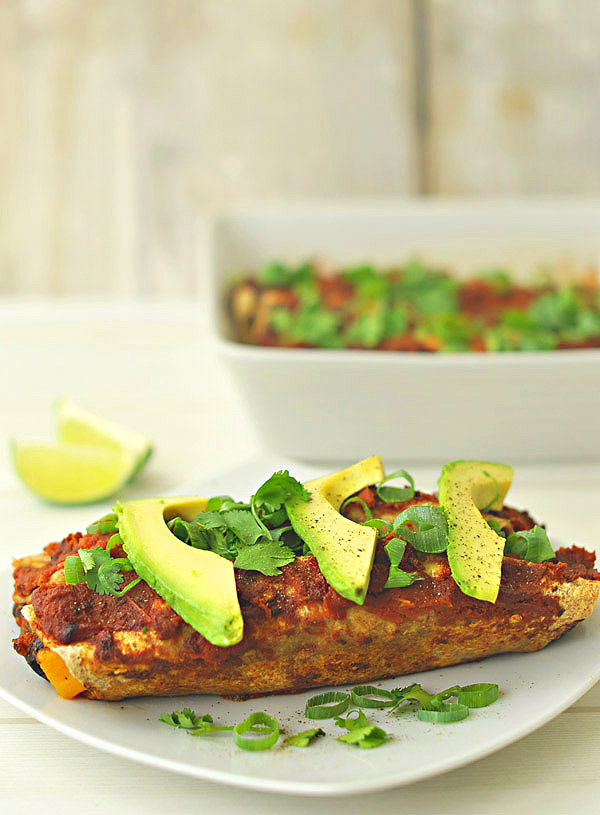 Sweet Potato & Black Bean Enchiladas
Ingredients
1 large sweet potato, peeled and cubed
1 tablespoon coconut oil
4 cloves garlic, minced
2 400g cans diced tomatoes
2 teaspoons dried oregano
Salt + Pepper, to taste
2 teaspoon chilli flakes
1 tablespoon balsamic vinegar
1 teaspoon cayenne pepper
1 teaspoon paprika
2 cans black beans, drained and rinsed
1 red onion, diced
1 chilli, finely chopped
1 teaspoon cumin
1 avocado
8 whole wheat tortilla wraps
Coriander, to garnish
Spring onions, to garnish
Directions
Preheat oven to 180 degrees celsius
Put sweet potato in the oven and cook for around 40 mins. Stick a knife through the centre to check it is cooked. Once cooked, peel the skin off and cut into cubes
Add ½ tablespoon of coconut oil to a pan with the garlic and lightly fry for several minutes until the garlic begins to get a little colour
Add tinned tomato to pan and season with salt & pepper, oregano, cayenne pepper, paprika and chilli flakes. Simmer on a low heat for around 15 minutes. Once the sauce has started to thicken add balsamic vinegar
Add ½ tablespoon coconut oil to a pan with the onions and chilli and fry for approx five minutes or until onions begin to turn translucent
Add the black beans and cumin to the pan with the onions and cook for around 5 minutes
Cover the bottom of an ovenproof dish with a small amount of the tomato sauce
Add ¼ cup of the black bean filling and some of the sweet potato to the tortilla and roll it up tightly
Put the rolled tortilla in the dish making sure you place it seam side down
Repeat until the dish is full
Pour tomato sauce over the top of the enchiladas and put in the oven for 20 minutes
Serve with sliced avocado and garnish with spring onions and coriander