Healthy comfort food at its best. Filled with sweet potato, black beans and caramelised onion, then grilled until crispy on the outside and cooked to perfection.

You really can't go past Mexican food, it's always a good idea! I like to add my spin to make it healthier and more nutritious.
If you haven't ever had a Quesadilla (ll is silent), it's a tortilla that's typically filled with cheese and then grilled.
I like to get creative and add a mixture of items, not just to enhance the flavour but also to make it a more balanced meal choice.
TIP: It's always a good idea to have roasted sweet potatoes on hand in your fridge.
Sweet potatoes are so versatile and I use them a lot in my recipes. It's so handy to always have some pre cooked, so you can prepare your meal quickly. This falafel recipe is another example of why you want to be prepared. Nobody's got time to wait for sweet potatoes to roast! If you're anything like me, you want your meal and you want it now!
The filling consists of caramelised red onions, sweet potato and black beans which is seasoned with cumin, paprika and cayenne pepper. They are then topped with a simple and delicious salsa of red onion, tomato, avocado and fresh coriander.
Just like these vegetarian nachos, quesadillas are a great meal to share. Serve it platter style and dig in.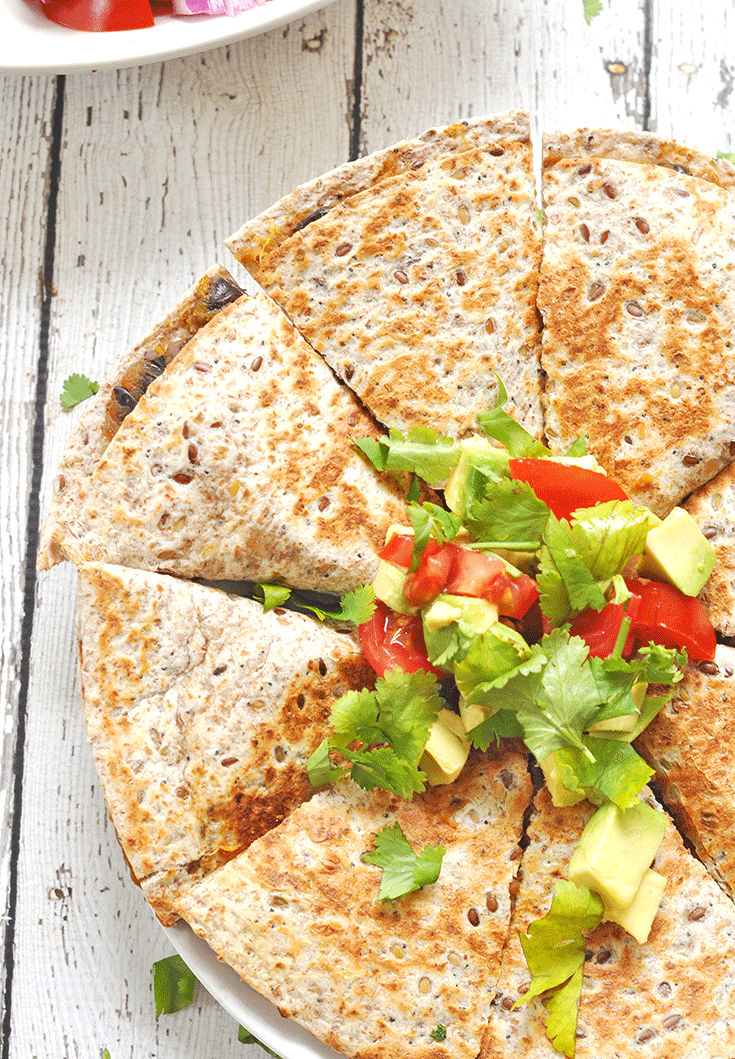 Let me know in the comments section below what your favourite cuisine is. It's a fun way for me to learn more about you and I'll get a clear idea of what recipes I should be cooking up for you!

Sweet Potato Quesadillas
Ingredients
1 large red onion, thinly sliced
1 large sweet potato, roasted and then skin removed
1 400g can black beans, rinsed well under cold water
1 teaspoon ground cumin
1 teaspoon paprika
Pinch of cayenne pepper
½ teaspoon sea salt
2 corn or wholewheat tortillas
2 tomatoes, sliced
½ avocado, diced
½ red onion, diced
2 tablespoons fresh coriander, chopped
Directions
Add red onions to to a frying pan with ¼ cup water and leave to cook for approx ten minutes. You will need to stir this every few minutes and add more water if the onions begin to stick and become dry. The water is replacing the need for oil. You will know these are ready once the onions are soft and beginning to caramalise and darken.
Add sweet potato, black beans and spices to the pan with the onions. Mix well and let cook for a few minutes.
Spoon ½ cup of mixture over one half of the tortilla. Fold the other half over the top so you have a semi circle shape. Place the tortilla in a pan on a high heat and leave to grill for several minutes or until golden and crispy. Flip over and grill the other side.
Chop into four pieces and top with salsa ingredients. Repeat the process for the remaining mixture.