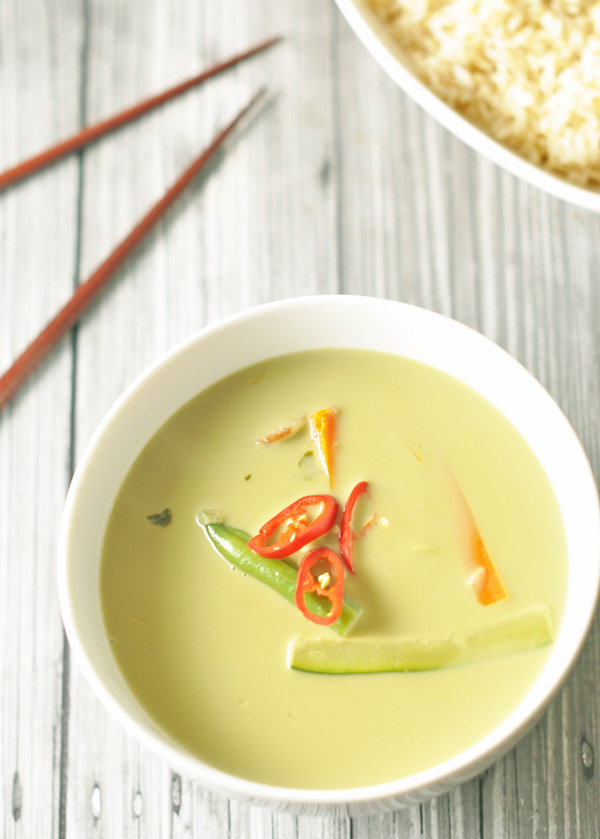 I've been back from Thailand for a couple of weeks now and already have major withdrawals from all the amazing food. Lucky I went to Thai cooking school while I was there! The first stop I made the day after I got back was the Thai supermarket around the corner from my house. I picked up lots of wonderful fresh herbs and spices and got cracking making this amazing Thai Green Curry.
I love being able to make this at home as you can limit the amount of sugar, oil and salt included in the food. I'm convinced this curry has healing properties, you can just feel it doing you good with every mouthful.
The curry paste can last in the fridge for up to one month in an airtight glass jar. I made a huge quantity so I have some on hand whenever I have a hankering for curry, which lets be honest, is quite often.
You'll need a mortar and pestle to make the curry paste. You could also make it in a blender but I highly recommend the mortar and pestle as it brings out all the wonderful aromas and flavours of the herbs.
Green curry is typically made as more of a soupy curry. It's important to note that you aren't supposed to stir the curry while it's cooking. I had to be told several times before I learnt my lesson. 'No stir soup, no stir soup'. Apparently it changes the flavour! Who knew!
One of the reasons Thai food is so quick to make is that it's cooked over a very high flame. You want the curry to be boiling for a good ten minutes and then voila, it's done! Simple!
Ever wondered how green curry gets its vibrant colour? I always thought it was from the curry paste but with this recipe you add a few spinach leaves and some water to the mortar and pestle and gently pound until the water turns green. It's then strained and added to the curry. Genius!
This recipe includes chicken but it works wonderfully as a vegetarian option! Hope you enjoy!
What's your favourite Thai food, what do you always order from your local Thai? Let me know in the comments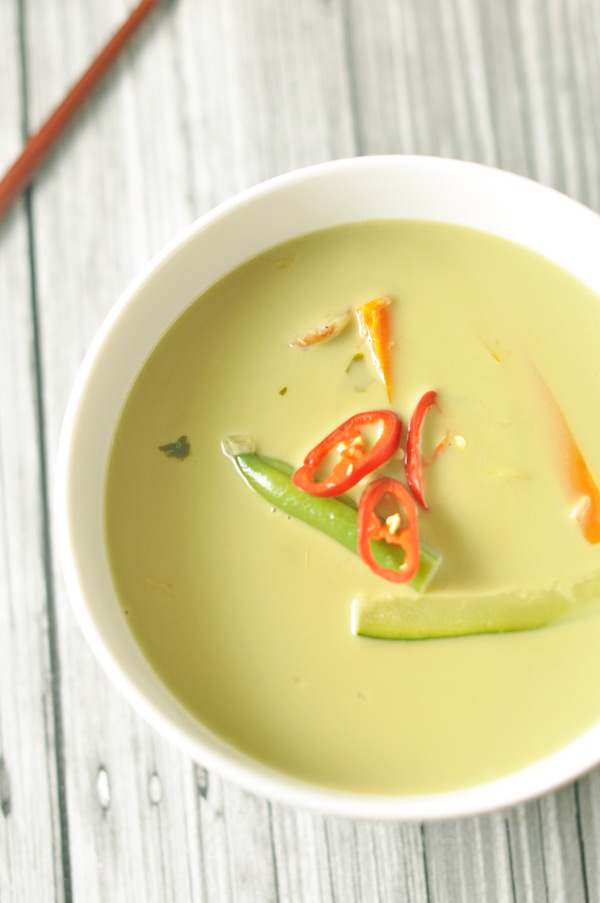 Thai Green Curry
Ingredients
Green Curry Paste
3 slices of red chilli, cut ¼ inch thick
2 garlic cloves
3 slices galangal, cut ¼ inch thick (can use ginger instead)
2 kaffir lime leaves, finely chopped
1 shallot
10 peppercorns
½ tablespoon coriander root (can use celery instead)
4 slices lemon grass, cut ½ inch thick
½ teaspoon shrimp paste
Good pinch of salt
Green Curry
1 tablespoons green curry paste
250ml coconut milk
250ml water
3 kaffir lime leaves, thinly sliced with stem removed
1 tablespoon lemon grass, sliced
1 tablespoon galangal, sliced
½ teaspoon palm sugar
1 tablespoon fish sauce
½ zucchini, cut into thin strips
½ cup green beans, chopped into pieces
½ cup carrot, chopped into thin strips
30g chicken, thinly sliced
8 baby spinach leaves
3 pieces red chilli, to garnish
¼ cup thai basil, to garnish
Directions
Add all ingredients for the curry paste to mortar and pestle and pound until it forms a paste
Add coconut milk and water to a pot on a high heat until boiling
Add the curry paste, kaffir lime leaf, lemon grass and galangal and leave boiling for several minutes for the flavours to infuse
Add sugar and fish sauce to pot
Add chicken and vegetables to the pot and leave to cook without stiring for approx 7 minutes
Add spinach leaves to mortar and pestle with half cup of water and gently pound until liquid turns green. Strain and add green liquid to curry
Add thai basil and chili and serve hot with rice