If you're the sort of person that can sit down and polish off a whole jar of salsa whilst chatting to a beloved partner or friend, I've got you covered, this salsa is amazing!
The tomatoes, red pepper and garlic are roasted and then blended with chilli and lime to make the most wonderfully flavoursome salsa. It's incredibly simple to make and roasting the vegetables adds such a wonderful element to the flavour.
I love serving this with either plain whole wheat pita chips or home-made flat bread; both recipes are coming soon!
It's a great option for a healthy snack and perfect to serve to guests. Once you try this, you'll never buy store bought salsa again!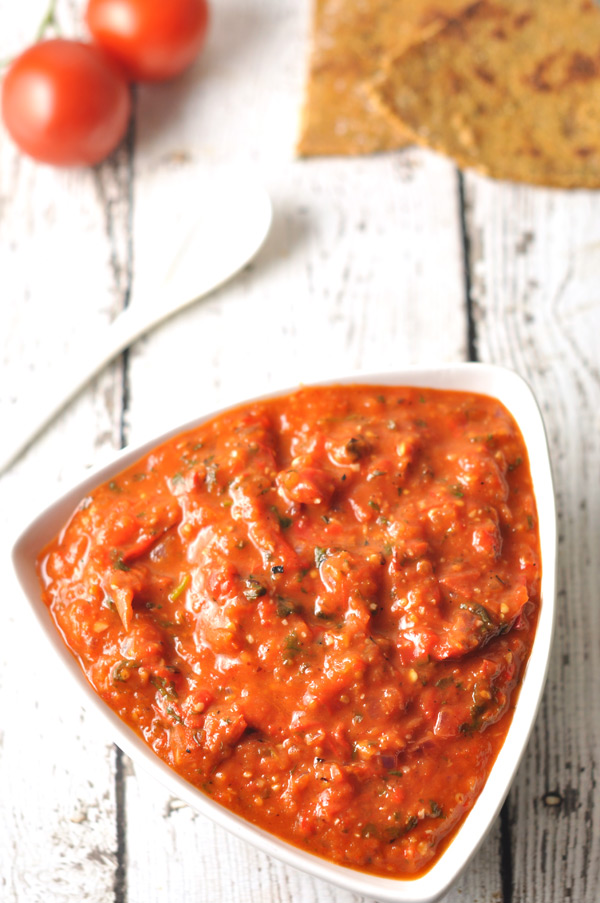 Tomato Salsa
Ingredients
2 cups tomatoes, chopped
1 large red pepper, de-seeded and roughly chopped
1 chilli, chopped
3 cloves garlic
½ cup fresh coriander, roughly chopped
1 lime, juiced
Salt + Pepper, to taste
Directions
Add tomatoes, peppers, chilli and garlic to a roasting try lined with tin foil
Put under the grill for 20 minutes until vegetables begin to soften and char slightly
Add vegetables to food processor along with coriander, lime juice + salt & pepper
Blend for a couple of minutes or less depending on how chunky you prefer your salsa