A vegan sweet treat that will leave you never wanting a processed chocolate bar ever again!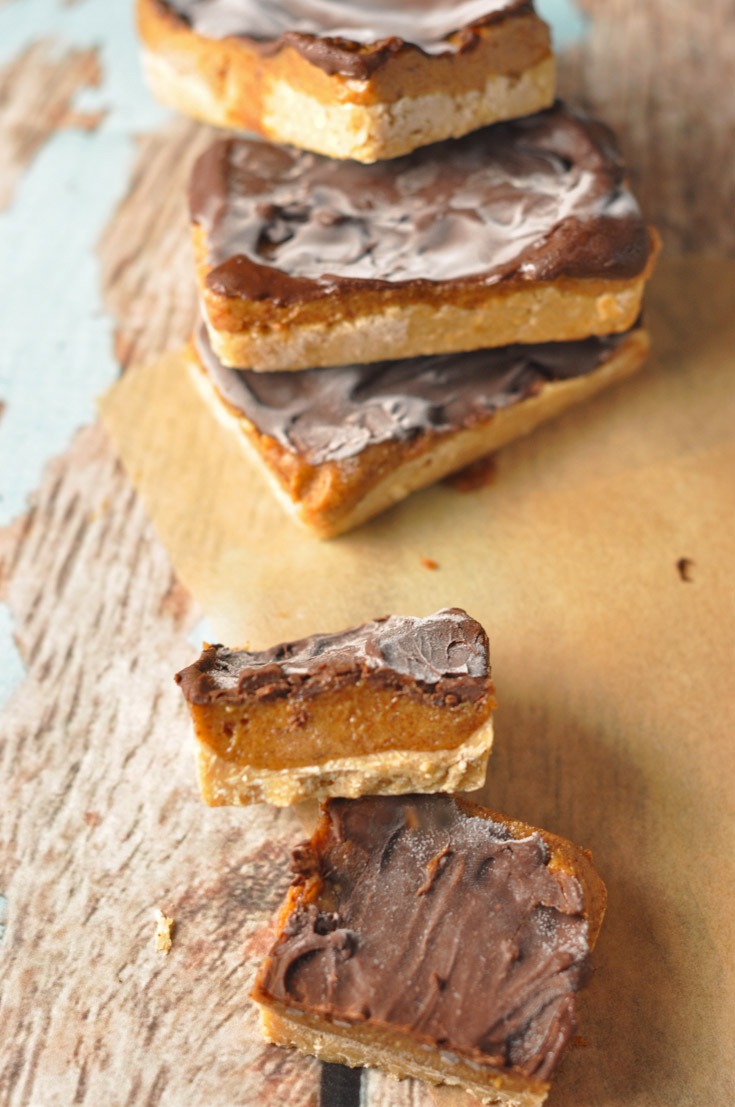 I honestly can't remember the last time I ate a regular chocolate bar. I find them so sweet and sickly. I do however love the flavours of chocolate and caramel together and I know I am not alone in my love, which is why I created a version with healthier ingredients. I have to warn you, it will require a whole lot of self discipline to stop at one. They are a little too good! Once you taste you'll know exactly what I mean!
Dates are like Earth's candy. I am constantly amazed at the delectable food you can make with them. They are sticky, sweet and oh so delicious. Regular caramel is made purely of processed refined sugar and it's entirely not necessary when dates are available. The less processed your food the better. It's not only better for your body but it tastes a whole lot better as well. Keep it simple and you can't go wrong.
This recipe has only a few simple steps and there is absolutely no cooking involved. Mix a few things up in the food processor and melt some dark chocolate and peanut butter and you're done. Even if you are not overly confident in the kitchen, I promise you can't mess this up.
While I don't advise eating these all the time, they certainly are a wonderful treat and MUCH better than the mass produced processed chocolate bars you buy at the store. Share with your family and friends and let them know how easy it is to eat well.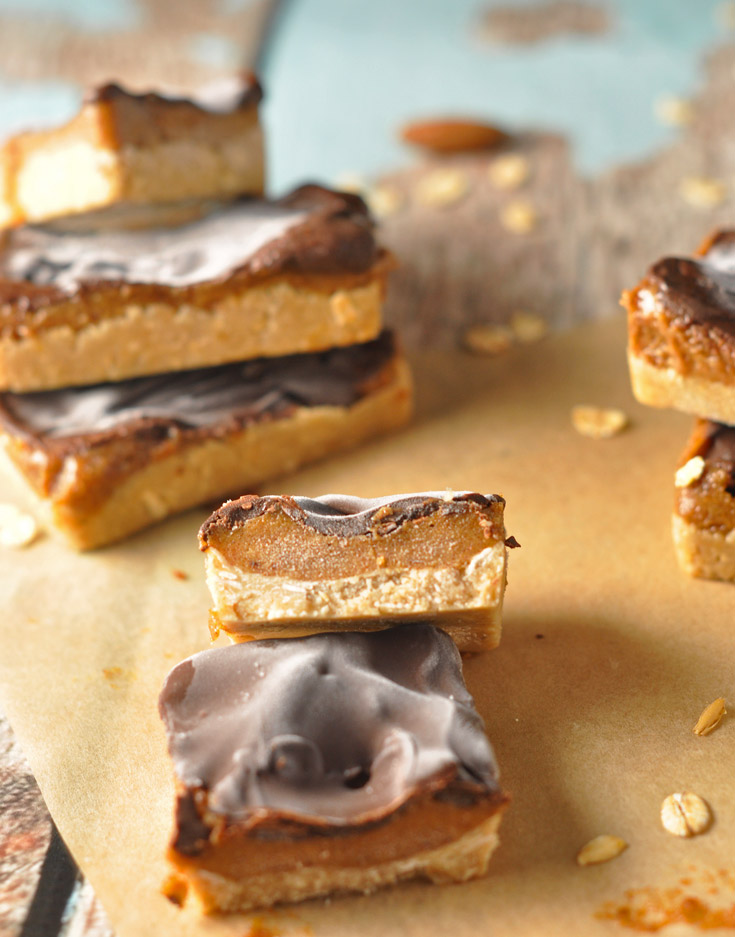 Vegan Caramel Snickers Bar
Ingredients
100g oats
50g ground almonds
50g peanut butter
35g coconut oil
30g maple syrup
200g medjool dates, pitted
60g peanut butter
½ teaspoon vanilla powder
50g cacao (dark chocolate with no added sugar or milk)
Directions
Add oats and almonds to food processor and grind into a fine consistency
Add peanut butter, coconut oil and maple syrup to a saucepan on a low heat. Stir well until everything is melted and well combined. Add wet mixture to food processor with the oats and nuts and blend well until a biscuit crumb consistency
Add base to tin and press down until firm and evenly distributed. I used an 11 inch sqaure brownie tin
Put in freezer for at least 30 minutes
Put dates in food processor and pulse until a ball is formed. Add peanut butter and vanilla and mix well. If mixture is too dry add a small amount of water. Pour mixture on to the top of the base and spread out evenly. Put in freezer to set and leave for at least 1 hour
Melt chocolate over a bain marie. Pour evenly over the layer of caramel and put in freezer to set. Once set cut into slices and it is ready to eat. I prefer to eat this straight from the freezer. These can be stored covered in the freezer for up to one month. I guarantee they won't last this long though!