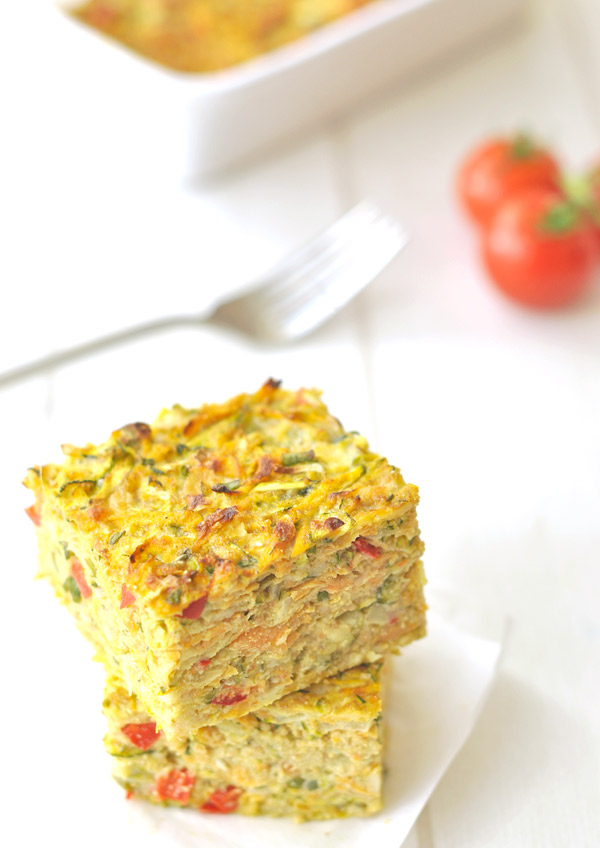 I've missed you guys! I haven't been posting as regularly because I've been struggling with my health a little and over the last week I've been on an amazing yoga teacher training course!
After spending a week learning about one of my favourite things in the world and getting back to a daily yoga and meditation practice I'm feeling like I've had a shift for the better in my health and I'm feeling inspired and excited to share more recipes with you.
My friend Mazoe made a wonderful vegetable slice while I was briefly passing through Sydney in October and she packed me a few slices to take on my flight to Queensland. What a good friend! She was kind enough to share the recipe with me, which I've adapted ever so slightly. Her mum was such a wonderful cook and over the last few years she's been trying to perfect some of her mum's recipes. I'd say she nailed it!
It's wonderful with a big side salad or for a quick snack on the go. It's a great way to use up some old vegetables and is highly adaptable. It's packed full of vegetables and makes for a healthy meal.
I used whole wheat flour to bind the ingredients but you could easily make it gluten free by using a different flour. I'm sure this would be a hit with kids as well. All the ingredients are grated which is perfect for disguising all those greens. When baked, the sprinkling of cheese and egg makes it a delectable snack!
Vegetable Slice
Ingredients
3 zucchinis, grated
1 carrot, peeled and grated
1 small sweet potato, peeled and grated
1 white onion, diced
1 cup grated cheese
1 cup whole wheat flour
5 eggs, lightly beaten
1 red pepper, diced
1 chilli, finely chopped
2 tablespoons chives, chopped
½ cup frozen peas
Directions
Preheat oven to 180 degrees celsius or 356 Fahrenheight
Add all ingredients to a large mixing bowl and stir until everything is well combined
Add mixture to a well greased baking dish and bake for 45-50 mins