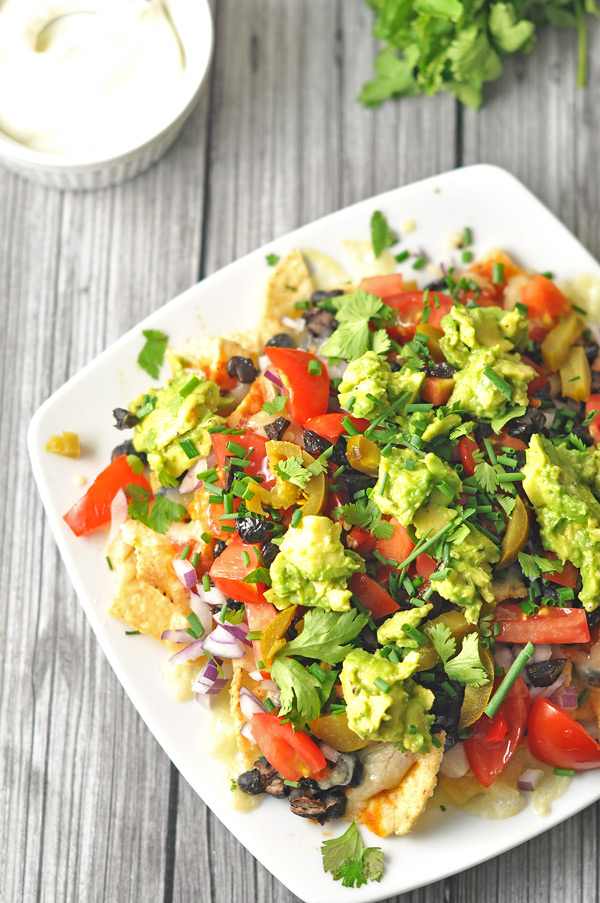 Not that I EVER need an excuse to eat Mexican food but with yesterday being Cinco de Mayo I knew we had to have a Mexican feast. I spent several months in the South of Mexico many years ago and absolutely feel in love with the culture and the food. Mexican flavours are bold and punchy. Ingredients like coriander, lime and chilli are some of my favourites. The food we ate in Mexico was actually nothing like the Tex-Mex type food you get outside of Mexico. The flavours are fresh and the food is absolutely delicious. I never ate Nachos in Mexico. I actually never even saw it on a menu. Nachos originated in the Northern part of Mexico and has become incredibly popular in the USA.
You all know how much I love healthy comfort food and that's really what I was going for with this recipe. Its comfort food with a bunch of wonderful healthy ingredients that taste amazing and still leaves your body feeling great. They look and taste a lot different from the nachos I was making when I was 18 years old!
Firstly I used baked corn tortillas to make them a little healthier and then topped them with black beans and a sprinkling of cheese. You then pop them in the oven for about ten minutes before topping them with a whole bunch of fresh ingredients like black olives, tomato, red onion, jalapeños, chilli, coriander and chives. To top it all off is a generous scoop of fresh creamy guacamole.
It's a really simple recipe that will always be a crowd pleaser. The most difficult thing I found about this recipe was having to wait until I photographed it until I could eat!
If you're vegan don't worry you can absolutely still enjoy this recipe also. You'll just need to replace the regular cheese with vegan cheese.
Next time you have comfort food on your mind, whip up a batch of these nachos and everyone will be happy.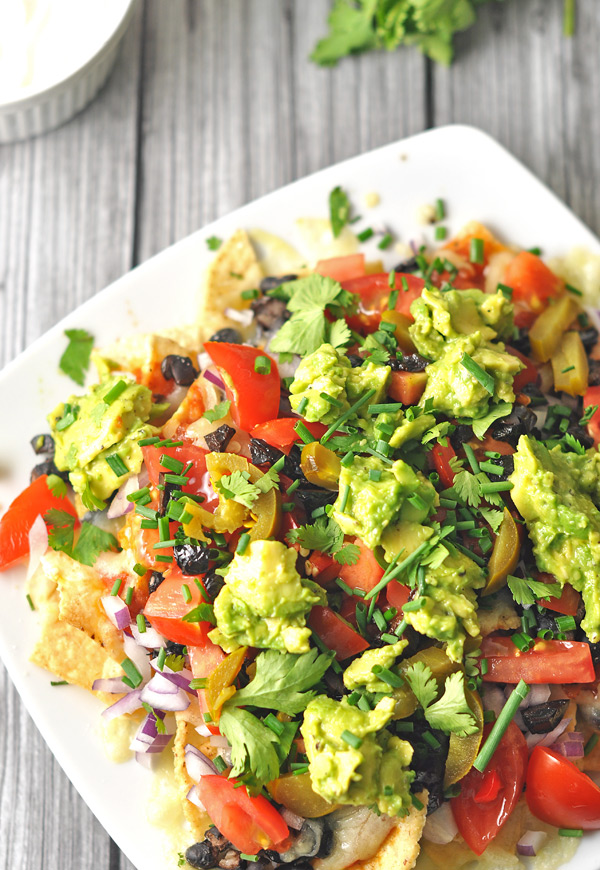 Vegetarian Nachos
Ingredients
150g corn tortillas
6 tablespoons tomato salsa
1 can black beans, rinsed and strained
1 cup cheddar cheese, grated
1 small red onion, finely chopped
3 tomatoes, diced
1 avocado, mashed
12 jalapeño pieces, diced
12 black olives, diced
1 handful coriander/cilantro, chopped
1 handful chives, finely chopped
Directions
Preheat oven to 204º C or 400ºF
Place tortillas chips on oven proof plate or baking tray
Top with tomato salsa, black beans and cheese. Place in the oven for approx 10 minutes or until cheese has melted
Remove from oven and top with red onion, tomatoes,olives, jalapeno, olives, coriander, chives and avocado