There are loads of quotes out there about trying things that scare you but this one is probably my favourite. 'If it excites you and scares the crap out of you at the same time, it probably means you should do it'.
This past weekend I did an acro yoga class with my gorgeous friend Emma. For those of you that don't know, it's basically acrobatic yoga, where you do lots of crazy poses with a partner. It's a whole lot of fun and definitely got me out of my comfort zone. I was scared but I wanted to be scared, that's how we learn and grow. It requires a whole lot of trust, the ability to not let fear take over and a big smile. Part of why I love yoga is because of the lessons we learn on that mat. Learning to not let your actions and decisions be guided by fear is a huge life lesson and if I manage to master doing a handstand on someone's knees, then I think I can do just about anything that scares me.
I originally made these muffins for Mark to take as a healthy snack on his flight to Africa but we loved them so much we polished them off before he left.
These whole-wheat muffins are speckled with green apple, walnuts and cinnamon and are absolutely delicious. In all honesty, I used to be a little afraid of baking. The precision of the measurements felt rigid to me and I often felt creatively stifled. I'm not one to strictly follow a recipe and it wasn't until I got a little more confident in the baking arena that I discovered there was a whole lot of creative freedom to be had. If you have any fear in the kitchen, or tell yourself that you can't cook, I invite you to stamp on that belief and just get in there and give it a go. Sure there might be some disasters along the way, but you'll learn a whole lot and end up with something wonderful in the end. Thankfully there were no disasters with this recipe and we ended up with perfectly delicious muffins! Hope you enjoy!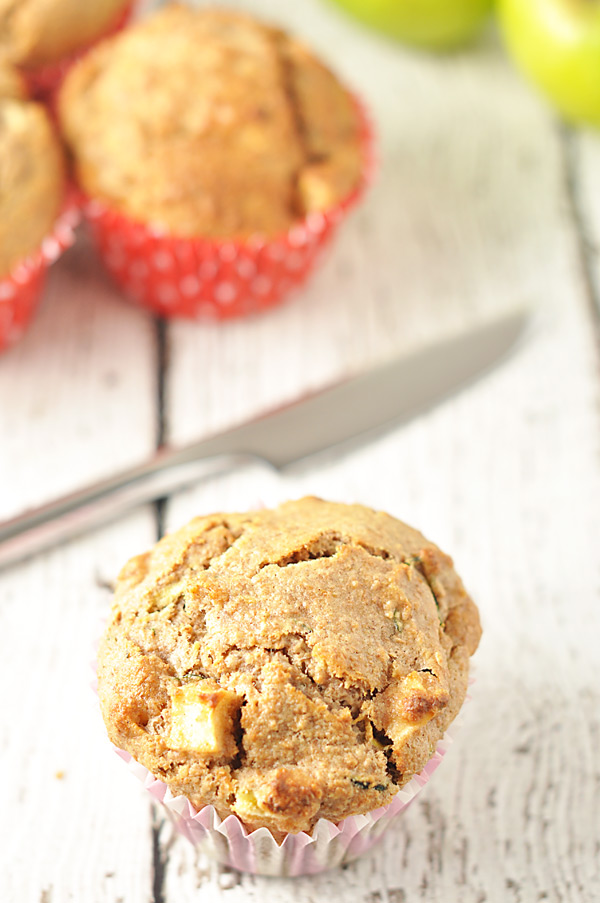 Whole Wheat Apple Cinnamon Muffins
Ingredients
1¾ cups whole wheat spelt flour
1 teaspoon baking soda
2 teaspoons cinnamon
½ teaspoon nutmeg
½ cup zucchini, grated
½ cup apple, grated
¼ cup coconut oil
¼ cup honey
¾ cup Greek yoghurt
1 egg
2 apples, peeled and diced
¼ cup walnuts, roughly chopped
Directions
Add flour, baking soda, cinnamon and nutmeg to a mixing bowl
Add grated zucchini and apple to the mixing bowl
Add coconut oil and honey to a small saucepan and heat on a very low heat for a couple of minutes while stirring. Pour mixture into the bowl with the flour and then stir well
Add a lightly beaten egg and the Greek yoghurt to the batter and stir until well combined
Add diced apple and walnuts to mixture and stir to combine
Fill muffin liners three quarters full and bake for 20 minutes or until golden. Stick a sharp knife through the centre and if it comes out clean they are ready
Transfer to a wire rack and let cool