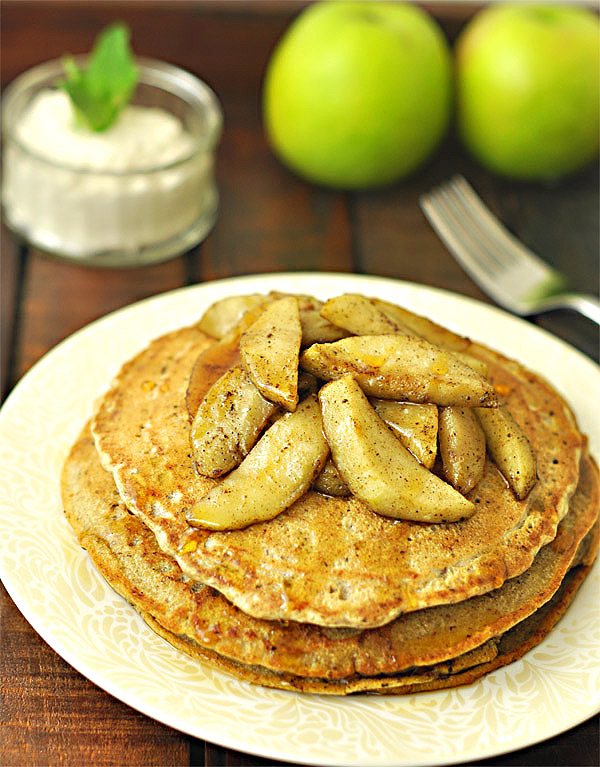 I was making these one Sunday morning when I realised I was out of eggs! I thought my dreams of pancakes were over but I scoured the internet and found an amazing vegan solution.
All you need to do it mix a couple of tablespoons of flaxseed with some water. It gives the same texture as egg and acts as the binding agent. It worked wonderfully! If you don't have flaxseed in the house or prefer egg, then it's totally fine, just add one egg to the mixture.
The inspiration for these pancakes came to me from the most amazing Vegan Cafe in Venice Beach in California, called Cafe Gratitude. The food was phenomenal and we pretty much ate there for every meal. It was a place that I thought only existed in my dreams. The food was seriously to die for, I had trouble choosing because I wanted to try everything. I could hear people talking about yoga, healthy living and startup companies to make the world a better place.
The cafe has a question for the day and asks things like, 'what are three things you are grateful for today? What do you want to be remembered for?' I loved this idea, it encourages you to talk about things you might not ordinarily talk about over a meal.
We had the most delicious buckwheat pancakes for breakfast with cashew nut cream, fresh fruit and maple syrup. I knew I had to try and recreate these once we got home.
I love the taste of buckwheat, it has such a unique and distinct flavour and works wonderfully when used in pancakes. These pancakes are served with apples cooked with cinnamon and vanilla and topped with a luscious cashew nut cream. Yum!
They are incredibly easy to make and fancy enough to serve to guests or on special occasions for your loved ones.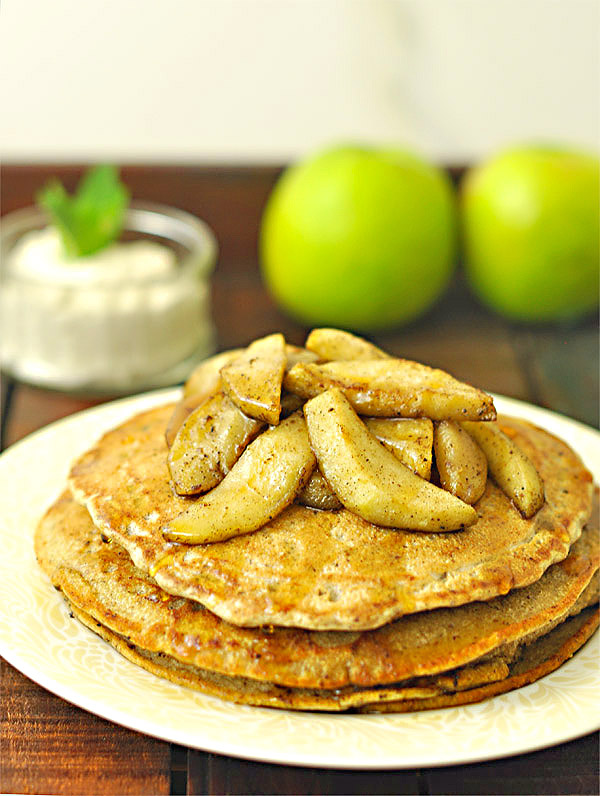 Apple & Cinnamon Buckwheat Pancakes
Ingredients
1 cup of cashews
⅓ cup filtered water
3 apples
1 teaspoon cinnamon
½ teaspoon vanilla
A pinch of nutmeg
1 tablespoon coconut oil
1 cup buckwheat flour
⅓ teaspoon of bicarbonate soda
1.5 tablespoons flax seed (or one egg)
3 tablespoons of water
1 teaspoon of butter
2 tablespoon maple syrup
1 cup of almond milk (or your favourite milk)
Directions
Add cashews to a bowl with cold water and soak overnight or at least eight hours
Drain cashews and rinse under cold water
Add cashews to a blender with ⅓ cup of water and blend on a high speed until smooth and creamy. Cover and set aside until pancakes are ready.
Peel and chop apples into slices around 2 inches thick
Add cinnamon, vanilla + nutmeg and mix well to coat evenly
Add coconut oil to a skillet and heat for a couple of minutes. Add apples and cook for around 10 minutes or until apples are soft and beginning to caramelise
Add flour, bicarbonate soda to a mixing bowl
Mix flaxseed and 3 tablespoons of water in a separate bowl and then add to the flour mixture
Add milk and maple syrup and stir well
Add ½ teaspoon of butter to your chosen pancake pan
Add half a cup of batter to the pan. When bubbles start to pop on the top flip over and cook for around 1 minute on the other side
Repeat the procedure until the batter is finished
To keep the pancakes warm while the rest are cooking, pop them in the oven on a very low heat
Serve with the cooked apples, cashew & coconut cream + maple syrup