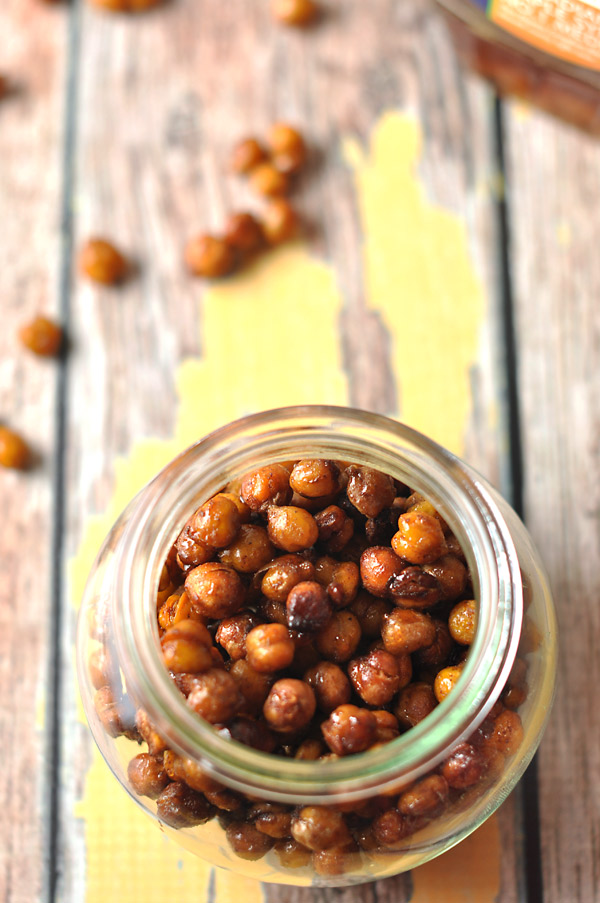 Around the holiday season last year, I posted a recipe for maple cinnamon roasted almonds and I loved them so much I decided to make a variation. These maple and cinnamon roasted chickpeas are such a wonderful snack. It's a great way to get a little extra protein in your diet and they are deliciously sweet and crunchy.
The first time I made these I thought there was no way that I could possibly mess it up. All you need to do is coat them in the seasoning and then roast in the oven. How is easy is that? Well I wanted them to be crisp and crunchy so I left them in the oven for a little too long! They shrunk dramatically and were so hard they could have be used as BB gun pellets. They crisp up even further once you take them out of the oven, so make sure you cook them for the specified time.
 They keep well if stored in an airtight glass jar and are such a great thing to have on hand for a healthy snack. Next time you find yourself reaching for some crisps or biscuits, perhaps give these a try. I don't think you'll be disappointed!
Cinnamon Maple Roasted Chickpeas
Ingredients
1 can chickpeas, rinsed and dried
2 tablespoons cinnamon
3 tablespoons oil
2 tablespoons maple syrup
Directions
Preheat oven to 180 degrees Celsius or 356 Fahrenheit
Mix maple syrup, oil and cinnamon together
Add chickpeas to coat well and then roast in oven for 40 mins