You don't need to be a baker, anyone can make this tart! Ready in a few simple steps.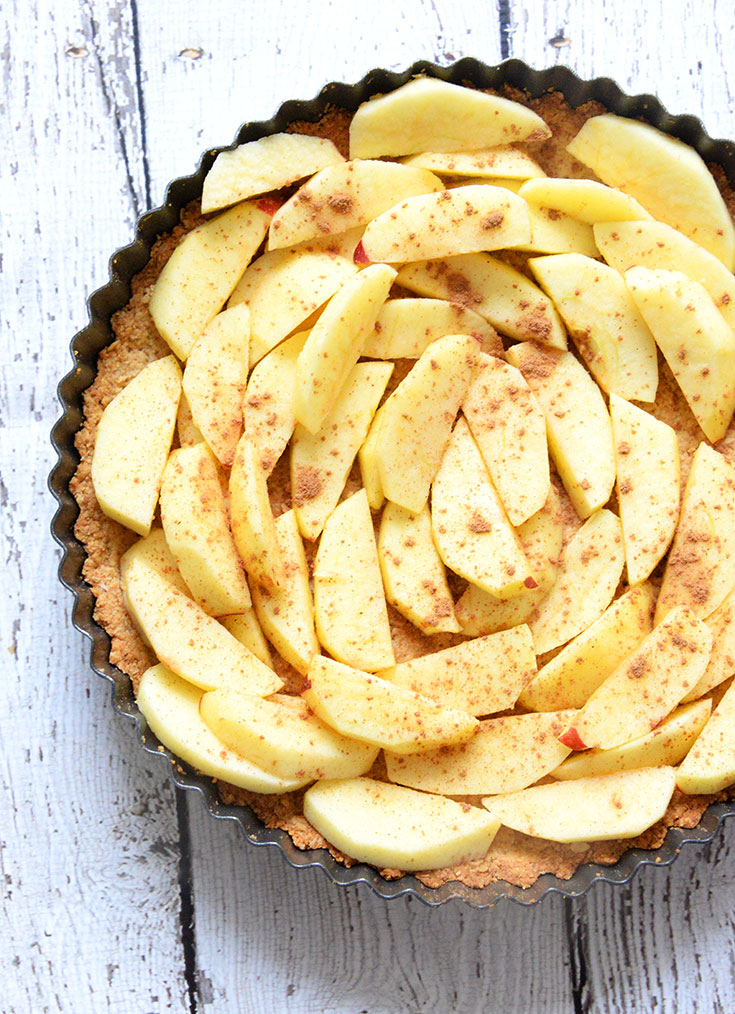 The thing I love most about this recipe is that it's so simple. If you're anything like me and find baking a challenge or maybe you're a super star baker but looking for something easy, this recipe is perfect.
The dough couldn't be more simple to make and I'm pretty sure there is no way you can mess it up. It's made with a mix of almond and oat flour and mixed with maple syrup and coconut oil. It's gluten-free and made healthier by using plant based ingredients.
Be sure not to skip the step where you leave the dough in the fridge to rest. I learnt that if you try to take a shortcut you will end up with a crumbly dough.
Once baked the base becomes golden and crispy and the apples sweet. It's the perfect amount of indulgence without the unhealthiness!
During winter I always develop more of a love for baking. Cold days spent indoors calls for irresistible smells wafting through the house. There's something that feels so cosy about tarts, crumbles and pies baking in the kitchen.
You just need a few simple ingredients and you can whip this up in no time. I've been eating this with a caramel date sauce and to make it even more special add a dollop of vanilla ice cream. If you are vegan there are some really great dairy free options available.
Happy baking! Let me know if you make this and how it turned out. I love hearing your cooking stories.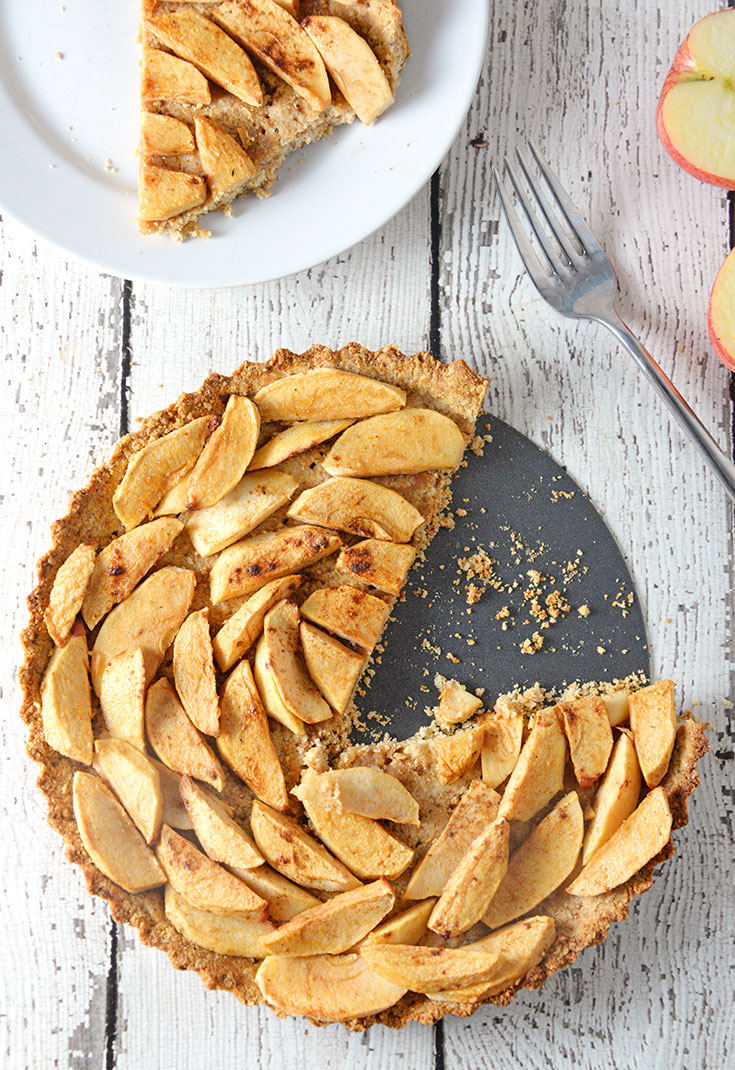 Gluten Free Apple Tart
Ingredients
1 cup almond flour
1 cup gluten free oat flour
5 tablespoons maple syrup
¼ teaspoon salt
⅓ cup coconut oil
4 apples, peeled and sliced
¼ teaspoon cinnamon
Directions
Pre-heat oven to 180 C or 356 F.
Add the almond and oat flour to a large mixing bowl. You can either buy or make your own oat flour. To make the flour you just need to add rolled oats to a food processor and mix until they are broken down into a flour consistency.
Add the maple syrup, salt and coconut oil and mix with your hands until well combined and a dough forms. Wrap the dough in cling film or in a clean tea towel and leave in the fridge for about 30 minutes. This step will prevent the dough from being crumbly.
Peel and slice the apples to approximately ¼ inch thickness. Put the apples into a bowl and mix with 1 tablespoon maple syrup and 3 tablespoons hot water.
Press the dough evenly and firmly into an 8 inch tart pan. Prick the bottom with a fork and bake for 12 minutes.
Remove base from the oven and add the apples. Sprinkle with cinnamon and bake for approximately 35 minutes or until the apples are soft and the base is golden.