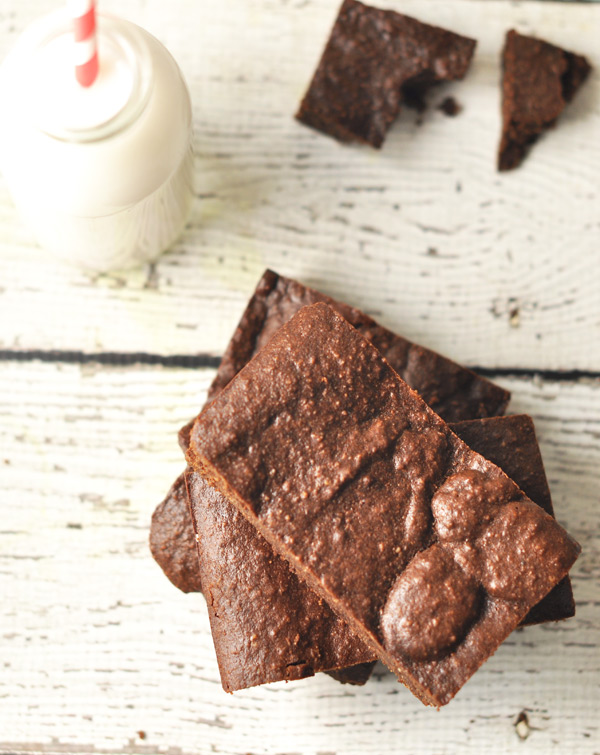 Even if you are super healthy and conscious of what you eat, I haven't met anyone that doesn't like a little something sweet. Most people love dessert and I truly believe it's about finding a balance. Good quality dark chocolate is just something I would never deny myself of. I love working on dessert recipes with a healthy twist. Indulging in something rich and delicious makes you happy and what's even better is when the ingredients are healthy so you feel great afterwards. I'm sure at some point you've all had that feeling where you've eaten a dessert that was really tasty but left you feeling ill and as a result ended up feeling guilty and regretful.
Dessert is one of the simple pleasures in life so I try to create recipes that invoke a feeling of indulgence; something that feels special but leaves your body feeling healthy. The classic brownie is always a favourite so I wanted to make something that was healthier and not sickly sweet from all the sugar you usually find in them. A big hit of sugar can leave you with a headache and most always a sugar crash. This recipe uses almond flour to make it gluten free, raw cacao powder and is sweetened with maple syrup.
I've got chocolate on my mind at the moment and all the wonderful recipes on Pinterest are making me feel like I live in some magical chocolate world. I've been remembering back to how exiting Easter was as a child. I remember sitting on my bedroom floor lining up all my chocolate eggs. All the colourful wrapping made it feel as though I had a pile of treasure.
I'm working on some other chocolate recipes to share with you next week. Hopefully you still have some room for chocolate left in you after Easter. There will be a healthy twist of course, so it's all ok.
Gluten Free Brownies
Ingredients
1 cup almond flour
½ cup raw cacao powder
½ teaspoon vanilla powder or 1 teaspoon vanilla extract
Pinch of salt
½ teaspoon baking powder
¼ cup cacao nibs
3 eggs
½ cup coconut oil, melted
¼ cup maple syrup
Directions
Preheat oven to 180 degrees Celsius or 356 Fahrenheit
Add almond flour, cacao powder, vanilla, salt, baking powder and cacao nibs to a large mixing bowl
Add coconut oil and maple syrup to a small saucepan and gently heat. If the coconut oil was solidified wait until it has completely melted. Add to dry ingredients and gently mix
Crack the eggs into a separate bowl and whisk. Add eggs to the batter and gently stir until everything is well mixed
Line a baking tray with parchment paper. Lightly oil the paper just to be sure it won't stick. Pour the batter in evenly and bake in the oven for 20 minutes
Allow to cool and cut into slices