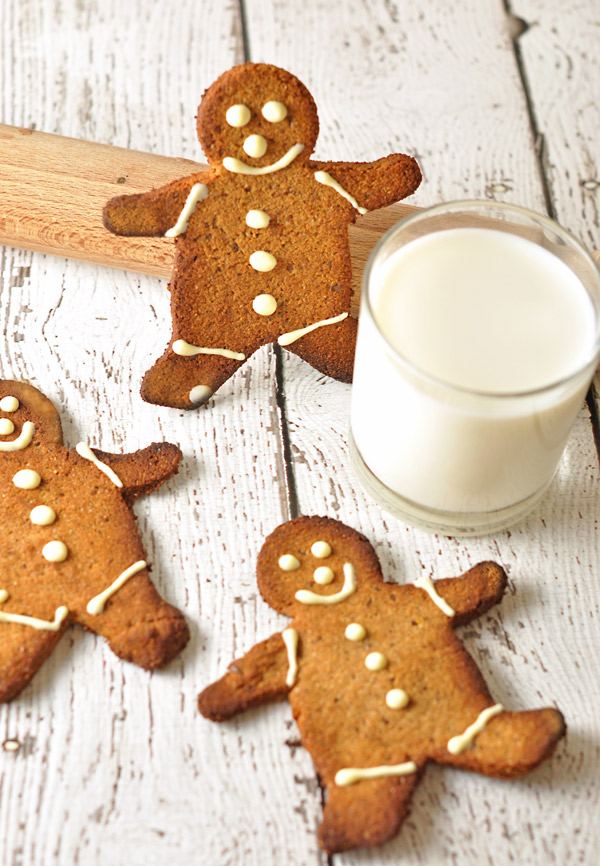 I loved my sister-in-law Bronnie from the moment I met her but when she gave me a gingerbread cookie cutter after we'd met only a couple of times I knew she was extra special.
I was visiting for Christmas and I mentioned that I wanted to make gingerbread cookies with my nieces and nephews and the very next day she gave me the cookie cutter as a gift.
It might seem like a small thing but she gave me the gift of creating special Christmas memories with my family. We listened to my favourite Frank Sinatra Christmas carols while my youngest nephew helped me mix the dough; standing on a chair so he could reach the bench. My fifteen year old niece helped me cut and decorate them and made fun of me for listening to 'grandparent music'.
I'm not going to be with my family in Australia this Christmas, so to get me in the festive spirit I made these gingerbread men. They are a great thing to make with kids and would be a wonderful homemade gift.
These cookies are gluten free and only have a tiny bit of sugar from the white chocolate that's used to decorate them. The dough is a little softer and more delicate than a dough made with regular flour, so you have to be gentle. I had to perform gingerbread surgery on an arm that fell off!
Wishing you all a very happy and healthy holiday season!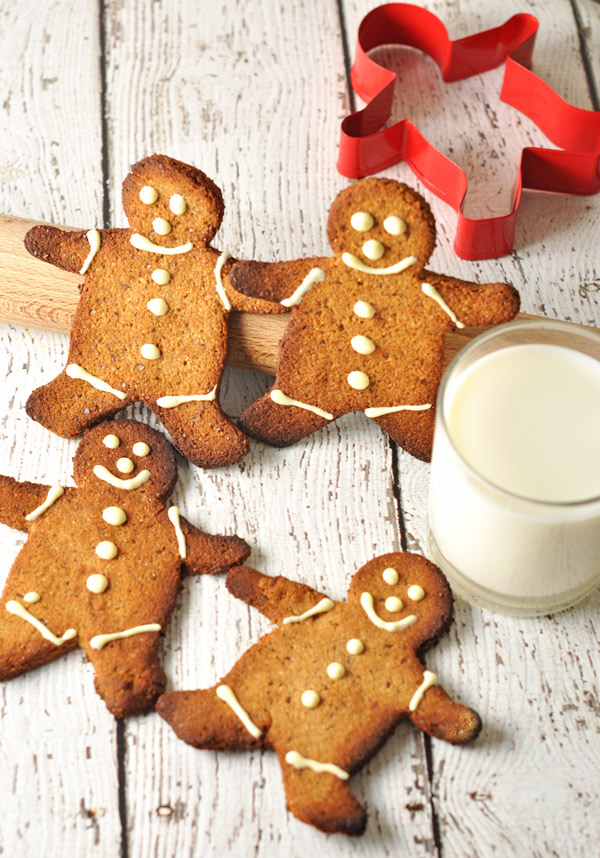 Gluten Free Gingerbread Men
Ingredients
2.5 cups almond flour
⅓ cup ground flaxseed
½ teaspoon baking soda
2 tablespoons ground ginger
1 teaspoon fresh ginger, grated
1.5 teaspoons cinnamon
½ teaspoon ground nutmeg
½ teaspoon ground cloves
½ teaspoon vanilla powder
¼ cup coconut oil, melted
¼ cup honey
1 egg, lightly beaten
50g white chocolate, melted
Directions
Combine almond flour, flax seed, baking soda, ground ginger, fresh ginger, cinnamon, nutmeg, cloves and vanilla powder in a large mixing bowl and stir until well combined
Add coconut oil, honey and egg to the bowl with the dry ingredients and mix until well combined
Roll mixture into a ball and wrap in cling film. Put in freezer for 30 minutes and then transfer to fridge for another 30 minutes
Remove the dough from the cling film and place between two large pieces of baking paper. With a rolling pin roll the dough out to around 3mm thick
With a gingerbread cookie cutter, cut into shapes. The dough is delicate so it is best to remove the remaining dough from the outside of the cut out cookie and take a sharp knife or metal spatula under the cookie and carefully place on a tray lined with baking paper
Bake for 10 minutes or until golden. They should still be slightly soft when they come out of the oven
Allow the cookies to completely cool
Melt the white chocolate and add to a piping bag with a thin nozzle. Pipe on the chocolate to decorate the cookies with your favourite design