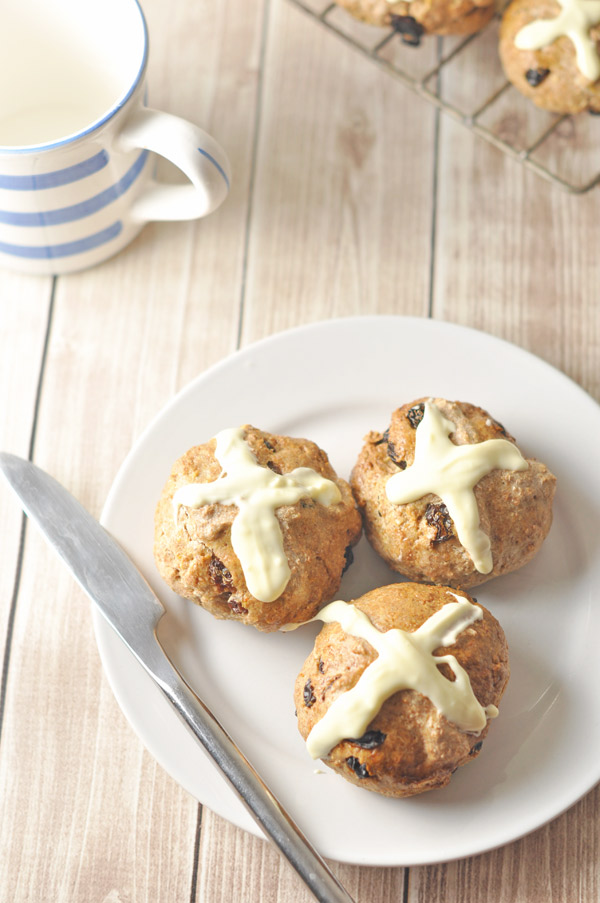 With Easter approaching and hot cross buns filling the supermarket shelves, I was inspired to make a healthy alternative that wasn't filled with white flour and refined sugar. So needless to say, we've been eating a lot of hot cross buns over the last few days!
It took me a couple of rounds to master the recipe, so hot cross buns were on the menu all weekend. I'm not a baker at heart, I get stressed out with all the precise measurements and the accuracy involved. The first time round I forgot to activate the yeast, so we ended up with flat hot cross buns, which I renamed hot cross scones. They were just as delicious but not very pretty.
This recipe was inspired from The Healthy Chef, which I have changed ever so slightly. These are denser than regular hot cross buns but I love the chewy texture that comes from the spelt flour and oats. They are lightly spiced with orange zest and cinnamon and sweetened with honey and raisins. To top it all off they are coated with a delicious white chocolate cross. It's a little naughty but it makes them extra special! I was also pretty heavy handed on the chocolate, so they look a bit rustic!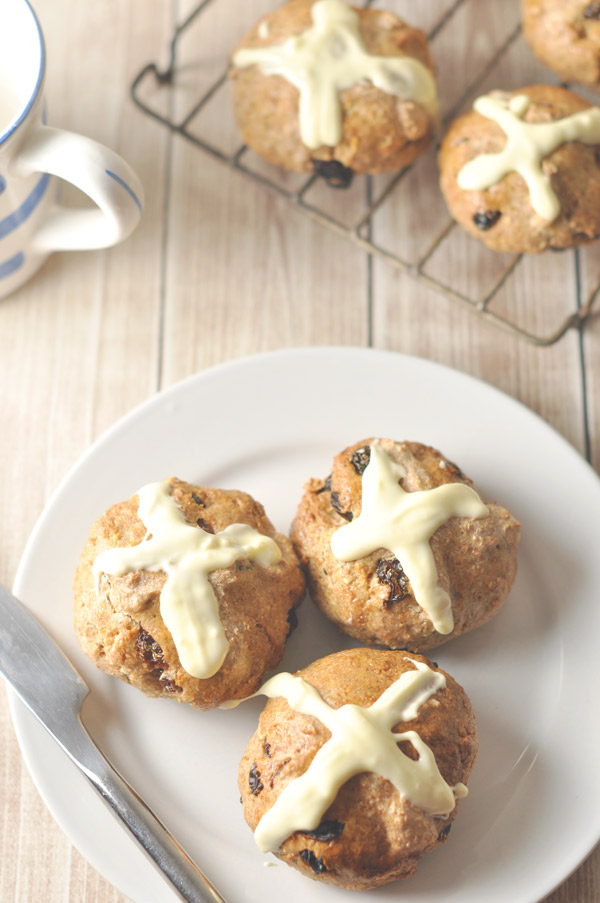 Hot Cross Buns
Ingredients
1 ¾ cups spelt flour
½ cup of rolled oats
1 teaspoon of ground cinnamon
1 teaspoon of vanilla bean powder or extract
Zest of one orange
1 teaspoon of dried yeast
3 tablespoons warm water
½ cup of almond milk (or your favourite milk)
1.5 tablespoons of honey
¼ cup of coconut oil
½ cup of raisins
1 egg white
50g white chocolate
Directions
Add the flour, oats, cinnamon, vanilla and orange zest to a large mixing bowl
Mix yeast with warm water and whisk until frothy
Add the milk, coconut oil and honey to a small saucepan over a low heat, and stir well until honey has dissolved into the milk. The mixture needs to be hot but not boiling
Pour the wet ingredients, including the yeast, into the bowl with the dry ingredients and mix well
Knead for a couple of minutes and fold the raisins into the dough as you knead
Roll the dough into a ball, place in a clean bowl and cover with a tea towel. Leave dough to rise in a warm place for one hour
Lightly flour the bench and knead the dough for a couple of minutes
Break the dough into small pieces and shape into balls. The mixture makes roughly 8 buns
Cover with a tea towel and leave in a warm place for another 30 minutes
Preheat your oven to 160 Celsius or 320 Fahrenheit
Once the rolls have had time to rest, beat an egg white with a little milk and brush the tops of the rolls with the egg wash
Bake for 35 minutes or until golden and allow to cool
When the buns have cooled, add 50 grams of white chocolate to a double boiler and slowly melt
Add melted chocolate to a piping bag and pipe on the cross