Mexican flavours all packed into one bowl of hearty vegetarian deliciousness. It's simple to make and you don't need any fancy ingredients to create this comforting meal. It's a great way to eat a range of healthy and colourful vegetables.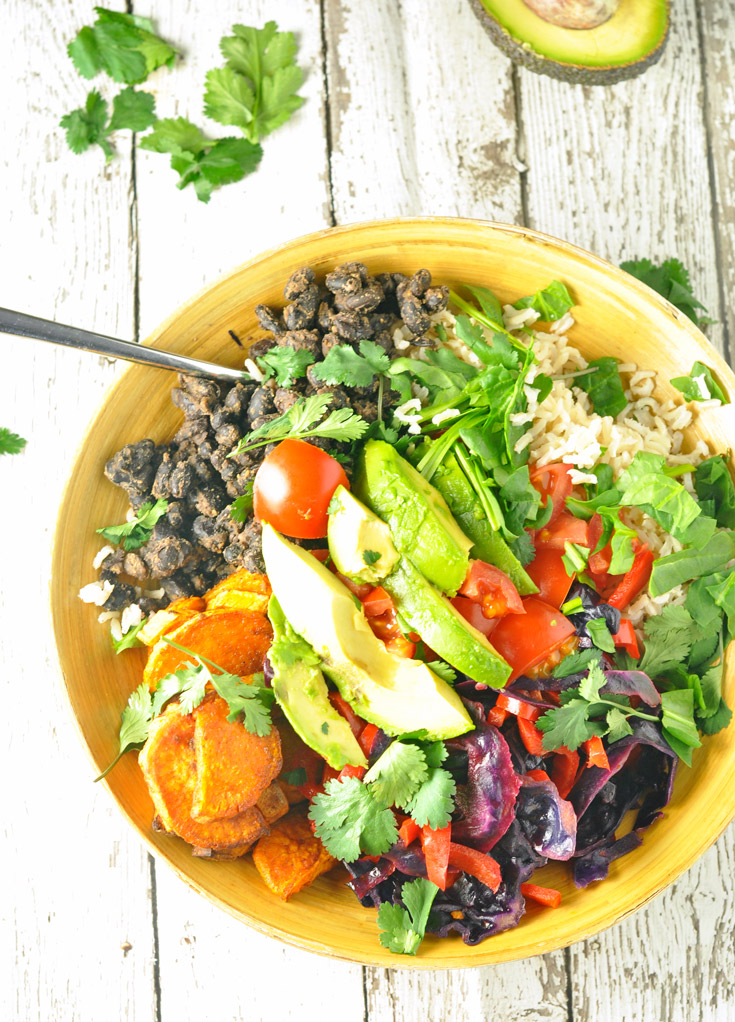 Throw your favourite ingredients into a bowl and you have a Buddha bowl. It's a hearty bowl of goodness that leaves you feeling all warm and happy. This is a Mexican style Buddha bowl because who doesn't love Mexican flavours! Rice, black beans, roasted sweet potato topped with vegetables and avocado. A generous amount of lime juice is poured over the top and sprinkled with fresh coriander to make it a delicious explosion of flavours.
A Buddha bowl is basically a big bowl of vegetarian yumminess. The bowl has to be piled high and after eating it you'll probably be rubbing your full and slightly protruding belly with a look of bliss on your face like Buddha. There are a few different components to make and each step is super simple. Once everything is cooked you'll have enough ingredients for six servings. We've been eating these all week long and even turned them into Mexican burritos for some variety.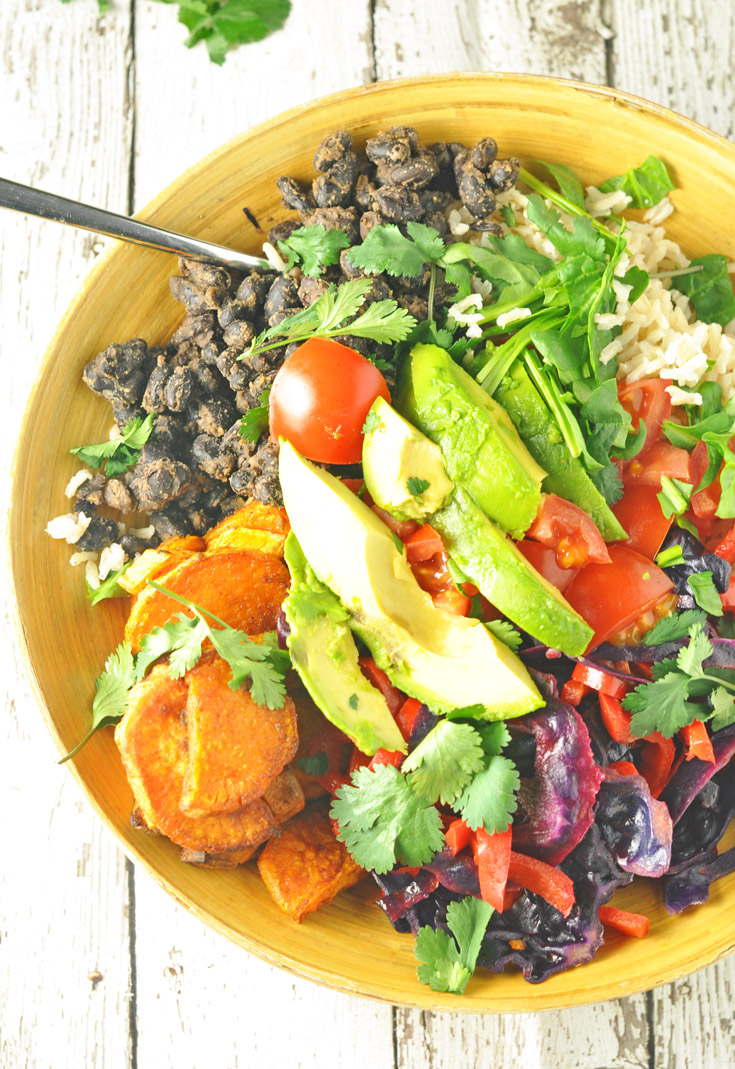 There is a super special secret ingredient to this recipe which is crucial to the final result and it's something we all have…..LOVE. Without love it just doesn't taste the same!
This vegan recipe is a great example of how abundant and delicious food can be without the need for meat and dairy. You will definitely not feel deprived.
I know you guys love quick and easy recipes and because all these ingredients can be made ahead of time, it means when you get home after a long day you just have to assemble and it's ready to eat.

Rainbow Bliss Buddha Bowl
Ingredients
2 tablespoons coconut oil
2 sweet potatoes, peeled and cubed
1 tablespoon paprika
Pinch cayenne pepper
2 red peppers, sliced
½ small red cabbage, thinly sliced
2 limes, juiced
2 cups brown rice
1 400g tin black beans, washed and strained
1 tablespoon ground cumin
1 tablespoon ground coriander
1 teaspoon dried chili
1 cup cherry tomatoes, chopped in half
½ cup fresh coriander, chopped
2 avocados, sliced
Directions
Preheat oven to 180 degrees celsius or 356 fahrenheit
Put sweet potato on roasting tray and drizzle with coconut oil, paprika and cayenne pepper. Cook for 30 minutes or until tender
Add peppers and red cabbage to a pan and fry in coconut oil for five minutes. Once cooked squeeze lime juice over them
Cook brown rice as per instructions on the package. Strain and set aside
Add black beans to a pan with water, cumin, coriander and chilli and cook for approx 8 minutes or until beans are piping hot
Add rice to the bowl, top with sweet potato, peppers, cabbage and black beans. Add chopped tomato, avocado and coriander to the top. Squeeze lime juice over your buddha bowl.