Baked until golden these oat and raspberry squares are free of gluten, dairy and refined sugar. The perfect balance of sweet and sour.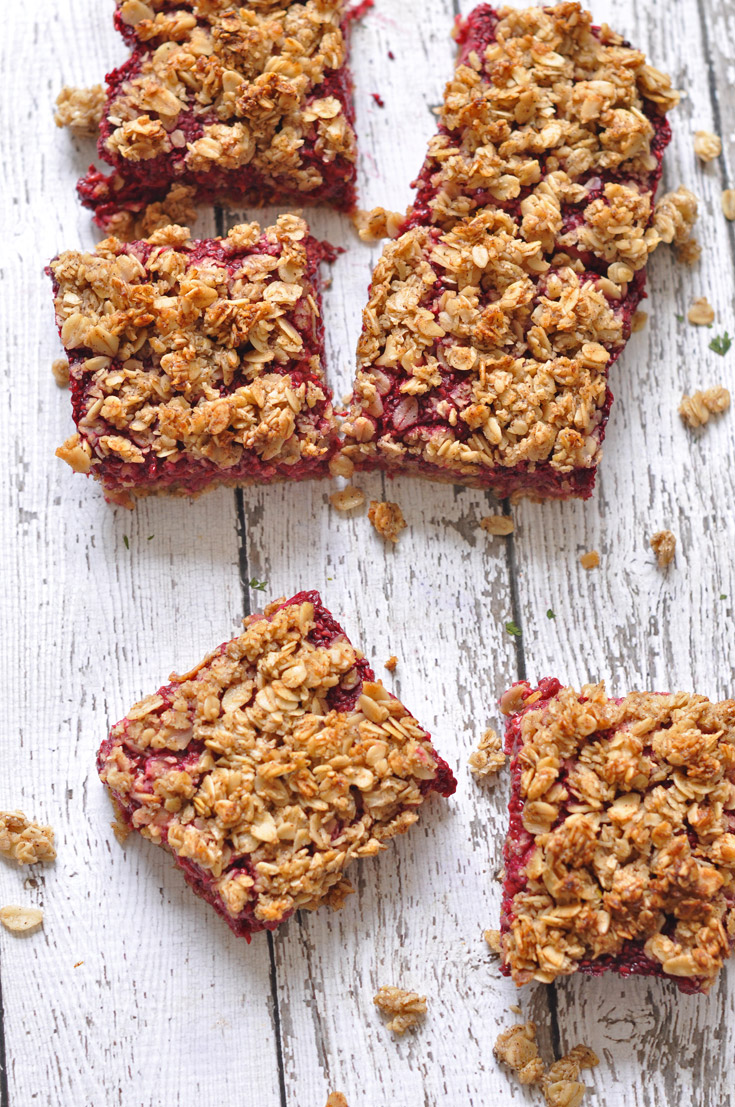 I was recently on an international flight to Bali and the dessert they served had five different sweeteners listed in the ingredients. Five! Who knew a dessert could pretty much be an assortment of different sweeteners with a few other things added.  As well as being SO very bad for your health, eating things like that can totally mess up your palate. So many people are addicted to sugar and it's understandable why when you realise how much sugar is being added to processed foods. That's why it's always such a good idea to get in the habit of reading the ingredients list. It's gives you back control and allows you to make an educated decision whether that is something you would like to use to fuel your body.
When I got back from Bali I wanted to create a recipe that had a good balance of sweet and sour. I love to create dessert recipes that are healthy enough to eat for breakfast. This recipe is free of gluten, dairy and refined sugar. I actually didn't set out to create these within those guidelines, it's just a bonus. If possible I always use coconut oil as a substitute for butter and honey or maple syrup instead of refined sugar. It makes your body feel SO much better. Food is fuel. It's really quite simple but we complicate things massively. The better quality fuel you put into your body the better your body will run. A huge emphasis of my work is focused on spreading the message of self love and guiding you to live in a way that truly supports you. The food you choose to eat is one of the greatest forms of self love.
As a society we put a lot of trust in corporations, including the food industry. They use all types of clever marketing tactics and labelling strategies to make you think something is healthy but if you dig deeper and look at the small print, you'll discover some unpleasant truths. I've noticed this especially on breakfast cereals!
That's why I am such an advocate for getting people back in the kitchen and making their own food. You will love these raspberry oat squares and so will your friends and family. The ingredients list is very short and the method is very simple.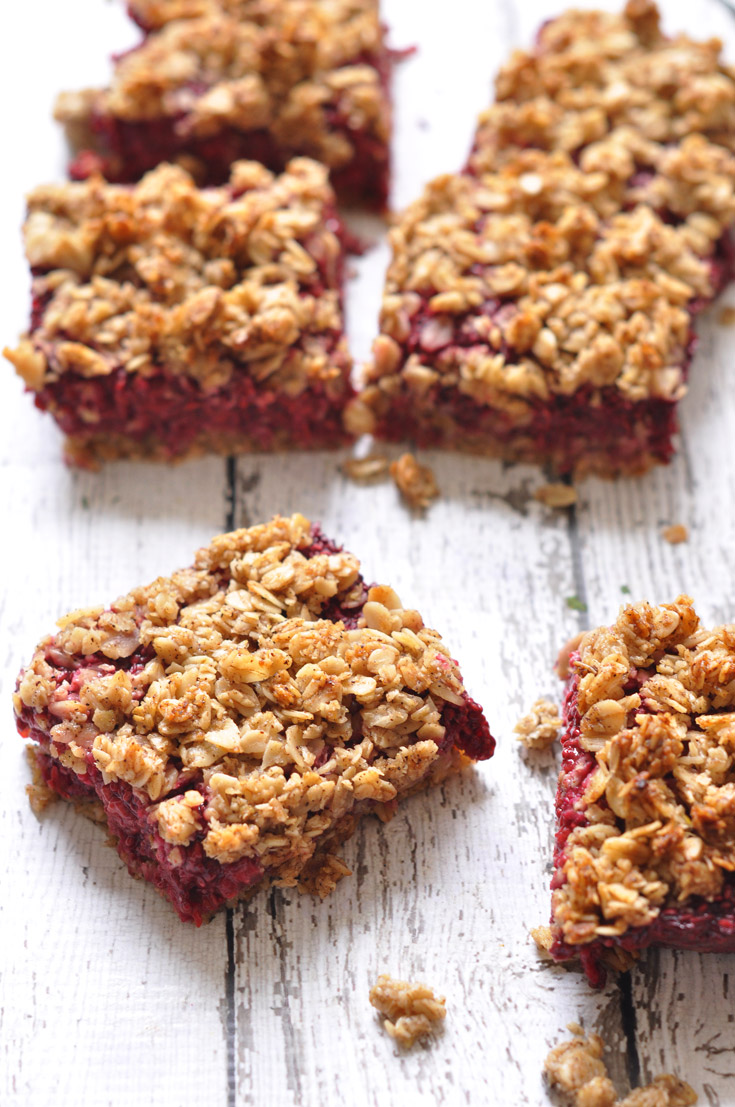 Raspberry Oat Squares
Ingredients
400g raspberries, fresh or frozen
½ cup water
3 tablespoons chia seeds (if not available use 2 teaspoons of cornflour as the thickening agent)
1 cup oat flour (can purchase as flour or I ground the oats in my food processor)
1 cup rolled oats
1 teaspoon vanilla powder
1 teaspoon cinnamon
⅓ cup honey
⅓ cup coconut oil, melted
Directions
Pre heat oven to 180 degrees celsius or 356 F.
Put raspberries and water in a small saucepan on a very low heat. Leave to simmer for around ten minutes. Take off the heat and add chia seeds. Stir well, leave to thicken and cool down. If you are using corn flour instead of chia seeds, add the corn flour after approximately eight minutes simmer time. Stir well until the raspberry sauce begins to thicken.
Add oat flour, oats, vanilla, cinnamon, coconut oil and honey to a large bowl and mix well until everything is combined.
Add one cup of the oat mixture to 8 x 8 inch baking tray (lined with non stick parchment paper). Spread mixture out evenly and press down with the back of a spoon.
Put in the oven to cook for ten minutes. Remove from oven and leave to cool.
Pour raspberry sauce evenly over the top of the oat base. Sprinkle the remaining oat mixture over the raspberry layer and put in the oven to bake for 25 minutes or until golden brown.
Remove from oven and leave to cool. Slice and eat.