I hope you have a little bit more room for some chocolate after the Easter break! Most days I love to have a little bit of dark chocolate, so I thought it would be fun to get in the kitchen and try making my own. After playing around with a few versions, I've finally found the perfect combination.
My absolute favourite chocolates are Belgian pralines. The quality is amazing and they are so creamy and delicious. I wanted to create a chocolate with a similar flavour and texture and the added almond butter and roasted hazelnuts work perfectly. The process is really very simple and with the help of some chocolate moulds you'll have gorgeous looking chocolates in no time at all. There's a whole range of beautiful chocolate moulds out there! I went a little overboard but they aren't very expensive so it was hard to resist!
I had two criteria when making these chocolates. The first being they must taste amazing and second they must contain healthy ingredients with no additives such as refined sugar. One of the most successful methods to help people eat healthier is to do a swap. If you love having a little chocolate every day, why not have a go at making your own and substitute for something much healthier but equally delicious.
The best part is you'll get to scrape the bowl clean. We had big smiles on our faces getting every last drop from the bowl. It's good to know some things never change!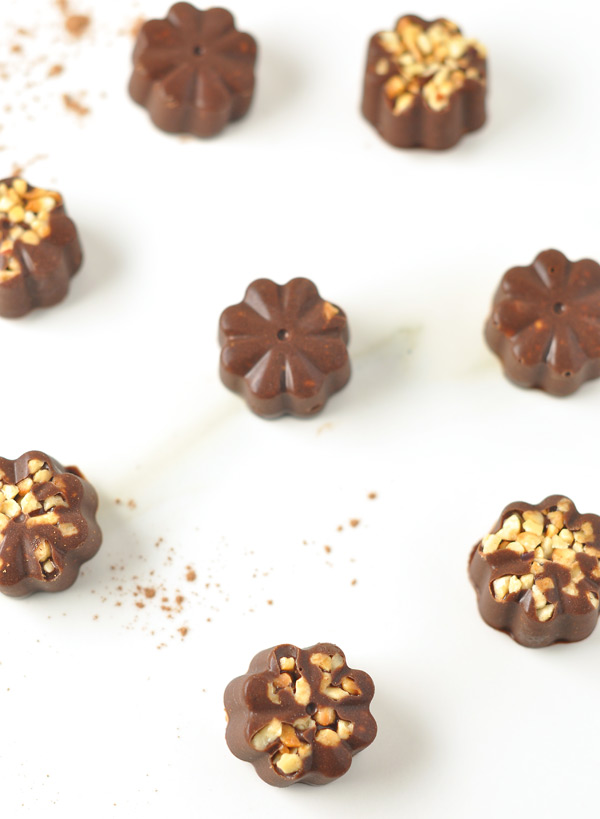 Raw Hazelnut Pralines
Ingredients
½ cup cacao butter
¼ cup coconut oil
3 tablespoons cacao powder
3 tablespoons pure maple syrup
3 tablespoons almond butter
½ teaspoon vanilla powder
Pinch of salt
Small handful of roasted hazelnuts, chopped
Directions
Melt cacao butter and coconut oil over a double boiler
Add cacao powder and mix well
Add chocolate mixture to food processor. Add maple syrup, almond butter, vanilla and salt. Mix well
Place a small amount of the chopped hazelnuts in the bottom of the chocolate moulds
Fill moulds with chocolate mixture and place in freezer to set for a couple of hours.
Notes
chocolates will melt if left out of freezer too long so only take them out when eating