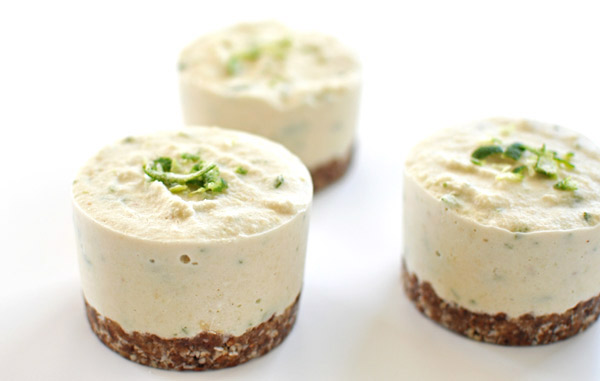 Vegan cheesecake was one of the first raw food desserts I made when I started delving into the world of healthy desserts. In the past, cheesecake was one of the few desserts that I enjoyed eating, so I was excited to explore the concept of vegan cheesecake.
This recipe is nothing like a regular cheesecake. Instead of using cream cheese and sugar, this is made with cashews and coconut milk and flavoured with lime. It's like a tropical holiday in your mouth!
The cashews are soaked overnight until they become plump and moist. They are then thrown in a blender with coconut to form the creamy and irresistible filling for the cheesecake. It makes me excited that such a beautiful and delicious cake can be made purely from natural ingredients.
It's very rich so a small slice goes a long way and it's important to remember that even though it's made from healthy ingredients, it's still high in calories, so you wouldn't want to eat more than one slice at a time.

This recipe is a favourite even for those who aren't raw food enthusiasts.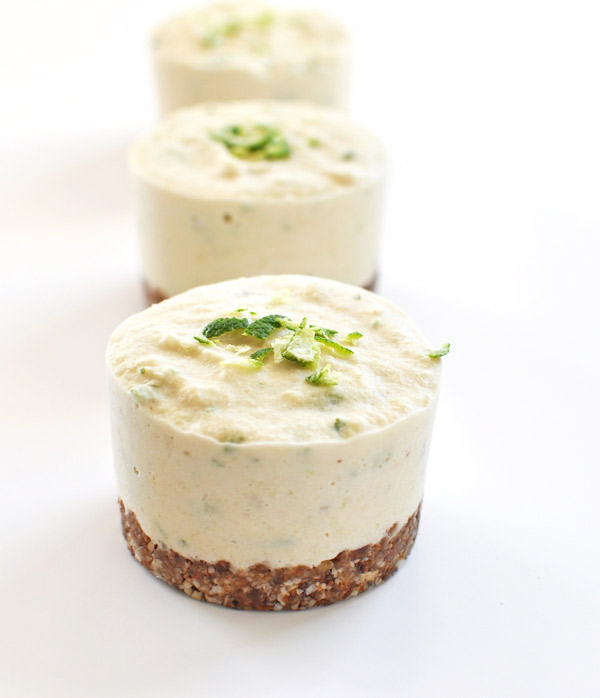 Raw Vegan Lime Cheesecake
Ingredients
½ cup of almonds
2 tablespoons desiccated coconut
¾ cup dates
1.5 cup cashews, soaked
2 tablespoons coconut oil, melted
½ cup coconut milk
½ cup fresh lime juice
Zest of one lime
2 tablespoons of maple syrup
Directions
Soak cashews in cold water for at least 8 hours but overnight is best
Soak dates in warm water for 15 minutes and then drain the water before putting in the food processor
Add almonds and desiccated coconut to the food processor along with the dates and pulse into a fine grain
Press the mixture into an 8 inch springform pan or smaller individual tins like you see in the picture. Push down firmly until it is well compacted and even. Put in the fridge to set. This can be made the day before
Add soaked cashews to the food processor along with lime juice, lime zest, coconut oil, coconut milk and maple syrup and blend well until the mixture is smooth and creamy, scraping down the sides as needed.
Pour mixture onto the base, spread evenly and sprinkle with lime zest
Store in the freezer and take out 30 minutes before serving