Pasta night just got a whole lot healthier! Vegetables are roasted until caremalised and then baked with whole wheat pasta, a rich tomato sauce and a sprinkling of cheese. Very little prep required and ready in 40 minutes.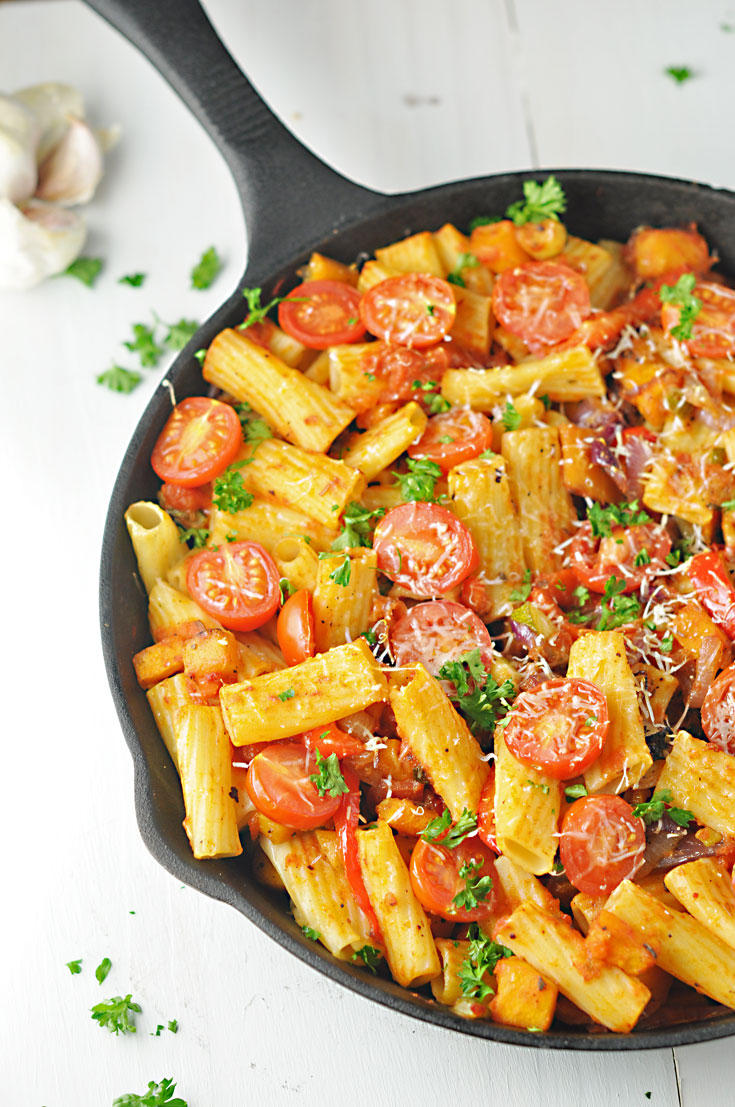 Do you ever have those days where you get home from work and you can't even face the thought of having to cook? The only thing that makes you happy is the idea of lounging on the couch and ordering a takeaway. Some days I do just that and it's perfect but I always prefer to eat a home cooked meal. I'm always so grateful that I made the effort to cook. This meal is the answer to those days when you know you can't have takeaway again but need something simple and delicious. Life is all about balance.
It's the perfect mid week meal when you need something hearty and healthy. It requires very little prep and is great for days when you've been exercising and feel as though you need more carbs.
Pasta isn't something I tend to eat regularly but occasionally there are some weeks when I just know that my body needs it. I always feel my best when I intuitively eat; meaning I listen to my body and respect what it wants. If you know that you're an emotional eater, it can be difficult to decipher if the need is emotional or physical but I've found the more tune into my body and trust the messages that I receive, the better I feel. Some days all I want is salads and smoothies and some days I just need a big bowl of pasta.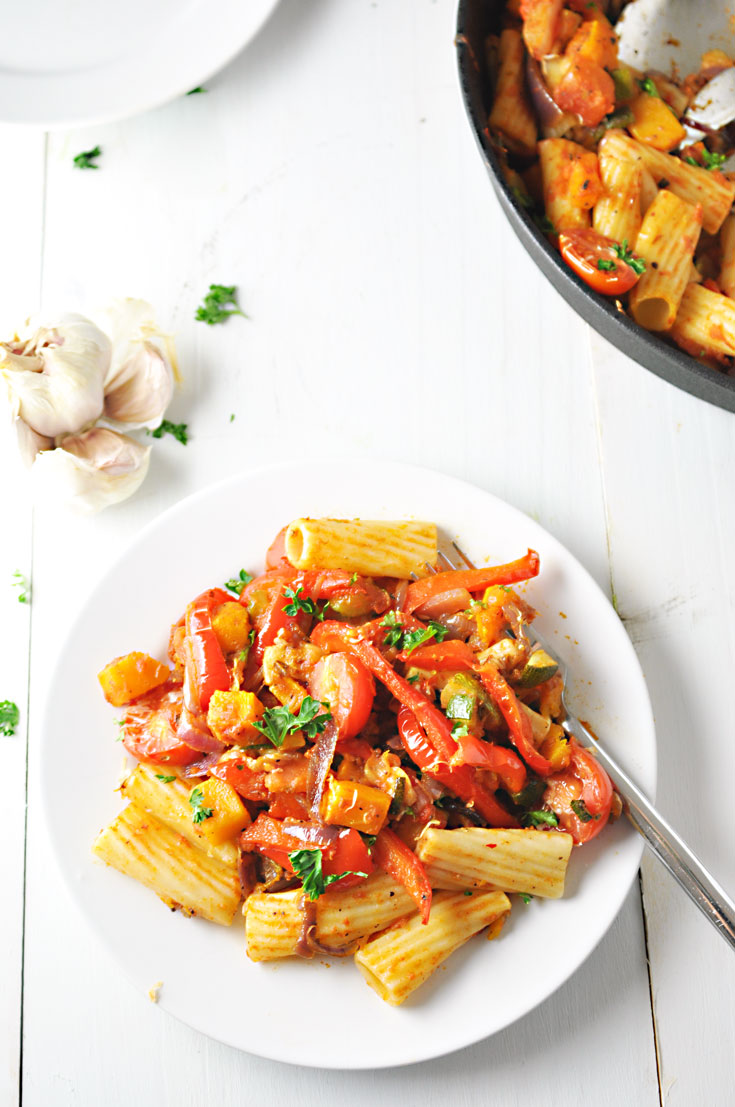 Butternut squash, red onions, peppers and zucchinis are roasted with dried sage and coconut oil until tender. The vegetables are then baked with wholewheat pasta and a rich tomato and garlic sauce. Once the veges are chopped there is very little prep left to do, which leaves you with time to carry on with other things that you need to get done.
Meal subscription services seem to be the big craze at the moment. I'm keen to try it myself but I can't let go of not having control over what I choose to eat. I'm hearing some great things about some of the companies in London but it got me thinking that even people who love to cook are still after meals that require little preparation and no hassle. Life seems to be getting busier all the time but we still need to eat in a way that nourishes us and gives us the fuel to live our days with energy and vigour.
To make this recipe even more simple I used a store bought pasta sauce. I chose a Jamie Oliver one as it didn't have any added sugar, which is difficult to find! Be sure to always look on the ingredients list of the things you buy so you know for sure what is in it. This dish has an abundance of vegetables mixed through with the pasta, which is great as you can rest assured that you're getting lots of nutrients from the meal. Everyone is sure to love it!
Roasted Vegetable Pasta
Ingredients
1 tablespoon coconut oil
½ butternut squash, peeled and diced (3 cups)
2 tablespoon dried sage
2 red onion, sliced
2 red peppers, sliced
1 large or two small zucchinis (courgettes), diced
400g Whole Wheat Pasta (I used tortiglioni)
1 x 400g jar of tomato, basil and garlic sauce
10 x cherry tomatoes, chop in half
¼ cup hard cheese such as parmigiano
Chopped fresh parsley, to garnish
Directions
Preheat oven to 180 degrees celsius or 356 Fahrenheit
Add butternut squash, onions, sage and coconut oil to a large roasting tray and put in oven for 10 minutes
Add red peppers and zucchinis to the roasting tray, sprinkle with sea salt and pepper and put in oven for a further 30 minutes
While the vegetables are roasting add the pasta to a large pot and cover with boiling water. Cook as per instructions on packet
Drain the pasta and run cold water over it so it doesn't get dry and clump
Once the vegetables are cooked, pour pasta into the roasting tray, add pasta sauce and stir very well until everything is combined
Add cherry tomatoes to the top, sprinkle with grated cheese and put back in oven for a further 10 minutes
Garnish with parsley and eat while hot