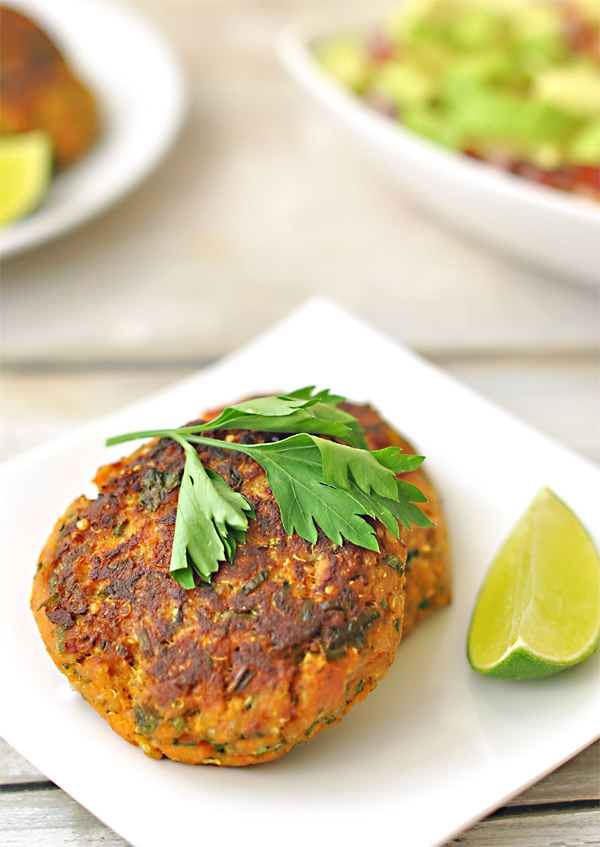 These delicious salmon fish cakes are a healthier option by being baked rather than fried. I used tinned wild red salmon but fresh salmon would work perfectly also. I served them with a tomato, red onion and avocado salsa.
The fish flavour is quite subtle as they are mixed with a bunch of wonderful flavours like sweet potato, quinoa, fresh herbs and lemon.
For a super healthy meal choice, these are wonderful served with a big salad or steamed vegetables. Don't be afraid to eat these cold, they are just as good the next day!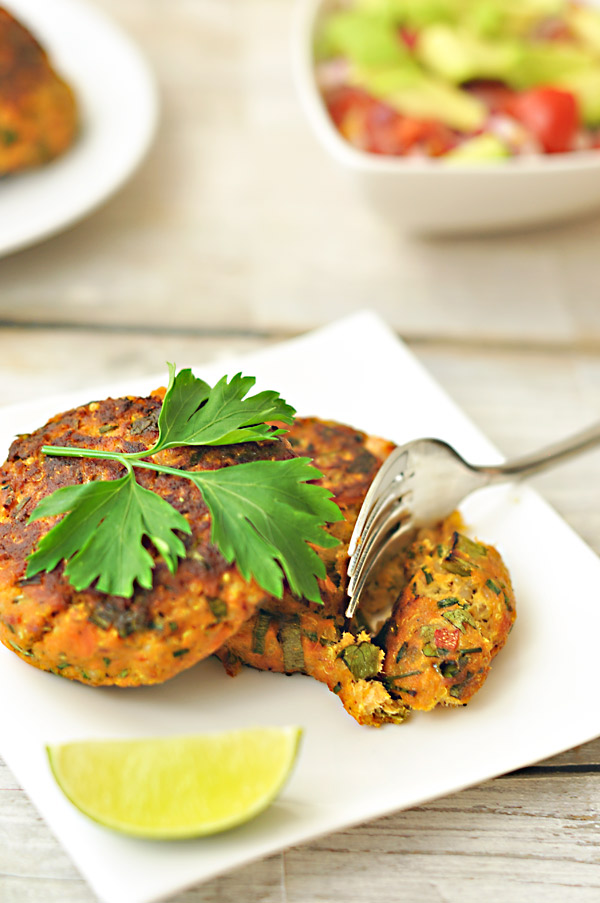 Salmon & Quinoa Fish Cakes
Ingredients
1 large sweet potato
1 cup quinoa
418g tinned wild red salmon
1 teaspoon chilli flakes
Handful fresh parsley, finely chopped
Handful of fresh coriander, finely chopped
Cracked black pepper, to taste
2 tablespoons chives, finely chopped
2 tablespoons spring onions, thinly chopped
Zest of one lemon
Juice of half a lemon
1 egg
2 tablespoons coconut oil
Directions
Preheat oven to 180 degrees Celsius or 356 Fahrenheit
Add sweet potato to the oven and cook for around 45 mins or until soft. Stick a knife through it to check
Add quinoa to boiling water and cook for around 10 mins. Strain and set aside
Drain liquid out from tin of salmon and break it up with a fork until the salmon is in small pieces and a fine consistency
Add the chilli flakes, parsley, coriander, pepper, chives, spring onions to the bowl along with the cooked quinoa
Add the lemon zest & lemon juice and mix well
Once the sweet potato has cooked, allow it to cool enough to remove the skin and add to the salmon mixture. Mix well to ensure it is evenly distributed throughout the mixture
Crack an egg into the mixture and mix well to combine
Shape mixture into eight patties about the size of your palm
Add coconut oil to a skillet, add the patties and put in the oven. Cook for 10 minutes on each side