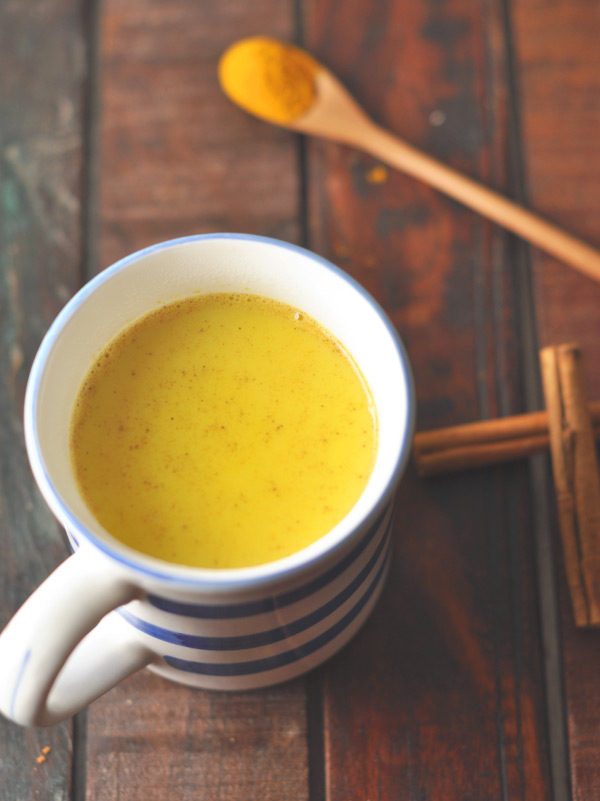 This beautiful little mug of golden milk is the latest thing I've added to my health regime.  It's my favourite thing to drink in the early morning or late at night. Not only is it incredibly delicious and comforting but it's packed full of  antioxidants and anti-inflammatories. Turmeric is used commonly in Ayurveda, which is an ancient Indian mode of healing.
I was drawn to turmeric milk because its supposedly healing to the liver and helps to alleviate menstrual cramps and other aches and pains. It's also used for cough and colds, digestive health, skin issues, arthritis and sleep problems. As well as its antioxidant and anti-inflammatory properties, it's full of manganese and iron.
I haven't been drinking it for long enough to notice if its had an effect on my health but I can tell you that it's incredibly comforting and soothing. It's made with almond milk, a good dash of cinnamon and sweetened with honey. So delicious!
The first step is to make a turmeric paste which is then added to the milk. Some recipes don't bother with this step but for me it's very important  and changes the overall flavour of the drink. By making the paste you're essentially cooking the turmeric which takes away a lot of the bitter taste.  You can store the paste in an airtight glass jar for a few weeks.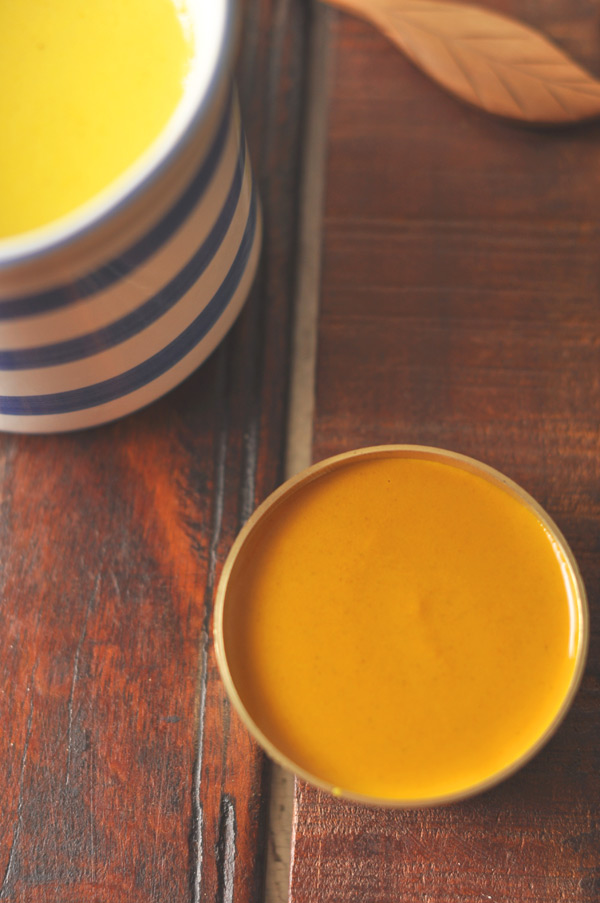 I'll admit that it's a rather uncommon drink and to be honest I was sceptical at first. Turmeric isn't a spice I regularly cook with because it has such a unique flavour but I'm so glad I stepped out of my comfort zone and tried something new! Give it a try, I don't think you'll be disappointed.

Turmeric Milk (Golden Milk)
Ingredients
Turmeric Paste
¼ cup turmeric powder
½ cup water
Turmeric Milk
1 teaspoon turmeric paste
1 cup almond milk (or your favourite milk)
A good dash of cinnamon
½ teaspoon honey (add more or less depending on how sweet you like it)
Directions
Add turmeric powder and water to a small saucepan on a low heat
Cook for approx 7 minutes until you have a thick sauce consistency, stir when needed. Add a little more water if the mixture gets too thick and dry
Pour turmeric paste into a glass jar and let cool before storing in the fridge
Add 1 teaspoon turmeric paste and 1 cup milk to a small saucepan on a low heat
Add cinnamon + honey and heat for a couple of minutes
Pour into mug and drink while warm