Light and crispy waffles with blueberry sauce, dairy free ice cream and a drizzling of maple syrup. The breakfast of your dreams!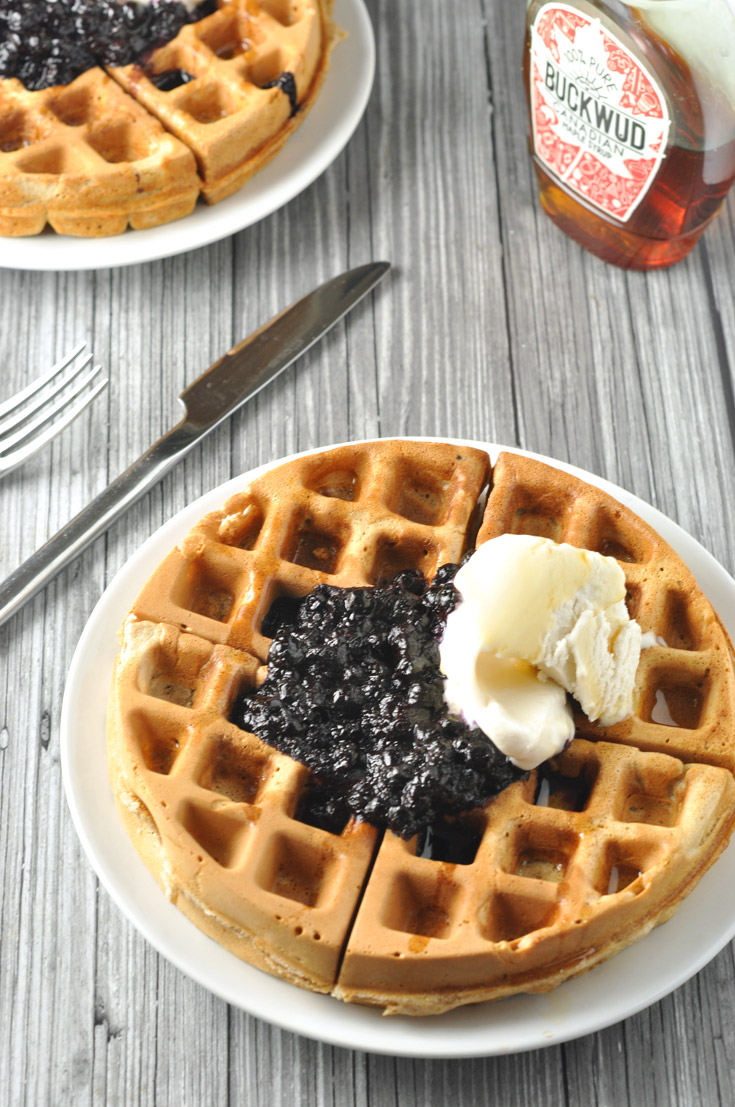 If you don't yet have a waffle iron, I encourage you to get one. They are relatively inexpensive, don't take up much room and you'll be able to enjoy delicious waffles in the comfort of your own home.
They are even easier to make than pancakes because once you pour the batter into the waffle iron you can leave it to cook without having to flip things over and keep an eye on it. While the waffles are cooking, you can get started on the blueberry sauce.
You will love these waffles, they are crispy on the outside and light and fluffy on the inside. As if the blueberry sauce and maple syrup wasn't enough, I added dairy free ice cream to really step things up a notch. The ice cream is made from cashew nuts, it is rich and creamy and leaves your body feeling great.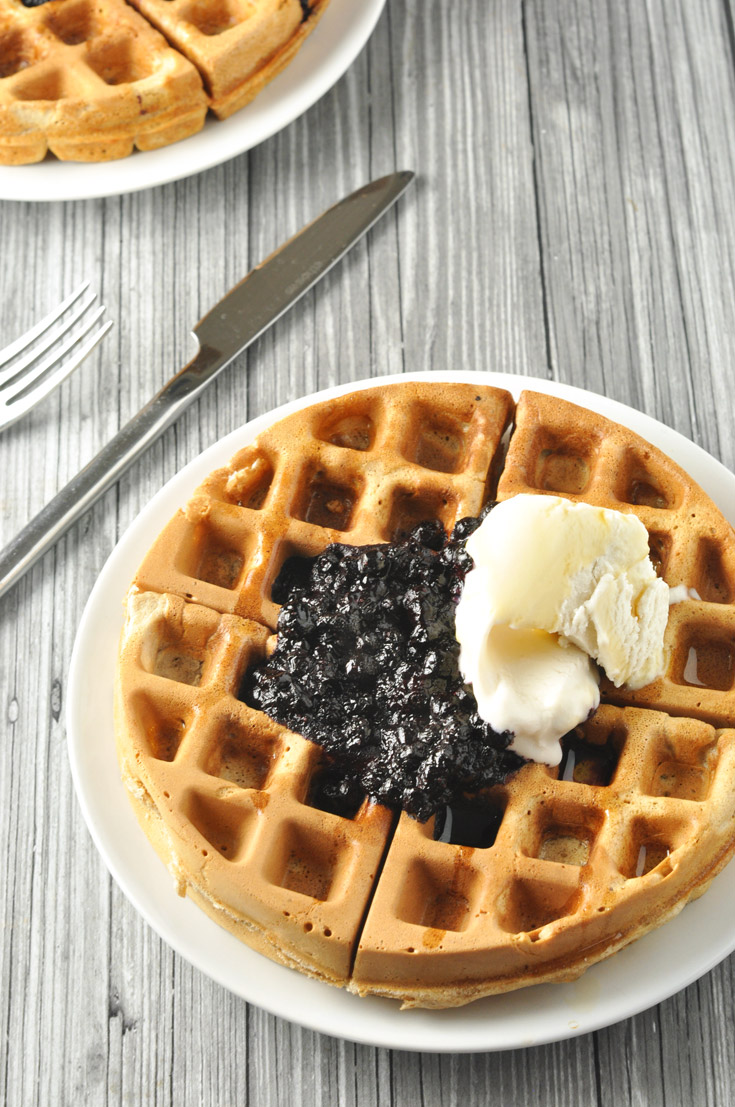 You can make extra waffles which store perfectly in the freezer. After that you just need to pop them in the oven for ten minutes to get warm and crispy and you'll get to relive the breakfast of your dreams all over again with very little effort.
This definitely isn't the sort of breakfast I advise you to eat regularly but sometimes it brightens up your morning and is exactly what you need. It was a drizzly grey Saturday morning in London and these waffles brought a little sunshine into our lives. I used whole wheat spelt flour for these waffles which adds a lovely flavour and extra nutrients to your waffles. It's great to make a family favourite a little healthier.
By the time we got around to eating these it was actually brunch and if i'd had the ingredients on hand I would have paired it with my favourite homemade beetroot and grapefruit juice. This juice supports the health of your liver and gallbladder and gives you a boost of nutrients to spark up your morning. Makes these waffles for your loved ones and it's sure to bring a smile to their faces.
Lemon Blueberry Waffles
Ingredients
1 ½ cups spelt flour
1.5 cups almond Milk
2 eggs
½ teaspoon baking powder
½ teaspoon baking soda
½ teaspoon vanilla powder
1 teaspoon ground cinnamon
Zest of one lemon
Juice of half lemon
1 cup blueberries
2 tablespoon maple syrup for batter + more to drizzle on waffles
Directions
Add flour, baking powder, baking soda, vanilla and cinnamon to a large mixing bowl
Add eggs and milk to a separate bowl and whisk until well combined
Add wet ingredients to dry ingredients and stir well
Add lemon rind, lemon juice and maple syrup to batter and stir well
Pre heat waffle iron and pour enough mixture in to lightly cover the base of the iron. Cook per the instructions on your machine
Add blueberries to a small saucepan. Mix water and corn flour and add to the pot. Simmer on a very low heat for around 7 minutes
Put cooked waffle on a plate, pour on blueberry sauce and a scoop of dairy free ice cream. Drizzle with maple syrup and eat while warm